Golden Eagles fall to Grenadiers
IUS Horizon
October 30, 2011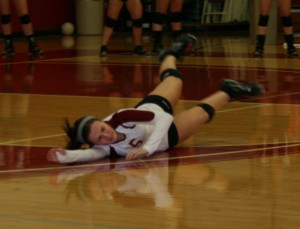 IU Southeast's volleyball team ended their two-game losing streak with a 3-1 victory over Spalding University in the Activities Building on Oct. 20.
"We felt very good going into this match," Lesley Drury-Prather, IUS volleyball head coach, said. "Last time we played them, they took us five sets. We wanted to come in and play better than we did last time."
PJ Cockerell, junior right side hitter said the team knew their strategy before the game started.
"Going into the game, we all knew we would have to fight," Cockerell said. "As far as strategies go, we knew we had to shut down their hitters. Spalding has some good hitters, and if you're able to shut them down, they'll have a harder time scoring."
After a slow start losing the first match 25-12, the Grenadiers pulled through and were able to win the next three matches 25-23, 25-21 and 25-20.
"We were focused on the wrong things in the beginning," Drury-Prather said. "We regrouped and refocused, and, then, we went out there and played the way we needed to play."
The Grenadiers prepared to win after the first game.
"After that first game, we had to come together to win," Cockerell said.
Cockerell led the team with 10 kills.
"PJ is a huge asset to our team," Drury-Prather said. "She is developing into a great right side hitter."
Katie Johnson, sophomore setter, provided 16 assists for the Grenadiers, falling short to Sara Schott, junior setter and outside hitter, with 20 assists for Spalding.
The Grenadiers ended with 38 kills for the night.
"You always feel like you play a better game if your team wins," Cockerell said.
By TAYLOR FERGUSON   
Staff
tayfergu@ius.edu