Zili Misik composes unique beats
IUS Horizon
November 7, 2010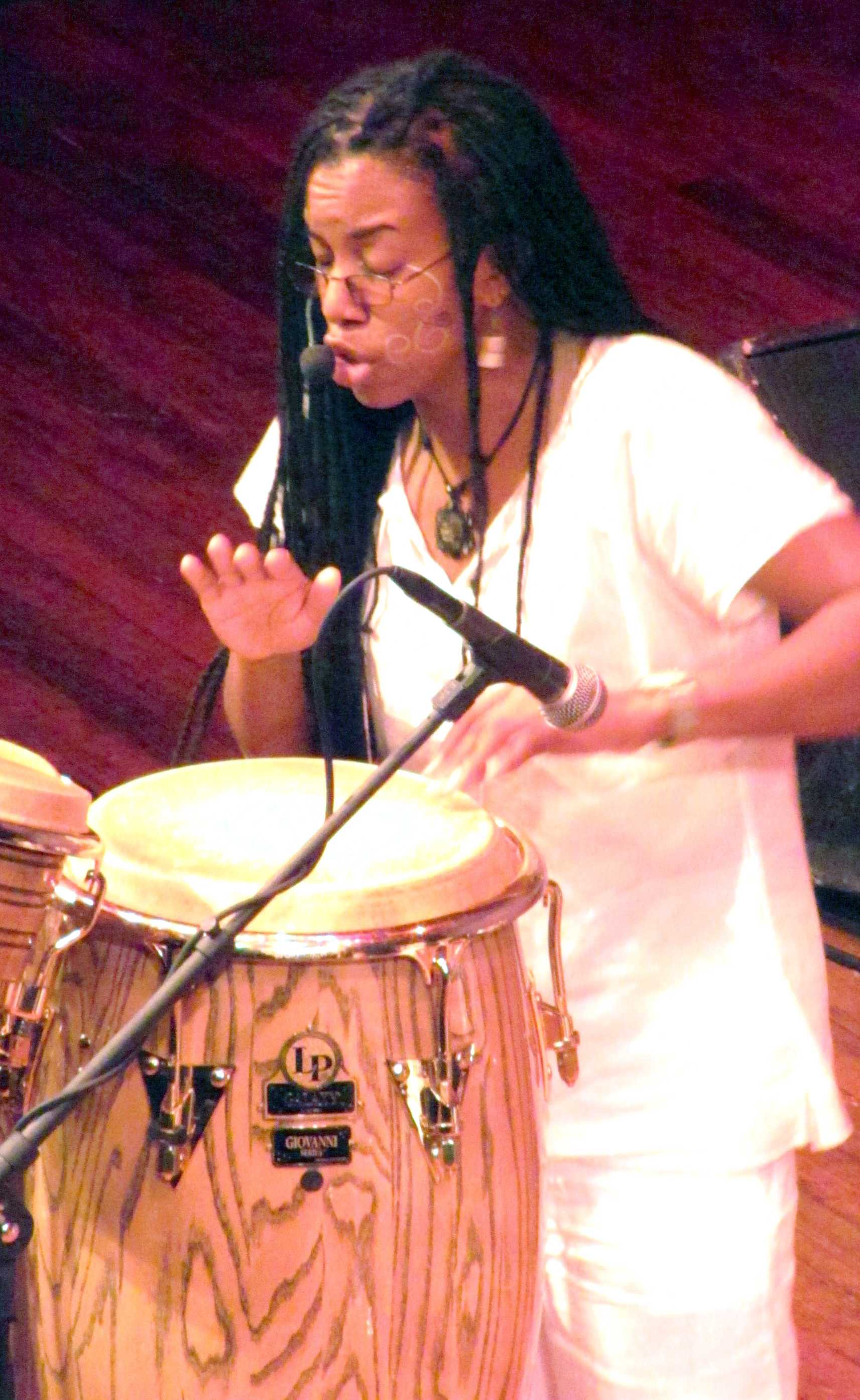 Seven barefoot women wearing all white walked onto the Stem Concert Hall stage in the Ogle Center.
Zili Misik were guests for a show, which is part of the Ogle Center's second annual Global Village series.
JoBeth Umali played a slow beat on her drums as the lead singer and percussionist, Kera Washington, introduced a Swahili song — translating the lyrics for the audience.
"After a hardship comes relief, and where there is a will, there is a way," Washington said.
The band began their cross-cultural mix of music with influences from jazz, reggae, Haitian misik raisin and many more.
Zili Misik takes its name from a Haitian sacred spirit, Ezili, who was depicted as a warrior, caregiver and lover.
The band was founded by Washington in Boston.
Lexi Havlin, guitarist, said she and many other band members graduated from Berkley School of Music.
"I found about [the band] from an ad on Craig's List," Havlin said.
She said many of the band members learned about Washington's idea for a musical group through word of mouth at Berkeley.
Zili Misik has been traveling around nationally and internationally.  They spent the summer in Oregon and California and also visited Haiti, where Washington and the band raised money in a fundraiser called "Project Misik" to collect and donate used instruments to schools in the country.
The crowd included students, locals and Kera Washington's father, who she paused to thank for his musical influence several times in the evening.  The band played many  different songs, which evoked musical roots from places such as Haiti, West Africa, New Orleans and Brazil.
One song, which referenced the Haitian myth of a spider, was introduced with a low-bass note and alluded to the crossroads of life and death.
"It's for those who are here, those who have yet to come, and those who have passed on," Washington said.
The trombone, played by Stephanie Baird, and the saxophone, played by Joy Roster, were featured in many of the songs, with both Baird and Roster swaying and dancing to the beats of the melodies they played.
"Camille's Song" was about communication barriers from one generation to the next — things Washington said need to be communicated repeatedly.
Themes like love, justice and peace ran rampant through most of Washington's lyrics.
The music also touched on philosophical themes like immortality, with one playful tune about figuring out who you were in your past life.
The vocals to this song were mostly indecipherable and guttural noises.
Washington explained to the audience she had no words for her past life and could only sing in noises and fragments of feeling.
The song ended abruptly as Washington shouted one English word — "Peace."
The mood changed quickly to something more lighthearted — a song called "Jazzy." She said she corroboratively wrote this song for a friend.
"He taught us a new dance, so we wrote a song for him," Washington said.
Washington often included the audience as another instrument, asking members to clap, stomp or snap their fingers to the music.
Songs covered many more themes from comfortable silence to justice.
"How do I know that you love me? I can tell it when you smile," Washington said, translating a song from Creole. "How do I know that I love you?
I can tell it in the beat of the drum. You can keep searching if you want, but I can tell you that you've already found love."
Washington introduced one of their last songs as an unofficial anthem of Haiti.
"We are always talking about what Haiti needs, but we need to think about what Haiti has given us," Washington said.
Washington said she was grateful for the musical inheritance from Haiti as the band began a song based in percussion and vocals with soulful lyrics.
The music ended with a Haitian song about water and community.
Washington also invited the audience to participate in their drive for instruments, which would be given to Haitian children.
"One of the reasons we do this music — called new world soul — is because it brings us, all of us, together," Washington said.
Zili Misik has produced two records — "New World Soul," released in 2007, and then the next record "Zee'lee Mee'seek," released in 2009.
By MICHELE HOP
Staff
mhop@ius.edu