Grenadiers red hot against Eagles
IU Southeast softball sweeps Asbury, extend winning streak to seven games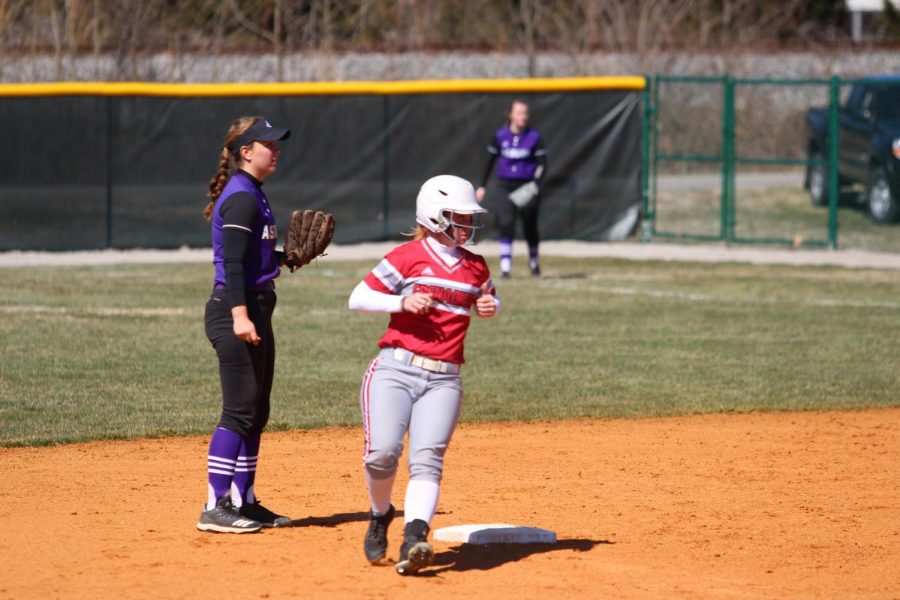 Coming fresh off a sweep against Midway University the previous day, the IU Southeast softball team continued their winning ways against River States Conference foe Asbury University, sweeping the Eagles to complete an eight-game homestand at Koetter Sports Complex.
The two wins push their winning streak to seven games, as well as keep them comfortably in second place in the RSC standings with a 7-1 conference record.
Game One
The Grenadiers struck early in game one, when Kendyl Olds led off with a double, followed by a walk to Morgan Keefer. After both runners advanced on a ground by Lindsey Keen, Maggie Lubbehusen brought in Olds on an RBI groundout. A wild pitch brought Keefer home before the inning concluded.
The onslaught continued in the second when catcher Justice Kline ripped a two-out double to score Kaitlyn Flowers. Olds then proceeded to hit one passed Eagles left fielder Paige Hill, allowing her to circle the bases for her second inside-the-park home run in as many games (She hit one in game two of the Midway series the day before).
After the Eagles scored a run in the third, the Grenadiers added another run in both the third and fourth innings before the Eagles got on the board, scoring two against Becca Schoenung. That was all the offense the Eagles produced, as the left-handed Keefer would record the final six outs, allowing only one hit for the win.
Schoenung got the win, her fourth on the year, giving up only three runs in five innings. Olds led the way for the Grenadier offense, going 2-for-3 with three RBI, as well as scoring twice.
"We had two good wins yesterday against a nice, solid Midway team and today was similar," Head Coach Joe Witten said. "[Asbury] are very good hitters and we did a pretty good job of making some nice plays that we haven't been making in the weeks before."
Game Two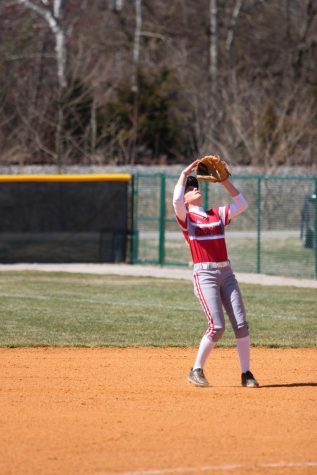 The Grenadiers offensive surge continued into game two, scoring six runs in the second off of Eagles starter Hill. It started when Lubbehusen led off with single and a Maddie Probus walk. Ashtyn Sharp then hit a single to load the bases for Flowers, who would hit a single to center to score two.
Lindsey Nelson followed with an RBI triple and scored on a single from Kline. After a Keefer single and a passed ball allow by Eagles catcher Faith Day, Baylee Kreuger flew to left but left fielder Taylor Wilson suffered a hand injury, allowing the ball to drop and score Kline.
The Grenadiers scored a pair of runs in the third, but the Eagles plated two against Keefer, who replaced starter Emily Weiss in the fourth. Lindsey Keen pitched a shutout fifth before the Grenadiers scored two more runs in the bottom half.
Probus led off with a sharp single that struck Hill in the thigh, causing her to be pulled from the game. Flowers then ripped a triple off reliever Deana Phillips to score Probus. Sharp followed up by hitting an RBI groundout to second base to conclude the five-inning contest and complete the Grenadiers' third straight sweep.
Weiss pitched only three innings but got the victory, the 46th of her career.
"She's been working real hard for us and she could've finished the game," Witten said. "But it's always nice to get other ladies and get a chance to pitch. This gave both Keefer and Keen a chance to get in."
Witten also said that all four pitchers will be needed for the upcoming schedule, which includes six games in a three-day span, against Lindenwood University-Belleville and Harris-Stowe State University, before returning home on Tuesday for a doubleheader against Georgetown College.
Following that is a key RSC doubleheader on Friday at the University of Rio Grande, who sit atop the RSC with a perfect 8-0 conference record.
Game One (7 Innings):
Asbury (Ky.) 0 0 1 0 2 0 0 3 7 2
IU Southeast 2 3 1 1 0 0 X 7 6 3
Win: Schoenung (IUS), Loss: Moore (Asbury)
2B: (IUS): Olds, Kline (Asbury): Phillips (2), Hill
HR: Olds
Game Two (5 Innings):
Asbury (Ky.) 0 0 0 2 0 2 2 2
IU Southeast 0 6 2 0 2 10 10 3
Win: Weiss (IUS), Loss: Hill (Asbury)
2B: (IUS): Sharp, Kline
3B: (IUS): Flowers, Nelson