A record-worthy career
Becca Schoenung is pitching her way into the record books, and rounding third in her decorated career at IU Southeast.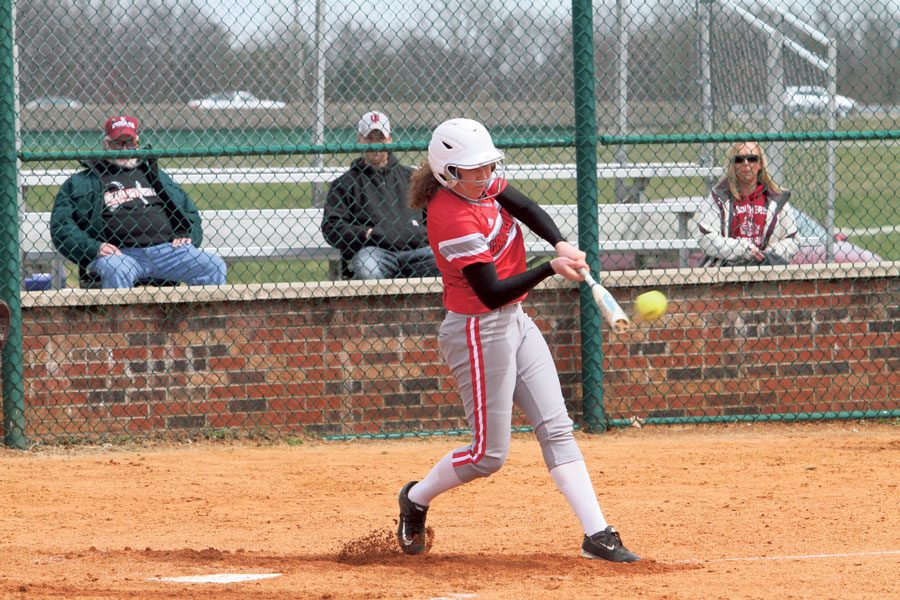 Coming into the 2019 softball season, the IU Southeast Grenadiers will field seven seniors for their final seasons. Several of these seniors are leaving their marks on the program, now entering its twelfth year of existence, by writing their names in the record books.
One name in those books is senior Becca Schoenung, a pitcher and second baseman. Heading into her final season in a Grenadier uniform, Schoenung is sixth in Career Starts (32), ninth in Career Wins (16), tied for eighth in Innings Pitched (176.2), 13th in Strikeouts (101), and 16th in Winning Percentage (0.5517). Her offensive records include being 14th in Career Hits (107), and 12th in At-Bats (329).
Born to Ball
Like many softball players, Schoenung started playing the game at a young age at the behest of her parents.
"
I started playing Little League Softball when I was 5 years old. My parents wanted me to be involved in something and softball just clicked with me because I really enjoyed it."
— Becca Schoenung
A native of Springville, Indiana, she would attend Bedford North Lawrence high school, where she played for coach Brad Gilbert. She would spend her first two years between the outfield and shortstop before transitioning to the pitcher's circle. In 2014, her junior year, the Stars went 20-6 but were knocked out of the sectional championship by perennial Hoosier Hills Conference powerhouse Floyd Central by a score of 3-1.
Schoenung had a strong senior year, both at the plate and in the circle. She batted .421/.431/.578 with two home runs and 14 RBIs. As a pitcher, she was 13-6 with a 2.09 ERA, along with 109 strikeouts in 117.1 innings pitched.
A Choice To Make
When it came time for her to make a decision on where to continue her education, IU Southeast was not Schoenung's original choice. She said her first choice was to attend Manchester University, but her decision would change upon meeting with IUS head softball coach Joe Witten.
"I was originally going to go to Manchester University because they offered me money," she said. "Then over the summer [after graduating], Coach Witten came to talk to me and my roommate Justice Kline. He offered us a scholarship to come here. It was close to home and affordable, and I got to continue playing softball with one of my best friends."
Kline, a catcher for the Grenadiers, has been with Schoenung long before their days of playing high school ball at Bedford North Lawrence. The duo will play their final seasons together when the 2019 season begins in February.
"Becca and I had played alongside each other before we were even in high school," Kline said of her on-the-field relationship with Schoenung. "Starting off playing the middle infield together, we knew exactly what the other was going to do when a ball was hit to one of us."
Kline and Schoenung's chemistry on the field is palpable, as it has been since their early days.
"I didn't get to catch for Becca much in high school, but I did get to play shortstop behind her as she pitched, and I had her back for all of it," Kline said.
Witten himself was impressed with both Schoenung and Kline's performances at Bedford North Lawrence, not only as head coach of the Grenadiers but also as the skipper of one of their conference rivals. Before coming to IU Southeast, he spent a decade as the head coach for Floyd Central.
"I went to watch them in the local sectional at New Albany," Witten said. "I was impressed with what I saw, they both had really good games. I remember them both from years before as a coach because I coached against them when they were freshmen. I got to see how much they improved and I felt that they could help our program."
Schoenung is coming off a junior year where she pitched to a 10-8 record and a 3.19 ERA with 56 strikeouts in 90 innings pitched. Along with fellow right-hander Emily Weiss, she helped lead the Grenadiers to a 24-14 record.
Their 14-4 record in River States Conference play helped them finish second in the league, behind only Rio Grande's 16-2 record in the RSC. The second-place finish is the Grenadiers' second in the last three years.
Achievements on the Field and in the Classroom
Going into her final season of college softball, Schoenung has several accolades to boast, including being on an RSC all-conference team every year of her college career. She was named to the all-conference first team as a freshman, followed by a selection to the all-conference second team as a sophomore and junior.
Despite how much dedication she has to her team, Schoenung has been able to excel in the classroom as she works towards her college degree. She is currently majoring in Business with concentrations in Human Resource Management, General Management, and Marketing. Some of her academic achievements include being one of nine Grenadiers named 2016-2017 National Fastpitch Coaches Association Scholar-Athletes, as well as being elected to both the spring and fall Athletic Director's Honor Roll for 2018.
With the season just around the corner, Schoenung is ready for the season to start, especially since the 2019 team will feature some additional depth in comparison to previous years.
"Our teams were usually pretty small, we didn't have a lot of players," she said. "Luckily this year, we have a large team with a lot of depth. At this point in my career, we don't have very much pitching, so that's what I'm currently doing."
With a deep team, the Grenadiers could potentially build off of last season and send their seniors off with some serious hardware, such as the RSC title, and maybe even a trip to the NAIA National Tournament.
"I really want to win the conference championship and a couple games after that, if we can," She said of her and the team's goals for 2019. "Since it's my last season, I would like for it to last as long as possible because I enjoy it."
The Grenadiers get their season underway on Sunday, February 10th, when they travel to Alice Lloyd College for a doubleheader.