New Graduate Programs Start This Fall
Programs in mental health counseling, management and secondary education in biology are now offered in effort to attract new graduate students
Hang on for a minute...we're trying to find some more stories you might like.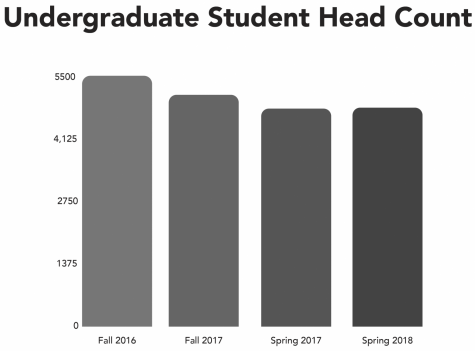 It does not matter what undergraduate degree you are completing, IU Southeast now offers a graduate opportunity for you.
As the campus continues to see increased enrollment in graduate programs, more degrees are being added to increase student opportunities.
Master of Arts in Mental Health Counseling
For students in the School of Social Sciences, IU Southeast is now offering a Master of Arts in Mental Health Counseling.
"Mental Health Counseling is the first master degree offered by the School of Social Sciences," Diane Wille, dean of research and graduate studies, said. "The coursework provides the knowledge and the skills needed to provide counseling with individuals with personal problems and also to perform evaluations."
The graduate degree will provide graduates with the coursework and experience required to become a licensed mental health counselor in the state of Indiana, according to the School of Social Science.
Additionally, the program will prepare individuals to provide evaluations, referrals and short-term counseling services to help people prevent or remediate problems, conflicts and emotional crises.
Master of Science in Management
The School of Business is now offering a Master of Science in Management. The Master of Science in Management focuses on the skills required to be a successful manager or leader of an organization.
According to the IU Southeast School of Business, this will enable students to earn their degree in just
one year.
"It is a great master's degree for students from any major," Wille said about the program. "This degree will provide individuals with the skills that they need to move into leadership and management positions."
Biology Concentration for the Master of Science in Secondary Education
The School of Education is adding a new biology concentration for the Master of Science in Secondary Education as well.
Prospective students interested in pursuing the new biology concentration will need to apply to the School of Education and the biology department in the School of Natural Sciences, according to degree requirements approved by the IU Southeast Faculty Senate in February.
This 36 credit hour program provides the coursework needed for teachers to gain qualifications to teach high school dual-credit courses.
"There is an increased demand in high school for dual-credit courses and this credential provides a teacher with more opportunities within school systems," Wille said.
"I think it is good that our campus is adding more graduate programs," Kayla Schladen, biology senior said. "They might attract more students and could offer cheaper pricing on supplies and classes compared to other schools."
Increase in Graduate Programs
According to the IU Southeast Office of Institutional Effectiveness, there was a 4.8% increase in students pursuing graduate degrees on campus, while at the same time the undergraduate headcount decreased by 7.2%.
"Whereas undergraduate enrollment was still trending slightly downward as compared to the previous year, graduate enrollment began picking up,"Jay McTyier, IU Southeast registrar, said in reference to the IU Southeast spring 2018 census data.
IU Southeast plans to continue adding new graduate programs in the near future with the amount of interest and increased enrollment numbers. A Master of Arts in English program is under the final stages of the approval cycle and may be offered on campus in the near future through online collaboration.
The university is also looking at several discipline-specific graduate certificates intended to serve the population of dual-credit high school teachers.
"Why we have so many new ones popping up now has to do with the logistics of programs development. The planning to develop new graduate program starts 18-24 months before we begin offering classes for them," McTyier said. "The new degree approval process is multi-layered and involves off-campus parties and agencies, so it's just now many are passing through the
final approval cycles."
Mental health counseling, management and the biology track are available for prospective graduate students starting this semester.