Acappella Geeks Club Continues the IU Tradition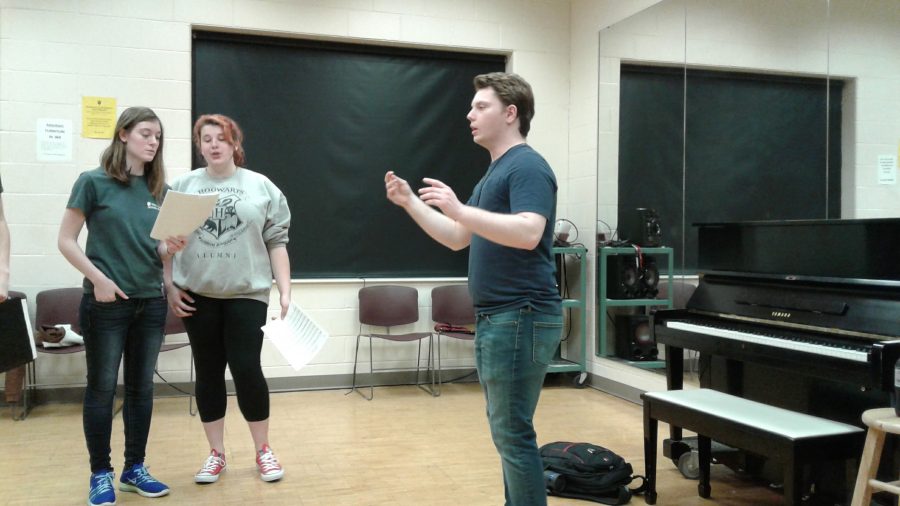 There is a long history of a cappella groups in relation to Indiana University. The tradition continues here at IU Southeast with the Acappella Geeks Club.
The vocal group has been a part of IU Southeast for four years and was formerly led by Quintera Quinn. During the fall semester of 2015, the group held 24 total members.
As of spring 2017, the Acappella Geeks Club now has nine members:
Director Joshua Peterson, psychology sophomore
President Amanda Webb, sociology senior
Vice-President Becca Dirck, psychology senior
Secretary Ashley Nissel, theater freshman
Sabrina Friend, psychology freshman
Garrett Gilles, secondary education sophomore
Jeffrey Baugh, English literature sophomore
Laura Allen, fine arts freshman
Quintera Quinn, English as a second language senior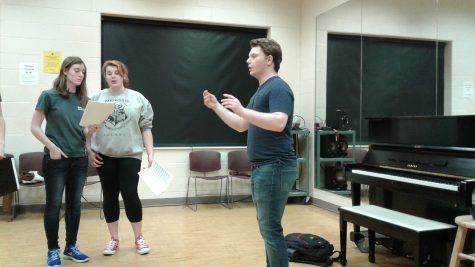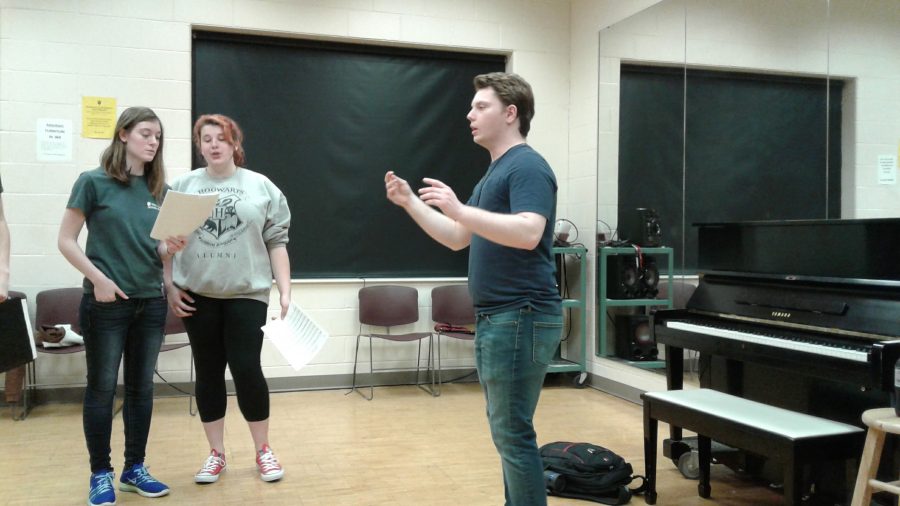 For those unfamiliar with the artform, the Merriam-Webster dictionary defines "a cappella" as "without instrumental accompaniment." It is a type of performance where singers use only their voices, either by replicating sounds of instruments to accompany singers or as part of a choir.
The term a cappella translates from Italian to "in the church style." The term was originally used to describe unaccompanied vocal works of sacred choral music. The style became prominent in churches thanks to the works of French composer Josquin des Prez in the late 15th Century.
A cappella music grew to include secular as well as religious topics. The style mostly remained the same – one person or groups of people singing without instrumental accompaniment. In the 1990s, a cappella performers began mimicking musical instruments with the use of their voices.
It was around that time that Indiana University's Straight No Chaser was formed. Dan Ponce, one of the Singing Hoosiers, assembled the group under the auspices of Indiana University in September of 1996. Two years later, they were filmed performing a rendition of of "12 Days of Christmas" that would go on to garner more than  20 million views on YouTube nearly a decade after the recording. The group was courted and signed by Atlantic Records in 2008.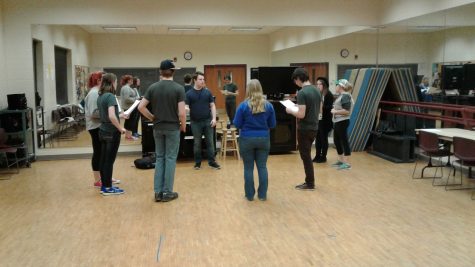 After the many of the original members of Straight No Chaser signed on with Atlantic Records, IU Bloomington kept the tradition going with another a cappella group. The university, wanting to keep the tradition alive but not confuse audiences, changed the name of the collegiate singing group to Another Round in April of 2012.
At the time, the group's music director, TJ Breen, said, "The Atlantic Records Straight No Chaser is one of the top touring groups in the country, and then we are one of the best undergraduate groups in the country, so both of us are doing a lot of shows. It just became evident that it was too hard to clarify the difference between the two groups, and that became a big problem for us."
Since that time, groups such as Straight No Chaser, Another Round and Pentatonix have led a resurgence of popularity with a cappella groups in the last few years.
Joshua Peterson speaks to the influence of those groups on the Acappella Geeks Club.
"We look to them as examples," he said. "I'll frequently use them in rehearsals as an example of our singing techniques and how to better be a cohesive unit when we sing."
Peterson also said that they are only used as examples in terms of form because a cappella performance is an organic form that relies on its individual members to sound distinct yet blend together as a single unit.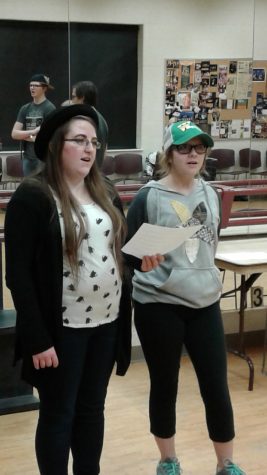 Straight No Chaser and their peers are seen by Peterson as an example of how that solidarity can be achieved, but he directs the club's members toward incorporating their own sound.  Because each voice is different, Peterson said that matching other groups, for that reason, is impossible.
Peterson talked about  when he initially joined the Acappella Geeks Club.
"I hadn't been singing for very long as far being classically trained," he said. "One of my friends, who was the director and president and still a member, suggested that I come in and audition. I love singing and wanted to get experience singing with a group. I auditioned my freshman year and have been in it since."
Peterson became director of the Acappella Geeks Club during the 2015 spring semester  after volunteering for the position when it became vacant. He now gears the club's rehearsals towards preparing the group for upcoming performances.
"Every Monday night, we rehearse for two hours," he said. "I arrange certain pieces for us, print out the music and give it to them. We sit around a piano, sing the individual parts, practice becoming better musicians and get some great camaraderie out of it."
During a recent rehearsal, Peterson ran the group through a cappella arrangements of several well-known songs. "Chains" by Nick Jonas and "Heathens" by Twenty One Pilots were a couple of the songs that Peterson led.
The songs are broken down into different parts – alto, tenor and soprano. Each person or groups of two sing that individual part. The individual parts come together as a newly re-imagined version of the original piece.
During their meetings, the group rehearses for upcoming performances that can vary in size and scope.
"Some semesters we have more performances or larger performances than others," Peterson said. "Last semester, we opened with the Charlestown High School SCALiWAGS for The Filharmonics, a pretty successful group that was on [NBC's] 'Sing-Off'."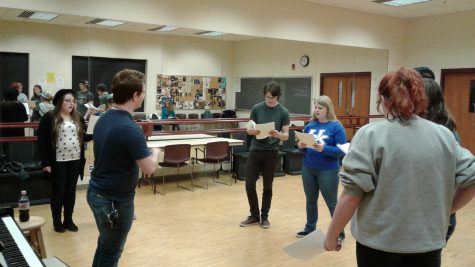 Looking toward plans for the current semester, Peterson said the group is planning to do two performances this semester. They are currently trying to arrange a performance at Ogle Hall. Another performance they hope to have will be during one of the open mic sessions in the IU Southeast Student Center.