Women's volleyball team falls to Campbellsville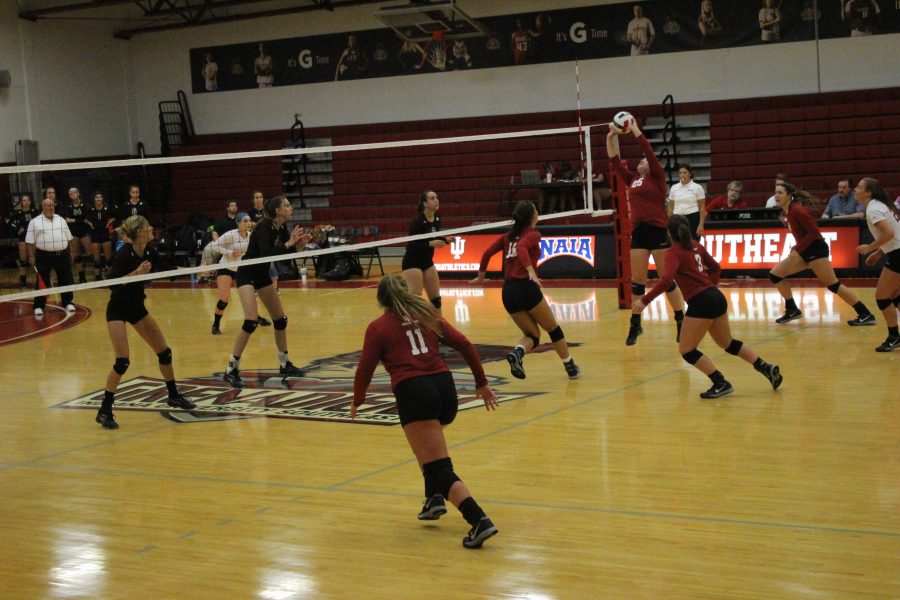 Tyler Clerkin, Staff Writer
August 31, 2016
The IUS women's volleyball team faced against the Campbellsville University Tigers for their home opener on August 30. However, they ultimately fell short, losing 3 sets to 0.
The loss puts their season record at 2-3.
The Grenadiers were led by Monica Loftus's 8 kills while senior Mary Dye and sophomore Hannah Joly each added 7 kills to the stat column apiece. Senior Katie Fischer would also contribute 5 kills with senior Hannah Barker and junior Kelsey Willinger each having 3.
IU Southeast, coming off a scrimmage against Hanover last Friday, struggled early and had trouble finding their momentum for the game.
"We all came out kind of nervous so we weren't really ready to play," Katie Fischer, senior and captain of the team, said, "We practice way better than that so it is really frustrating."
The girls went on to lose the first set 22-25. The second set was, again, all Campbellsville as the Tigers took the set 18-25.
According to head coach Eric Brian, IU Southeast did not quit and battled to the end. However, it was still not enough as they fell 23-25 and would go on to lose the match.
"They fought hard in the third set, they certainly did not quit," Brian said. "That's probably the highlight."
Coach Brian said there was a multitude of things the team could do to improve.
"We got beat in all aspects of the game tonight," Brian said, "It is hard to pick out one thing."
The Grenadiers have a few days until their next match to practice on some of their flaws.
"We are gonna work on a lot of tight situations, make sure we are getting our hits in, and being competitive," Fischer said, "Not losing faith even whenever we come out of the game 5-0 at the very beginning."
Despite the loss, IU Southeast's conference outlook has not be affected just yet. They still have until November 11 when the RSC Volleyball Tournament begins.
The team will be traveling to Indiana Wesleyan for the Indiana Wesleyan tournament on Friday April 2. This tournament will be from Friday to Saturday and they will be facing off against tough opponents such as Taylor University (3-1) and Trinity Christian College (2-2).