Let me lobby for my hobby: Hiking
Hang on for a minute...we're trying to find some more stories you might like.
There is something magical about sliding on clunky boots and tromping through leaves, sticks and dirt.
Hiking has played a huge role in molding who I have become. Since I can remember my family and I have gone on hiking and camping trips.
Hiking has taught me many valuable life lessons. It has taught me how to live in the moment, enjoy the simple things, love dirty sweat and live without technology for a week or two.
Hiking has so much to offer people once they get past the idea of spiders, ticks, snakes and poison ivy. Some common benefits hiking has to offer anyone is reduced depression, weight control, muscle strength, cardiovascular and slows aging process. Who knew one could reap so many benefits from a hobby.
If you ask my boyfriend he will tell you I am the happiest when I am outside and nature is surrounding me. He would be 100 percent correct. Nothing brings me down when I hiking.
Almost every weekend I beg my boyfriend or family members to go hiking with me. I typically always take my two dogs; Ghost the Great Dane and Ekko the Corgi.
Ekko and I hike the same. We ontinuously run from one interesting thing to another without loosing energy or enthusiasm. Ghost on the other hand loathes me by mile two.
Hiking helps me clear my mind and see the positive things in life. It allows me to take a minute away from planning for the future and take a moment to enjoy the present. Hiking has been the one consistent thing in my life that has always brought me closer to others and myself.
I have a lot of fond memories from hiking that I could talk about forever but I am only going to share two. One time I was camping in the Grand Tetons in Wyoming and I woke up in the middle of the night to go to the bathroom. Half awake my sister and I stumbled towards the bathroom. As we turned to open the door a fox was blocking our way.
My sister and I turned and ran. I had a an idea to just use the men's bathroom instead so I we went up the ramp to the bathroom and the fox came running around the corner charging at us. My sister and I screamed and ran back to camp almost peeing our pants. The next day we found out the campground had a pet fox.
The next story happened last month. My boyfriend and I were at Mt. Saint Francis hiking when we came across a fawn. The fawn walked up to us and let us pet her. This was by far one of my happiest moments.
Some of my favorite places I have hiked are Yellowstone National Park, Grand Tetons, Cumberland Falls, Fall Creek Falls, Breaks National Park and Charlestown State Park.
I hope to one-day hike at the Grand Canyon, Adirondacks, Yosemite and Zion.
If you have any interesting place in the Kentuckiana area that you hike and want to share post a photo on Instagram and #hikekentuckiana See you on the trails.
Let Me Lobby For My Hobby is a monthly series highlighting a student's hobbies and interests. Have an interesting hobby? Submit ideas to zakerr@ius.edu.
About the Writer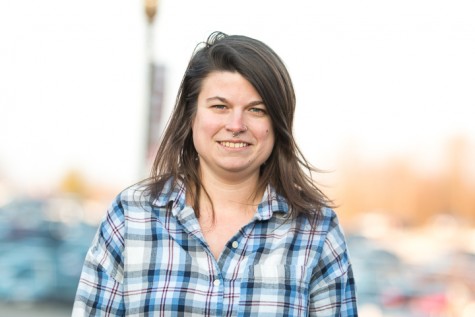 Charlyn Corum, Staff Reporter (Spring 2016, Spring 2015)
Hello All! My name is Charlyn, which is a modern form of Charles. I was named after my grumpy Grandfather who lived until the age of 92. At 10 years old...