Semester in Review
Highs and lows of a busy semester, and some things you may have missed
Your first semester of college is done and you made it to the finish line, or maybe even your last semester and your now going to be a college graduate. Whatever it may be you made it through an entire semester at IU Southeast.
The fall term will soon come to an end, and students are reflecting upon this semester and the many events that took place on campus from August 25th to December 13th.
The scariest day of the semester  was September 11th at approximately 1:10 p.m. Students were alerted by text, calls, and emails from officials that an armed person was on campus and were subject to go in the nearest room and lock the door.
This is what some of the students had to say about the experience they went through, Katherine Clark,senior double major in Accounting and International Business, said she was in her A301 class in Hillside Hall when this alert took place.
"A few of us attempted to block the door with chairs and a white board and then we played charades to ease the tension," Clark said.
Clark added that this will be a memory that is going to last forever and that the lockdown was definitely the worst experience of the semester for her, "It's a terrible feeling to be helpless," Clark said.
Another student was also on campus while this event occurred Kayla Sexton, sophomore nursing, said she was actually in the nursing lab at the time.
"My classmates and I were in the nursing lab, about to get started with our assessments before it all went down," sexton said.
She added that even though it just turned out to be an umbrella, it was still one of the scariest moments for her, she said.
"This was not only one of the scariest moments of the semester, but it was the scariest moment of my life," sexton added.
While many students were on campus that rainy fall September 11th day, others may have not been present at the time,
Kelsey Sauer, senior communications said,
" I actually wasn't at school during the lockdown this semester, however I was at school during the lockdown last December."
Sauer added that she was stuck in the library until she heard the all clear from officials.
"I thought the school handled the lockdown very well both times and it made me feel safe to know that if this really did happen, IUS knows how to take action and is prepared for an event like that," Sauer said.
While some of the student's view those moments as not so memorable, there were many memorable moments that took place this fall semester.
Such as IU Southeast hosted its first ever compassionate care ceremony for the nursing program students,
Sexton, nursing sophomore said this ceremony that took place on November 12 was very special and memorable day for her and her family.
"It felt great to get recognized for all our hard work thus far, and it also felt good to thank the donators first hand," Sexton said.
The nursing students who participated in this ceremony each received a nursing pin for them to wear on their scrubs while being a nurse.
Sexton said this was a huge turning point for her in the semester,
" Getting my school of nursing pin at the ceremony, made me feel proud and like I'm going to make a difference in the world."
On November 12th IU Southeast opened its first nursing lab costing 500,000 a gift from Sue Sanders and her husband. The lab is equipped with 12 beds, monitoring equipment, and mannequins for patients and more.
Chancellor Ray Wallace said on November 13th,
"The new lab will put students in hands-on situations just as they will encounter after graduation."
Sexton said, she has learned and improved so much being apart of the new lab edition to the nursing program at IU Southeast,
"I have grown so much this semester being in the school of nursing, the professors are wonderful and so are my classmates," she said.
Sexton added, "Not only have I learned about the many skills of nursing but also life lessons that will stay with me forever."
Sexton is not the only one that is leaving the semester with memorable memories to start the New Year off right.
Sauer, Senior communications major said that her most memorable moment of the semester actually took place in the classroom.
It is Persuasion Spch. 324 with communications professor Tammy Voigt, each student had to give one dollar and Voigt herself entered in 4 dollars, making it a total of 25 dollars and then everyone in the class had to give a speech on why they believe they should be the one to receive the total 25 dollars, she said.
"It was interesting to hear what everyone had to say," Sauer said,
"The Speeches ranged from wedding engagement ring payments, toys for a pet, trips to Haiti, charities, and more,"
But there was just one speech that would be the one everyone in that class could never forget, she said.
On October 21st Voigt said, "Jonathan Ham took his persuasive skills to the next level, he told us how he would go above and beyond and would hit the streets to make a difference."
Ham took the money he earned and purchased as many dollar burgers as he could, along with a case of water. He proceeded to go downtown and hand them out to the homeless and record the entire thing, Sauer said.
"The video was so good, and made my professor even cry," Sauer added.
Soon after, the video become viral on the Internet that Jonathan Ham made and actually was picked up from The Huffington Post.
"It was a fun activity that everyone in the class really enjoyed," Sauer said, and she added it was the biggest moment for her major/department.
Another really popular positive event that was streaming all over social media between the months of July and end of august was the ALS (Amyotrophic Lateral Sclerosis) ice bucket challenge.
This was a way to raise money for research if you participated in the challenge. The challenge consisted of dumping a cold bucket of ice over your head and then nominating people at the end of your video to the challenge.
Our own Chancellor Ray Wallace was challenged and participated in this event this fall semester that was hosted on Wednesday October 1st, at 12:15 in the University Center North located in the back of the commons.
Wallace said back in September 28th that he is looking forward to raising money for ALS research, but that he is not particular excited for the cold challenge.
Wallace added back in September 28th "They tell me it's going to be excruciatingly cold" he said. However, "It's for a good cause. The chance to dunk me in ice is an added bonus."
With all the positive things that did happen this semester around campus there are something's that students do wish to see change at IU Southeast for the future,
Sauer, Communications senior said that one thing she would like to see changed is having a graduation ceremony in December,
Sauer added, "As a December graduate, I would love to walk but there isn't a ceremony when I graduate,"
"I know a lot of other students graduating in December, so I think it would be wonderful to have a ceremony in December," "some students do not want to wait to walk in May, so they don't come back and never get to walk," Sauer said.
Sauer did add she enjoyed many things over this semester and loved all of her classes very much,
"My last semester at IUS was unforgettable and successful in so many ways," Saur added.
Clark, Senior double major said, "I have learned, more than ever, how quickly time passes," Katherine added some advice for a fellow student, "Its important for students to take advantage of class time as an opportunity to improve, rather than counting down the minutes until graduation."
Some advice for a student thinking about attending IU Southeast Sauer said, "Take a tour of the campus to see how great it is yourself, I would tell you that there is never any trouble with parking, there's small classes, and the professors are all wonderful."
This is what Clark and Sexton had to say about IU Southeast as a College,
"It's such a wonderful school, not only for it's great education system but for it's sense of community around campus and you can't get a better school for your buck," Sexton said.
This is what Clark had to say, "The Campus brings a lot to the student's and community, IUS is a beautiful and active community of friendly faces and opportunities."
Clark added. "The professors are dedicated to helping the students in every aspect of their lives, inside and outside of the classroom."
About the Writer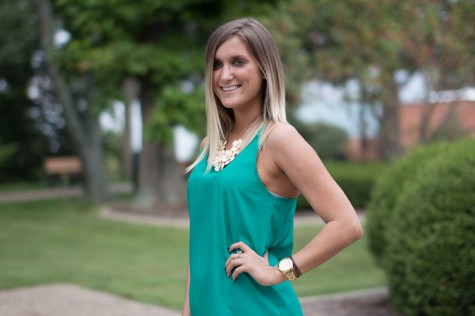 Mary Kate Hailer, Staff Reporter (Spring 2015, 2016; Fall 2014)
My name is Mary Kate, and no I don't have a twin sister named Ashley. Here is me in 30 seconds, I am a writer for The Horizon and graduate next may at...