The Kill Clinic
IU SOUTHEAST NURSING MAJOR IS HOPING SHE CAN HELP THE GRENADIERS SERVE UP A CHAMPIONSHIP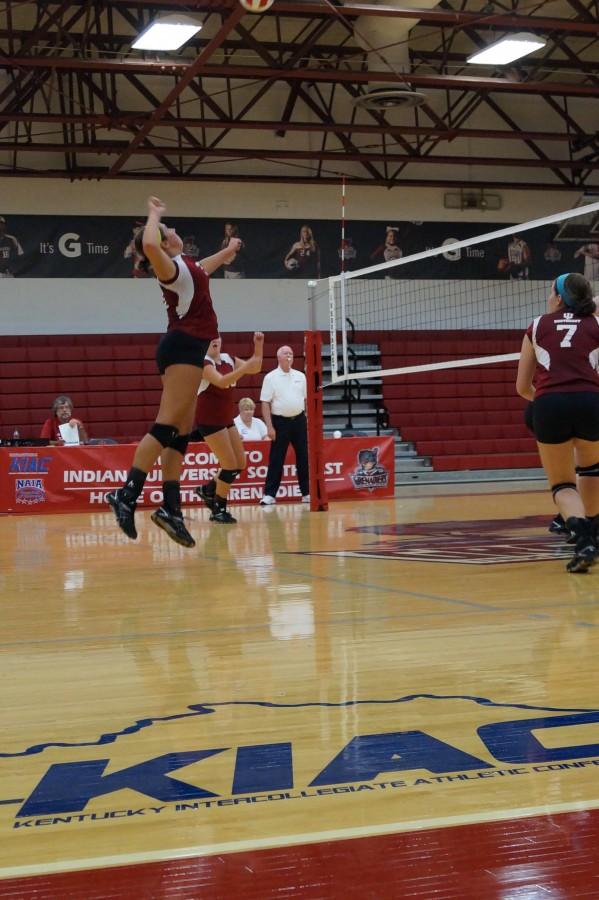 Sara Schum is proof that you don't have to play a sport your entire life to make it at a collegiate level.
Schum, nursing senior and team leader in kills on the Grenadier volleyball team, started out playing field hockey, which seemed to be the prevailing sport in Schum's family; her mother played for the University of Louisville and her aunt played for Bellarmine.
"Volleyball wasn't my favorite sport," she said. "I started playing field hockey at three, and when I got to high school, I just wanted to try volleyball more," Schum said.
She attended Holy Cross High School in Louisville, where she was a standout volleyball player all four years.
"High school was when volleyball started to get more competitive," Schum said. "That's when I started to get more into it."
Schum wanted to follow her own path, and love for volleyball.
"I just wanted to be different from my mom," she said.
Most of Schum's friends were also volleyball players who grew up in her hometown of Louisville.
"
I'm a super competitive person and I just have always liked the game of volleyball"
— Sara Schum
"I just fell in love with the game," she said.
When she was 14, she joined Union, a club volleyball team in Louisville, where she played all through high school and met her former Grenadier head coach, Lesley Drury-Prather.
Schum said one of her happiest moments as a high school senior at Holy Cross was when they beat Sacred Heart Academy, who was ranked second at the time.
"It was a complete underdog story," she said. "It was a good feeling beating them my senior year, with all my best friends. It was like icing on the cake."
After high school, Schum said she had many schools interested in her such as Hanover, Bellermine, and Transylvania.
"Seeing that I could make progress the older I got, the more confident and competitive it got for me to play in college," Schum said. "I chose to the play at IU Southeast because of some teammates I grew up with, and simply because of my previous coach."
At IU Southeast, Schum recorded 18 kills in a win against Asbury University. She said this was a game high for her last season.
"It was an awesome feeling," she said.
Eric Brian, head volleyball coach at IU southeast, said he sees Schum as a great asset to the team.
"Our success as a team is greatly dependent on her and her presence on the floor," Brian said. "Sara is an exemplary player and great team leader."
Schum is 18 kills away from 1,000 in her career at IU Southeast, according to the stats overview, which are found online at IU Southeast athletics.
Schum led the team to the conference championship game last year, when they lost in the final game against Asbury University,
"Even though we lost, it was one of the best moments I have had at IU Southeast," Schum said.
Schum said her goal for the team this year is to make it to the conference championship again and win. Her personal goal is to be selected to the all-conference team for the fourth year in a row.
"I'm a super competitive person and I just have always liked the game of volleyball," Schum said. "I really enjoy my team and we have become pretty close over the four years I have been playing for the Grenadiers."
Before a game, Schum described what she likes to do in the locker room to get pumped up and ready.
"I get pretty excited just being in the locker room and acting silly with my team and listening to music, that's what really gets me pumped up and ready to win," Schum said.
Schum also said it means a lot to get to play with her friends and teammates.
"It's just so exciting to get to play with my team because we are so close and together a lot with our 5 a.m. practices all the time, so it's nice to see what we have worked for on the court," Schum said.
Schum's teammate, senior Stephanie Bradshaw, said knowing Schum has been a benefit to them both.
"Sara and I are very competitive and we really help to push each other on and off the court," Bradshaw said.
Schum is a nursing major at IU Southeast and has two more years left until she graduates.
"My personal goal is to survive nursing school and try to be a CNA, to get my foot in the door at a local hospital," Schum said.
Schum said she is still unsure on the type of nursing she wants to go into, but hopes to figure that out once clinics start next fall.
As far as Schum's volleyball career goes, this won't be her last serve.
"I will play pick-up leagues because I enjoy seeing volleyball and I know I will miss the game, but competitively, this is it for me."
The table of contents in the Sept. 8 issue of The Horizon mistakenly refers to Sara Schum as "Sara Schrum".  The Horizon apologizes for this mistake.
About the Writer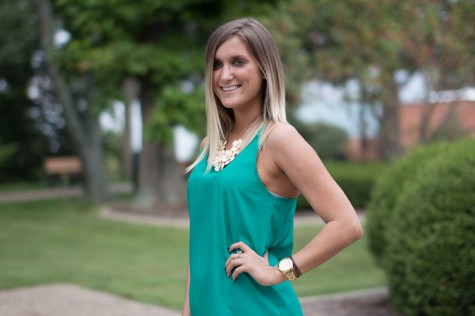 Mary Kate Hailer, Staff Reporter (Spring 2015, 2016; Fall 2014)
My name is Mary Kate, and no I don't have a twin sister named Ashley. Here is me in 30 seconds, I am a writer for The Horizon and graduate next may at...