Grenadiers beat down Brescia
IUS Horizon
January 23, 2012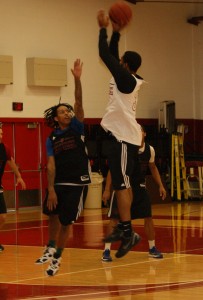 IUS Grenadiers walked away from their home court with the win 85-60 to Brescia University on Jan. 10.
During the first quarter, the screams, shouts and excitement from the Brescia and IUS fans brought a lot of energy to the game.
Vigorous amounts of speed and moves from both teams' players left the scores 39-24, partially due to rebounds and passes by Joe Lawson, sophomore forward.
The score did nothing but upset Brescia's fans and encourage the players to play harder.
However, Wes Cox, sophomore guard, came in with a couple of three pointers leaving the score 46-36 with the Grenadiers leading.
Antoine Watson, senior forward, said he stays motivated when it comes to basketball.
"We have to keep winning and stay positive," Watson said. "I'm trying to get up to the championship, and, though we won this game, we have more challenging games to come, so there's always room for improvement that's why we practice as much as we do. With all my hard work, I pray that I make it to pro basketball in the future."
Lawson said he still feels like there's need for improvement in defense.
"We have to keep playing hard because there's no time to waste," Lawson said. "We have to get to the championship, but,  in order for that to happen we need to improve on our defense."
During the game, Wiley Brown, IUS men's head basketball coach was on his feet yelling out positions and keeping his players on point.
"I make sure they watch videos of other teams to get them prepared for a game," Brown said. "Right before a game, I make sure to remind them to play IUS basketball, play defense, rebound, play hard and have fun. Though, we are 13-6, 3-0 in KIAC and ranked No. 19 in the country, we still need improvement. They need to take a more professional approach to prepare for the games. We are working hard to win the KIAC for the fifth year in a row and win a NAIA national championship."
The fans kept the excitement and tension in the game, especially when it's a winning home game and there are fans like India Mulligan, nursing freshman.
"The game was great, and we had fun cheering for our boys," Mulligan said. "We knew they were going to win. I enjoyed Watson play because he was very attentive in the game and took up every chance he could to make a shot or give a great pass. I also enjoyed the coaches and how active they were during the game. Coach Wiley couldn't stay off his feet. That showed determination and he was giving his boys the support and energy they needed. I am really proud of our team, and I know they will make it to the championship again."
Another fan, Keena Sivils, criminal justice freshman, said she was very excited about the game but still feels like there is room for improvement.
"I really had fun coming and supporting the IUS boys at the game," Silvas said. "I feel like they put up a good fight for the win. Although, their defense could have been a bit stronger along with less turnovers but their 3-point shots were on point during the whole game. We won and played hard but most importantly, I could tell they had fun."
By MONIQUE CAPTAN
Staff
mcaptan@ius.edu