Firms account for networking value
IUS Horizon
September 30, 2012
[photospace]
Accounting majors multiplied their networking skills with local businesses during a Career Day event on campus.
Hosted by the Career Development Center, students participated in a two-part event where they met face-to-face with employers and listened to speeches from professionals.
Lynn Prinz, assistant director for the Career Development Center, said the opportunity to network is the most important aspect of these types of events.
"The timing has probably never been more important for students to network because of there being so many available candidates for every job," Prinz said.
Eric Reskin, accounting and finance senior, said these occasions are also beneficial because it clarifies unresolved issues and helps students prepare for the future.
"There are great networking opportunities, and, other than networking, there's a chance to really get to learn about professionals," Reskin said.
Some of the Louisville businesses at the event included Dean Dorton Allen Ford, Strothman & Company and Harding, Shymanski & Company.
Evan Flynn, division director for Accountemps, said they help employees obtain entry level positions.
"I always say there are two degrees of separation, and the accounting industry is even smaller," Flynn said. "You can capitalize on that."
Heidi Hamilton, certified public accountant and senior accountant for Rodefer Moss & Co, PLLC, also highlighted the importance of students networking in a local town.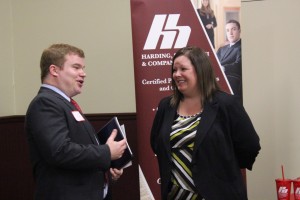 "I go to lots of events, and it's a lot of the same people, same crowds, so once you make those relationships, they're going to last for years," she said.
While some students found various companies of interest to them, Tom Dowling, accounting graduate student, said every firm he met caught his attention.
"Every company offers something that's a little more unique," Dowling said.
Sarah Vhan, accounting junior, said these opportunities helped her in preparing for interviewing.
"More than anything, it gives you a chance to meet with the people you're possibly going to be interviewing with," Vhan said.
Flynn advised students to be ready when possibilities present themselves.
"Be open to any opportunities because you never really know what other opportunities are going to open up other doors for you," Flynn said. "Just be patient and be confident and know that you will get the job."
Dowling said having the chance to meet other professionals before graduating is significant.
"They want to see how engaged you are and how serious you are, and this is the first part of the process," he said.
By CLAIRE MUNN
Senior Editor
clamunn@umail.iu.edu