Program broadens student involvement
IUS Horizon
September 16, 2012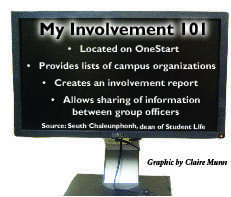 IU Southeast started a new program to help students obtain jobs and track involvement for the future.
The program, called My Involvement was designed by Indiana University and came about from a partnership with IU Southeast, Bloomington and IUPUI.
Located on One­Start, My Involvement is designed to allow students to get involved in a club or sport easier. Students can pull up a list of clubs to see information about the group and what activities they have coming up.
They can also click an "I'm Interested" tab, which will send an e-mail with students' information to the club sponsor.
"I just found out about My Involvement," Kristin Kennedy, special education freshman, said. "I definitely plan on using it because I know it will help me get more involved here at IUS as my college career progresses."
Before My Involvement, students had to visit Campus Life in order to receive information about who to contact or find out dates for meetings. With My Involvement, it allows them to have access to organizations' information quickly.
The program has been developing for almost two years and is currently in Phase One. Seuth Chaleunphonh, dean of Student Life, said he wants to receive feedback on this program in order to hear how IU Southeast can improve it in the future.
"Eventually, we hope to have it where it will have what events you attended and how you helped out at the event," Chaleunphonh said.
This program originally came from a different system designed by IUPUI, called Clinic Link. While the program worked in similar ways, it did not use the IU secure system, and students had to create another account to gain access.
However, My Involvement uses the IU secure system so IUS students can login with their username and passphrase. This  allows Indiana University to have more control over the program and be able to deal with any issues the program may have.
The program also provides an involvement report, which will keep track of all organizations students are involved in, such as positions students held in organizations and how long students were involved.
Chaleunphonh said this will help students look for a job after they graduate from IU Southeast. They can provide their involvement report to an employer as a basic résumé of what they have done in college.
Joshua Sesar, mathematics senior, is an administrator for the My Involvement program.
Sesar works with other group leaders to keep the contact information up-to-date.
"It's pretty cool for the students," Sesar said.
Chaleunphonh said My Involvement also allows officers to share by-laws and other important documents and in order to keep all the information centralized and create a smooth transition between officers.
"The program hopes to really take off in the next few years and hopes to have all students using it to get involved," Chaleunphonh said.
By JEREMY EILER
Staff
jreiler@ius.edu