IUS graduate coaches baseball team
IUS Horizon
February 13, 2012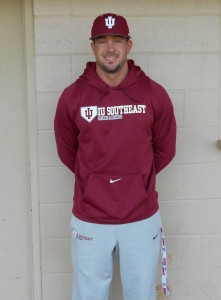 Ben Reel, IUS baseball head coach, is going into his fourth year with IU Southeast.
At 28 years old, Reel is one of the youngest coaches in college baseball to reach the 100th-win milestone.
Reel originally started at IU Southeast as the assistant coach for the baseball team.
He holds a three-time Kentucky Intercollegiate Athletic Conference Coach of the Year award for his first three years at IU Southeast.
When Reel is not coaching or recruiting, he said he likes to spend his time hunting or fishing.
"I am a real outgoing person," Reel said.
Reel said his love is in his coaching.
Reel graduated from South Dearborn High School and graduated from IU Southeast in 2007 with a bachelor's degree in general studies.
Reel played for IU Southeast his senior year and also went to play overseas.
Before IU Southeast, Real attended a school in Tennessee for nursing. However, when he transferred to IU Southeast, some of his credits did not transfer, so he went into something different.
Reel said his passion was not in nursing, but in coaching, and this is his dream job.
"I think our department does a great job with the athletics," Reel said. "I will coach here until they make me quit."
Reel also holds records for most wins in a season, highest winning percentage and most winning games in a row.
Reel has coached 30 All-Conference and five All-American players. Reel also coached the first player in IUS history to be drafted to a MLB premier team  — Cameron Conner, junior outfielder — who was drafted to Kansas City Royals.
When speaking about his team, Reel said he talks very highly of his players, as well as the coaches.
"Everything is a team effort here," Reel said. "Without dedicated players, you have nothing. We also have some really good coaches here at IU Southeast. You have to have hardworking coaches to have a good team."
Reel said he also wants to help IU Southeast reach national prominence.
D.J. Hutcherson, criminal justice senior, has played with Reel for the last four years.
"He is a really nice coach, very competitive," Hutcherson said. "Not only is he a coach, he was a player. He knows the game."
Hutcherson said coach Reel pushes them to their limits in order to be their best.
This year, Reel said his goals for the baseball team include  throwing more strikes and playing sound defense. He also said he wanted them to be a great situational team.
By BRITTANY ELMORE
Staff   
blelmore@ius.edu