Students streak nearly stark-naked
IUS Horizon
October 16, 2011
Students arrived at McCullough Plaza wearing nearly nothing for the second annual Nearly Naked Mile on Oct. 6.
The Student Alumni Association hosted the Nearly Naked Mile to help raise awareness about the SAA and recruit new members. Due to rain, it was rescheduled from Sept. 29 to Oct. 6 due to rain.
Josh Kornberg, communications senior and SAA president, said the SAA wanted to have an event that was fun and enjoyable.
"We wanted something that would catch people's attention," Kornberg said. "Running nearly naked definitely does that."
Registration for the event started at 9 p.m.
It cost students $5 to compete in the run, or they could join the SAA to participate for free.
The money earned went toward scholarships sponsored by the SAA.
The race lasted about 15 minutes.
Students ran a mile around campus in boxers, briefs, bikinis and thongs.
This year's event had trophies for the male and female winners.
The male winner of the event was Kyle Sweetland, economics sophomore, and the female winner was Alexina Wilson, Spanish junior.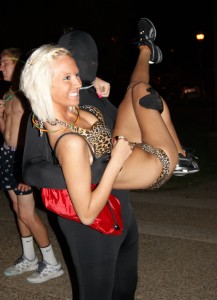 Sweetland wore shorts and a T-shirt. He was the overall winner of the race. Sweetland said he participated because he is a competitive runner, not because of the event being nearly naked.
"Winning is always nice, and it's encouraging because it lets me know that hard work really does pay off," Sweetland said. "The thing I enjoyed most about the event was racing at night."
Wilson dressed in a brightly colored sports bra and shorts and said she enjoyed seeing everyone in their various states of dress or, rather, undress.
"I honestly did not expect to win at all," Wilson said. "It was a lot of fun. I enjoy pushing myself when I run, and it gave me the motivation to pass up more boys."
Jessica Herd, education sophomore, said she thought the event was a great way to bring the student body together.
"I think it's a really great event to have because a lot of people get excited about it," Herd said. "It's really funny to see what people wear or don't wear."
By NICOLE BRANDUM
Staff
nbrandum@ius.edu