IUS celebrates 70th anniversary
IUS Horizon
September 11, 2011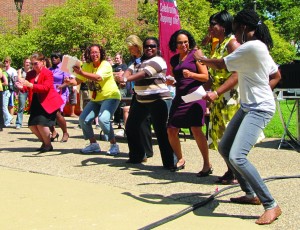 Students and staff were welcomed back to IU Southeast with music, free food and games  during the Week of Welcome.
This year's events and booths included a game show — sponsored by the Christian Student Fellowship — balloon tricks, donuts, pancakes and live music by a band from Barbados called Masala.
Emily Reinen, history senior, worked a booth for the Feminist Alliance during the Week of Welcome. She said this year's Week of Welcome was much better than the previous one.
"Normally, the bands are just local small-time bands, but this year they seemed very well prepared, and I was really impressed by them."
The band, Masala, performed on Aug. 30. Masala has five members, including Philip "7" Scantlebury, lead vocalist.
Scantlebury said he thought the Week of Welcome show went well.
"Although it was lunchtime and people were eating, they were still really responsive, and I really appreciated that," Scantlebury said.
IU Southeast was Masala's second college they performed at in the United States, with the first being at Western Kentucky University.
Reinen said she was impressed by the number of booths at this year's Week of Welcome.
This year's booths included the Student Government Association, the Children's Center, various fraternities and sororities and the IUS cheerleading team.
Channell Barbour, associate director of Campus Life, said she was amazed by how well the Student Program Council organized the event.
"Where we have all these kudos and great responses, we'll have to make it even better next year," she said.  "The SPC took these events and ran with them and I'm really proud of all they've done."
Barbour said this year's Week of Welcome was a little more special because it marked IU Southeast's 70th anniversary.
"This whole week has been the exclamation point to a great celebration," she said.
Cory Kappesser, psychology sophomore, said the 70th anniversary celebration seemed to spark a lot of school spirit within the organizations.
"There are a lot of people wearing their organization's T-shirts," he said.  "There's a lot more promotion and a lot more involvement this year."
By AMANDA CHIAMULERA
Staff
alchiamu@umail.iu.edu