Groups dance for big cash
IUS Horizon
September 11, 2011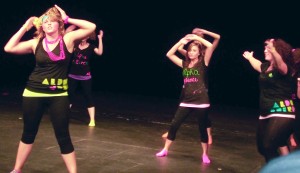 To mark the end of Week of Welcome, many student organizations had the opportunity to compete for a $300 prize during the Campus Boogie — an annual IUS dance competition.
The Campus Boogie was sponsored by the Student Government Association and the award money went toward the organization's funds.
The winning organization also received the Campus Boogie plaque, as well as bragging rights as the best dance group at IU Southeast.
"I know people from a few of the groups," Alex Wynn, undecided freshman, said. "I wanted to support them and also just came for entertainment. It's a nice way to end Week of Welcome."
This was the third year for Campus Boogie. Although the theme for the past two years has been student organizations competing against each other, the first year it was lodge against lodge.
The judges were various staff members from IU Southeast, and the host was Josh Sesar, mathematics and physics senior.
"I was pretty nervous about hosting beforehand, but after the event got started I began to enjoy myself," Sesar said. "I felt the event went great overall."
A few semi-professional dance teams, including the Souljettes, the Baby Souljettes and Too Much Dance, performed between student-group routines.
Three organizations were chosen for a dance off to help the judges decide the winner: Sassy Sigkaps, from Sigma Kappa, Sophisticated Divas, from the Multi-Cultural Student Union, and The High Class Broads and The Yuck Mouth Boys, consisted of various students.
The winning group was the Sophisticated Divas, who danced in pink and black outfits to Beyonce's "Run the World (Girls)."
Olivia Jackson, education sophomore, performed with the group CA — Chicks with Attitude — which consisted of a few of the lodges' community advisers.
Jackson said the experience left her with some great friendships.
"I loved participating in the Campus Boogie," Jackson said. "It doesn't even matter that we didn't win, we just had fun doing it."
By NICOLE BRANDUM
Staff
nbrandum@ius.edu