IUS students win competition
IUS Horizon
March 18, 2011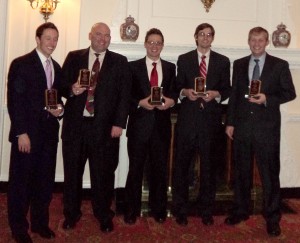 Five IUS students won the Chartered Financial Analysts Society of Louisville's Investment Research Challenge on Feb. 24.
The competition is a stock research contest that has two parts — a written analysis and an oral presentation on what they found in their analysis. There was also another measure the panel of judges used to assess the competitors.
Jay White, dean of the School of Business and adviser to the IUS team, described what the students had to do.
"The company they looked at this year was Churchill Downs," White said. "They did research on the stocks of the company and had to decide if they wanted to hold, sell or buy stock in them."
White said IU Southeast beat the Kelly School of Business, Western Kentucky University and the University of Louisville.
Chris Lefevre, an IUS business graduate student and competitor in the competition, said they started working on this project last semester and put the report together in December.
"We had to write a sale side report," Lefevre said. "The second part we presented what we found, and then the judges asked us questions for another 10 minutes. We based our recommendation off this. If the actual price is more than the actual price by 15 percent or less, then you hold it.
If the price is 15 percent or higher, then you buy it. If the actual price is below your forecasted price, then you sell it."
Lefevre said they came up with a hold recommendation for Churchill Downs.
After the completion of this competition, the IUS team gets to move on to the America's Challenge in Omaha, Neb., on April 6 through 7, where they will compete against 40 teams.
If they win there, then they can stay an extra day to compete in the world challenge.
"Worldwide, there were 500 universities in competition like the one we just won," White said. "If we make it to the world competition, then there will be a team from Asia, Europe, the Americas — and New York gets their own."
Lefevre said it's exciting to have won because he hasn't won anything since elementary school.
White said they'll do a few practice runs before they head off to the next level.
He said they'll tweak a few things the judges pointed out during this past competition they won.
"We beat the Kelly School of Business … that's a really great accomplishment right there," White said. "I think we have a decent shot at winning the next level."
Lefevre said they are going to be doing the Americas competition in flights, as in certain teams will compete in the morning and others will compete in the afternoon.
Then, the next day, the winners from those two will compete against each other for their shots at the national championship.
"This is the second time in three years that IU Southeast has won the regionals," White said. "I really think we have a good team this year."
By BRYAN JONES
Staff
jonesbry@umail.iu.edu