Weiss gets record-breaking win against Eagles
Grenadiers' ace becomes all-time wins leader in sweep of Midway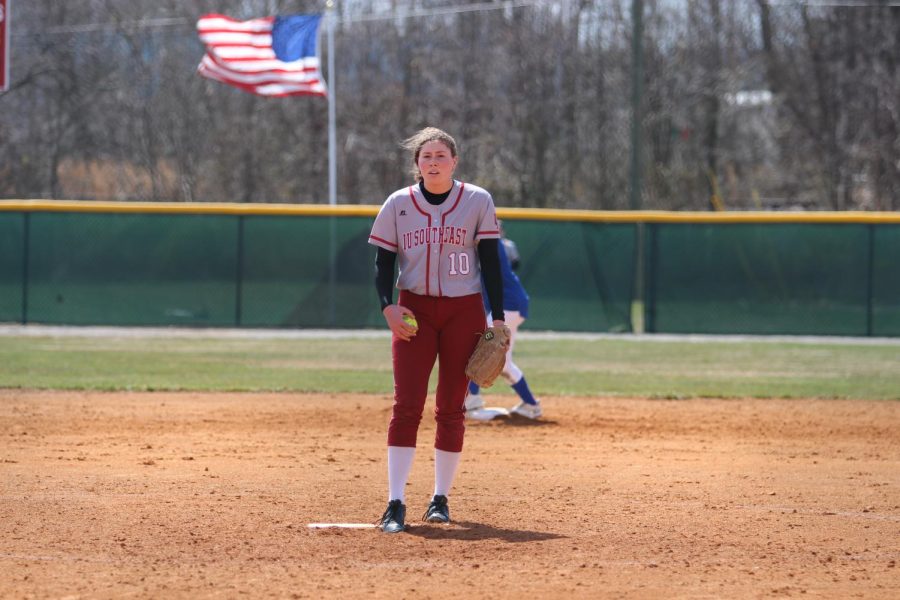 Despite reaching 60 degrees last Friday at Koetter Sports Complex, a chilly breeze blew for much of the afternoon as the IU Southeast softball team took on River States Conference rival Midway University in a doubleheader.
The Grenadiers used that wind to sail to a sweep of the Eagles by scores of 6-3 and 5-2 respectively. The end of the second game proved significant for senior ace Emily Weiss. Getting the win in the second game, Weiss recorded her 45th career win, passing Kayla Duke as the program's all-time wins leader.
"It was just really cool," Weiss said. "We had a nice team game all around and a nice team win and that helped me out."
Weiss, a three-year team captain, is also the program's all-time leader in innings pitched (470), career starts (72), and saves (8).
Game One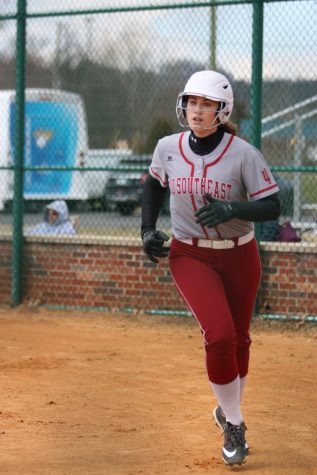 The first contest of the day saw the Eagles strike first against Grenadier starter Becca Schoenung in the second inning, when Claire Brandenburg got a one-out single and advanced on two passed balls. Brandenburg then scored on a double by Carson Flynn.
The Grenadiers countered in the bottom half on back-to-back one-out hits from Kaitlyn Flowers and Baylee Kreuger. With two outs, Lindsey Keen snuck a ball past Eagles starter Mallory Kruzich to score Flowers. After Kendyl Olds was hit by a pitch to load the bases, pinch hitter Miranda Miller drew a walk to score Kreuger.
That gave the Grenadiers the lead for good, though they would add insurance in the sixth on an RBI slap double from Reecie Gilliam. Schoenung went the distance for her third win of the season, allowing three runs, two earned, struck out five and walked three.
"We were solid but not overpowering, we didn't strike very many people out," Head coach Joe Witten said. "However our defense provided enough solid plays to keep us in every inning, we didn't give up big innings."
Game Two
The Grenadiers drew first blood in the nightcap, starting with leadoff hitter Olds, who used her speed to circle the bases for an inside-the-park home run. Morgan Keefer followed with a single, then moved to second on a wild pitch. Maggie Lubbehusen grounded to shortstop Kendall Horn, but her throw was a wild one, allowing Keefer to score.
Despite the Eagles scoring a run in the following inning, the Grenadiers scored another pair of runs in the fifth when they loaded the bases to start the frame and Keefer reached base on an error by catcher Mary Andres, scoring Maddie Probus. Lindsey Nelson followed with a sacrifice fly to score Gilliam.
The Grenadiers topped off their victory with another run in the sixth when pinch hitter Kaitlyn Zillick hit a two-out double to deep left. Miranda Miller struck out but reached base on a passed ball allowed by Andres, scoring the pinch runner Flowers.
Weiss allowed two runs, one earned through six innings. Schoenung would come in to retire the seventh and solidify the historic win for Weiss.
"She's a special individual who meets her standards highly in the classroom, and in the field she's is a good leader," Witten said of Weiss. "She's a hard worker, pitching through soreness and has been an instrumental person in allowing our team to be as successful as we have been."
Weiss' teammate and roommate Sydney Seger was especially proud of Weiss' milestone win, considering she stands alone at the top of the program's record books for home runs (18) and RBI (136).
"This is our fourth season playing and we've all worked really hard to get to this point," Seger said. "I'm so proud of Emily because she's worked unbelievably hard to get this win."
The Grenadiers concluded the weekend homestand with a sweep of Asbury University the following day, by scores of 7-3 and 10-2.
Game One:
Midway (Ky.) 0 1 1 0 1 0 0 3 9 0
IU Southeast 0 2 3 0 0 1 X 6 11 2
Win: Schoenung (IUS), Loss: Kruzich (Midway)
2B: (IUS): Gilliam (Midway): Lewis, Flynn
3B: (IUS): Lubbehusen
Game Two:
Midway (Ky.) 0 1 0 0 0 0 0 1 2 7 2
IU Southeast 2 0 0 0 2 1 X 5 7 2
Win: Weiss (IUS), Loss: Poynter (Midway), Save: Schoenung (IUS)
2B: (IUS): Zillick (Midway): Yates
HR: (IUS): Olds