Grenadiers rally past Asbury in fourth quarter
Josie Hockman reaches 1,000 career points as Grenadiers keep playoff hopes alive
Grenadiers vs. Eagles
Coming into the fourth quarter against River States Conference rival Asbury on Saturday, Feb. 1, the IU Southeast women's basketball team were down 49-39, having been the victim of a 13-5 third-quarter run by the Eagles. The lone bright spot during that span for the Grenadiers was senior Josie Hockman, who scored two of the their five points in the period on a fastbreak layup. This specific field goal was a historic one for Hockman, as it helped her eclipse the 1,000 point mark for her career.
The final period belonged to the Grenadiers, however, who utilized a rare three-point barrage to fuel a rally that ended with a 65-60 victory.
Despite shooting under 30 percent from three for most of the year, juniors Madi Woods and Ariana Sandefur, along with freshman Lauren Lambdin, combined to shoot 5-for-11 from downtown in the final ten minutes.
Head coach Robin Farris, who was in disbelief after the final buzzer sounded, credits a sudden change in their offensive game plan for sparking the rally
"We tried something we never tried before, we changed our zone offense and it was effective," Farris said. "I hadn't practiced it, but I watched Virginia's men's team play the other night and they just put a good player on the baseline and the free throw line. We tried to get Josie [Hockman] to the free throw line area where she could pass down low, turn and shoot, or pass."
The contest started off back and forth, as the Eagles made a pair of threes, Lambdin responded with one of her own. The score would be tied four times within the period, but the Eagles would cut the deficit to a 19-16 Grenadier advantage on a last-second basket by sophomore Sarah King.
The second quarter was similar to the first, with four ties along with just as many lead changes. Despite senior Kelsi Scott's four rebounds leading the Grenadiers' 11-5 advantage on the backboards in the period, they would go into the locker room with a slim 34-31 lead.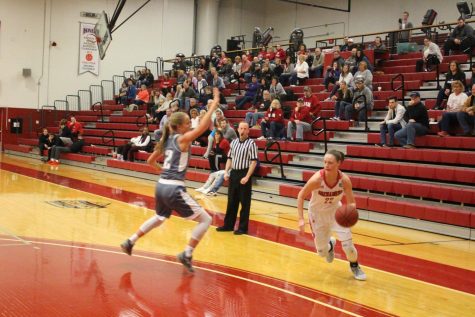 The second half would begin with both teams still evenly matched, but a three by Eagles freshman Sarah Dennison would spark the 13-5 rally that would put them ahead 49-39.
As the announcement of Hockman's surpassing 1,000 points was made before the start of the fourth quarter, her teammates did not want the occasion spoiled by a defeat at home. Utilizing Farris' change in their zone offense, the Grenadiers sparked a 26-9 run, including 15 points from behind the arc, to storm their way to victory.
"We started making shots, but we missed so many open shots that it made us look a lot worse than what we were," Farris said. "[Asbury] were hitting some threes on us, deep threes, and we're afraid to get out and guard them sometimes."
The Grenadiers have now won three straight, as well as seven of their last eight games. For the past few weeks, they had been battling Midway for the fourth seed in the RSC West division for a chance to compete in the conference tournament. With their winning ways the past eight games, they now sit two games ahead of the Eagles for the fourth seed.
Scott led the Grenadiers with another double-double performance, scoring 15 points along with pulling down 13 rebounds. Seven of those rebounds were offensive boards. Lauren Lambdin and Ariana Sandefur each recorded 11 points, each knocking down three three-pointers.
History for Hockman
Josie Hockman scored nine points in the victory over Asbury, along with pulling down four rebounds and dishing out seven assists. With her lone field goal in the third quarter on Saturday, Hockman became the 27th Grenadier in program history to join the coveted "1,000 Point Club."
She currently leads the Grenadiers in scoring with 13 points per game and is third on the team in rebounds, pulling down an average of five per contest, both career bests. Farris believes her success this season is due to her being able to slow the game down from a mental standpoint.
"It's taken a while for her to play without the ball and to slow down," Farris said. "Now she sees the court better, makes better decisions, takes better shots, not looking to score all the time, and has become a good defender for us also. It's just all sort of clicked for her."
A product of Louisville's Holy Cross High School, Hockman had a college career that started strong but was followed by a sophomore season that saw her only average 4.8 points per game. She saw improvement her junior year, averaging 7.7 points per game, along with four rebounds per game.
"It's been a long time coming, I've just been excited for it," Hockman said. "I came in strong my freshman year, then everything went downhill sophomore year, but I've improved every year since then."
Hockman, along with fellow seniors Scott and Baylee Krueger, will be honored on Thursday as part of a senior night doubleheader, as the Grenadiers conclude their home season against Brescia. Tipoff for the women's game is scheduled for 5:30.
Asbury (8-17, 4-10 RSC): Ashlee Rose 18, Autumn Herriford 18, Sarah Dennison 8, Kelsey Johnson 5, Amie Conley 4, LaTaya Winn 3, Nave Winn 2, Sarah King 2
IU Southeast (15-11, 8-6 RSC): Kelsi Scott 15, Lauren Lambdin 11, Ariana Sandefur 11, Josie Hockman 9, Madi Woods 8, Kirstie Henn 6, Baylee Krueger 3, Natalie Fichter 2
3-Point Goals:
Asbury: 10 (Ashlee Rose 4, Autumn Herriford 2, Sarah Dennison 2, Kelsey Johnson, LaTaya Winn)
IU Southeast: 9 (Ariana Sandefur 3, Laurin Lambdin 3, Madi Woods 2, Josie Hockman)