Garrett Fensler looks to leave behind a legacy of his own
After giving up baseball and basketball, IUS men's tennis junior Garrett Fensler reflects on finding a love for tennis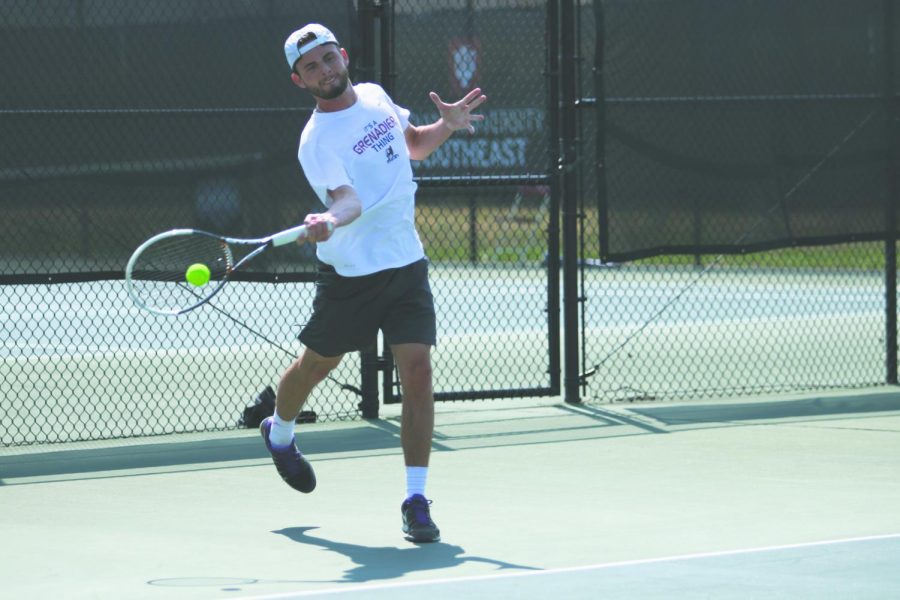 Ayear after earning his second consecutive all-conference honors, junior Garrett Fensler has his mind set on leading the IU Southeast Men's Tennis squad as they continue their winning tradition.
The culture built around the tennis program — one that has seen a number of first team all-conference selections from both Men's and Women's sides in recent history — was led by example from the legacies built by those before Fensler.
Now, he wants to leave a legacy of his own.
"My goal before I leave IUS is to win conference as a team and go to Nationals," Fensler said. "I also would like to be ranked in the top 50 in singles."
The strategic communications major has seen plenty success as the Grenadier's No. 1 singles player, including an impressive over Union's Srdjan Pejic 6-0, 1-6, 10-8 at the Campbellsville Tournament in September.
"I've had a couple top 50 singles wins, but want to continue to get those and get myself into a position to be ranked," Fensler said.
While the success in singles play has earned Fensler plenty of verification, he said he recognizes the opportunity for a return to the River States Conference championship and create that legacy he intends on building.
Part of his drive towards the elusive conference championship is not just for his sake, but for the future of the program as well.
"I want the guys coming in behind me to know that our program will outwork any team we play and always put ourselves in a position to win any match we play," Fensler said.
Finding Love for the Game
Some athletes are introduced to their love of sports through their parents' influences or watching professional athletes on television.
For Fensler, curiosity was all that was needed.
"I started playing in eighth grade just because I was curious and lived right next to some courts," Fensler said. "After that my brother and I would play for hours each day and [I] just began to find a love for the sport."
A year after his introduction to tennis, Fensler had found his passion worth sticking to.
By ninth grade, the now two-time all conference honoree had given up both baseball and basketball to hone in on tennis.
With his focus now shifted, there was one person who Fensler said would always be by his side – his grandpa.
"I started playing tournaments year-round and my grandpa didn't miss a tournament with me," Fensler said. "He was there at every match making sure I had everything I needed to play my best."
Still too young to drive himself around and pay for all the tournaments throughout the year, Fensler says it was his grandpa who helped pave the way for the eventual No. 1 Grenadier singles player.
Throughout the winter and with the cold, harsh temperatures of Indiana lasting for months at a time, Fensler's access to the nearby courts was no longer available. Fensler's grandpa would not let the weather hold him back from being the best he could be.
"During winter, playing indoors was difficult but he spent six to eight hours a week taking me to practice," Fensler said.
The same support would be by Fensler's side moving forward. Now, with eight years of experience under his belt, Fensler credits his grandpa with making the greatest impact on his tennis career.
"I can honestly say without his support, I would have never been anything more than the regular high school player that only picked up a racket during the season," Fensler said. "He spent so much time and money taking me to tennis events and I can't thank him enough for all he's done for me."