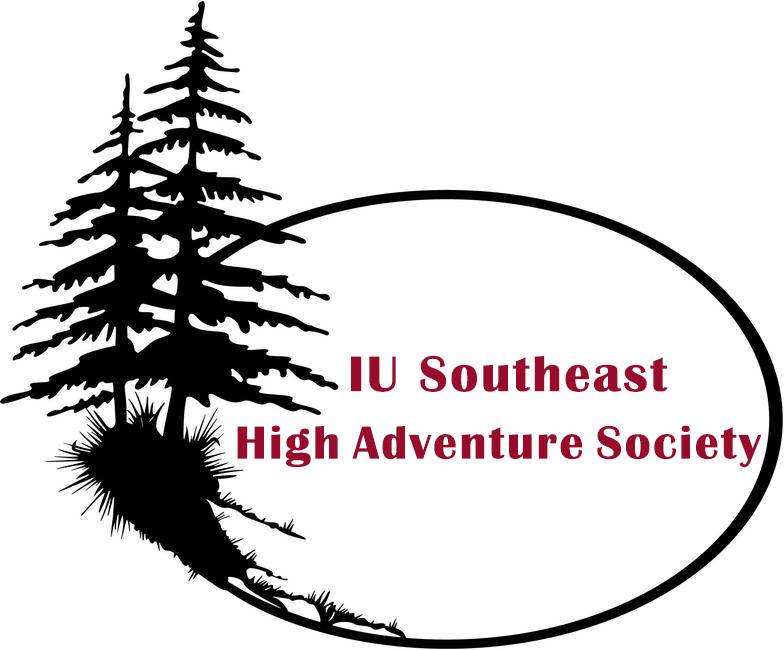 design courtesy of High Adventure Society
Nich Thomas, president of High Adventure Society at IU Southeast, wanted to find a way to get students to the outdoors while living in a world full of technology and social media.
With his love of nature, Thomas created the High Adventure Society, which would become a club based around hiking and outdoor activities, and would serve as an escape from reality to all those who wish to join.
High Adventure Society's purpose is to explore the world outside of a cell phone and take in reality face-to-face. Students are welcome to join if adventure is what they seek. Club goers will be exploring trails at Charlestown State Park and trekking the famous Knobstone Trail, among others.
"I wanted to find a way to get everyone outside," Thomas said. "I originally just wanted a hiking buddy, but it grew into this idea to get people out and away from all the books and regular drudgery of life."
Thomas wanted to establish an organization where everyone can participate in outdoor events such as hiking, canoeing and backpacking.
High Adventure Society is new on campus and is still in the beginning stages of forming their club activities. However, this won't prevent members from hitting the trails.
Taylor Overshiner, vice president of High Adventure Society, said he has always had a love for the outdoors and was a former Boy Scout, which further contributes to his interest in High Adventure Society.
"My family grew up out in the wilderness, we would go out and stay in the forest for a long time," Overshiner said. "I've walked the Knobstone [Trail] many times and I've been in crazy situations in the woods."
For Overshiner, his experience with the outdoors makes him eager to begin work with High Adventure Society.
Heavenly Duong, High Adventure Society secretary, said she was convinced to join the club when Thomas approached her with his idea for High Adventure Society. Duong takes long walks to relieve stress and decided the club would be beneficial.
"I have been in other organizations but this is the only one that has really peaked my interest," Duong said. "If you're interested in trying to get outside and just get out, this club is for you."
When considering dues for the club, Thomas decided to keep them as low as possible in order for every student to be able to afford the club.
"The plan is to keep dues at a minimum," Thomas said. "We want to make it low cost for everyone, so the dues would break down so that we can get people t-shirts and also fund equipment that we would use, as well as basic operating costs."
Since the dues for the club will be low, Thomas expects the participants to provide their own funds when they take part in larger-scale hiking events such as the Knobstone Trail.