Wonderland art finds new home at IU Southeast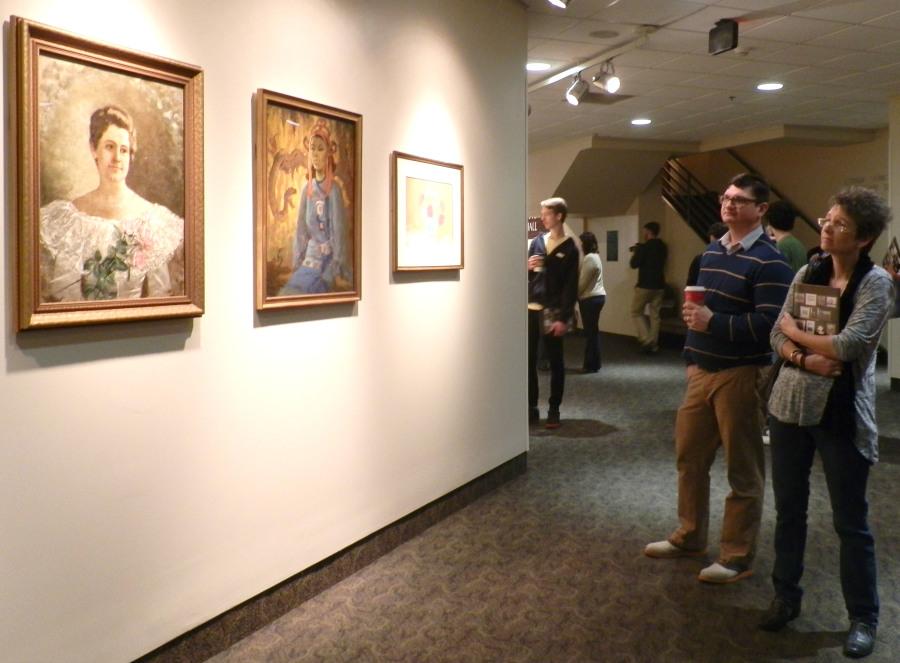 April Rickert, Editor-in-chief
November 26, 2014
The first 10 of more than 50 paintings that were pledged to IU Southeast by a local couple were installed Nov. 20 in the Paul W. Ogle Cultural & Community Center, with a public opening reception Nov. 24.
The art is part of the James L. Russell Wonderland Way Collection, which are personally collected pieces donated by benefactors Don and Kathy Smith. It features works by artists from a collective known as the Wonderland Way Art Club, which grew out of the art shop Russell, an artist, opened in 1906. Kathy is his granddaughter.
Don and Kathy Smith said they wanted a place where the art could be both well preserved and appreciated by the community.
"There were a number of places we would've loved to have had it, but this just fits," Don said.
"All these artists were from southern Indiana and this has been my home and Don's home all our lives and we felt that that's where it should stay, because that where these artists painted," Kathy said.
Ray Wallace, IU Southeast chancellor expressed his great appreciation for the gift during the panel talk of the opening reception on Nov. 24, which included Don and Kathy Smith and Rob Koenig, IU Southeast Office of Development.
"I'd like to first thank Kathy and Don, for their tremendous generosity and for their dedication to our campus and our community," Wallace said. "These artists were truly talented and deserve to be recognized and remembered. They captured a piece of what our community was like more than a century ago both in the scenery they depict and the stories they told. And that is something we are honored to be part of here at IU Southeast."
Jim Miller, professor of music theory composition, brought students from his Music Fundamentals class to the opening reception. He said he had already started to pick out his favorites among the first paintings installed.
"The portraiture work is really incredible, and the landscapes," Miller said. "My favorite in the collection is actually the sunset with the trees. And then the male portrait—unbelievable. Very, very cool."
Don said he and his wife are in the process of selecting the next paintings to be installed. He said his hope was to someday have at least one painting from each of the more than 300 artists who were part of the Wonderland Art Club represented at IU Southeast.
"And we're just going to keep doing it," he said. "Hopefully someday we'll be able to someday create enough interest for the public on this to be able to build a gallery here on campus, a separate building just for this art collection."
The Smiths said that they are happy to be able to share this art with the greater community, and still feel a strong connection to it.
"We'll still come visit on a regular basis, we'll bring people from out of town, we'll bring family and visit this art," Don said.
As artists know, it's hard to know when a piece is finished. With these collectors, the same holds true.
"I love the idea that it's like you plant a tree, you watch it grow and grow and grow and grow through your whole lifetime," Don said. "To me that's more fun than just doing it all in one day and then stopping."
Wallace said that IU Southeast receiving this art adds cultural meaning not just to the campus, but the surrounding community.
"It means that we are one of the up and coming institutions of higher education that will be recognized not only as supporters of the arts but also as people who will look after the arts," he said. "This artwork is vitally important to the American art scene. We will be an institution that not only looks after it very carefully but also promotes it so that lots of other people get to see what is just, simply stated, fabulous art."
For more information and updates, visit https://www.ius.edu/wonderland-way/