Students experience culture in coffee
IUS Horizon
December 2, 2012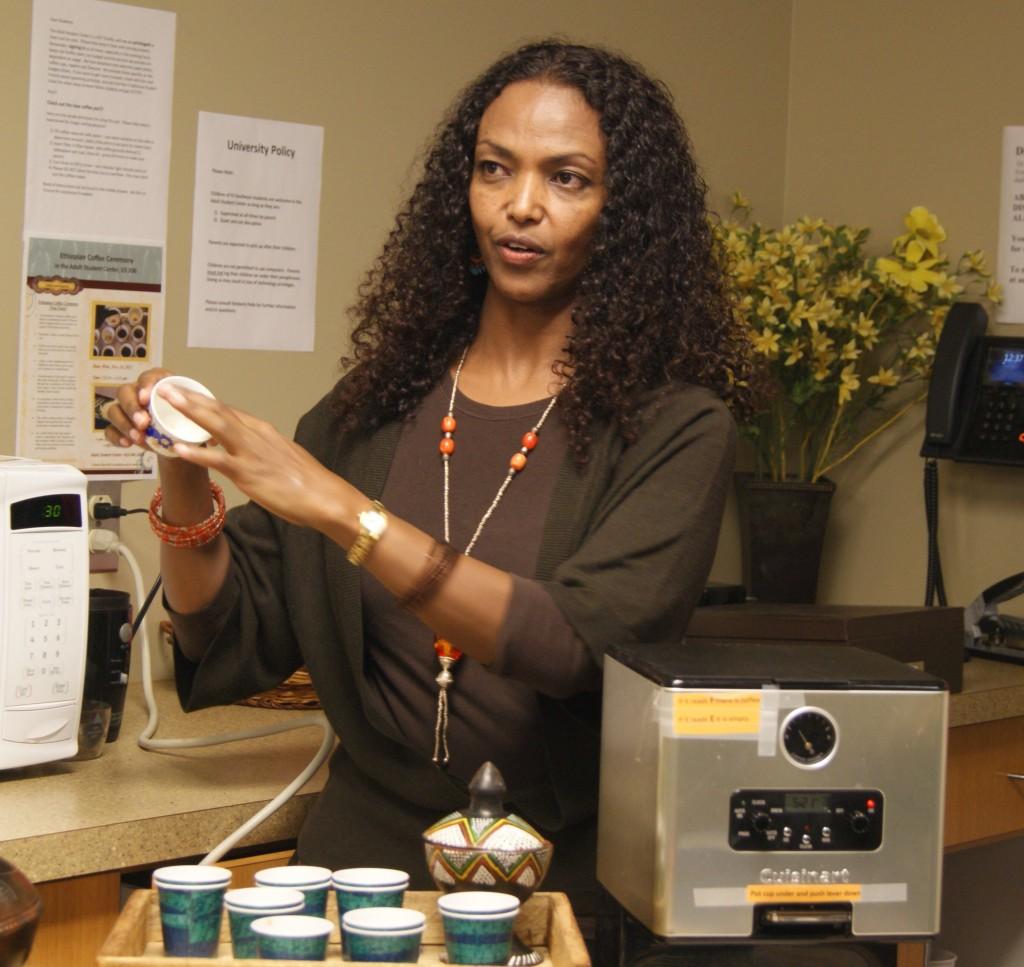 Students struggling to stay awake or complete assignments before finals week found rejuvenation in the taste of Bunna, a strong Ethiopian coffee brought directly from Africa to IU Southeast.
The Ethiopian Coffee Ceremony took place at the Adult Student Center on Nov. 14, hosted by Senait Mareligne, a close friend of Kim Pelle, coordinator for the Adult Student Center.
"Senait and I met through a mutual friend at World Fest," Pelle said. "Since then, we have worked together to help the UniKids foundation."
Pelle said UniKids is an organization that collects gently used school supplies for underprivileged children.
Mareligne said she really enjoys working with Pelle for the UniKids foundation, and together they have made quite an impact.
"Last year, we raised 4,000 pounds of school supplies," Mareligne said.
Not only do Mareligne and Pelle work in collaboration on the UniKids fundraiser, they also work together in bringing cultural events to IU Southeast, such as the Ethiopian Coffee Ceremony.
During the event, Mareligne stressed how important the ceremony is in Ethiopia.
"In Ethiopia, we don't just simply drink coffee," Mareligne said. "We have a coffee drinking ceremony that usually lasts around an hour. We typically participate in three ceremonies a day."
Yvonne Bagshaw, general studies senior, said she was shocked by how much time is spent just drinking coffee.
"If you have this ceremony three times a day, that's around six hours of just drinking coffee," Bagshaw said.
Mareligne said how nearly every aspect of the coffee drinking experience is important.
"The way you pour the coffee is important, as well as the way you hand the cup to someone," Mareligne said. "You have to hand the cup to a person a certain way, in order to show respect."
Mareligne said the proper way to give someone a cup is by holding it upright with one hand while the other hand rests on the bottom of the cup, while slightly bowing.
The cups chosen for the ceremony are also very important. Mareligne said the coffee is served in small cups called "cini."
"It is rude to leave before the third cup of coffee," Mareligne said.  "The third cup is said to bestow a blessing."
Mareligne said the entire ceremony is seen as a transformation of the spirit.
During the ceremony, popcorn, peanuts and cooked barley are also served in order to take away some of the bitterness from the coffee.
Each student was given three cups of the Ethiopian coffee. In order to receive the blessing, it was served in the cini cups so students could gain the full experience.
Dale Brown, secondary education senior, said he was surprised by how the coffee tasted.
"The coffee wasn't as strong as I thought it was going to be," Brown said.
However, Brown said he was more impressed by the fact that coffee is even able to be produced in Ethiopia.
"Ethiopia is such a barren land," Brown said. "It was very interesting to learn that the coffee is grown in the mountains around that area."
Brown also said he was surprised that the ceremony was a spiritual process.
"It was very interesting to learn that Ethiopia was primarily Christian," Brown said "Seeing how right next door to Ethiopia is to Somalia, and they mostly practice Islam."
Jade Veirs, biology freshman, said she really enjoyed the event.
"I'm a big coffee drinker, so I was instantly drawn to this when I saw the poster for it," Viers said. "The event was very informative and fun."
The event also played music native to Ethiopia and featured Ethiopian items, such as artwork and clothing.
Pelle said she was very excited about how the event went and is planning on having more events like this in the future.
"We hope that by hosting these events we will bring culture into students' lives," Pelle said.
By GAIL FAUSTYN
Staff
gfaustyn@ius.edu