Crime report brews alcohol improvement
IUS Horizon
November 25, 2012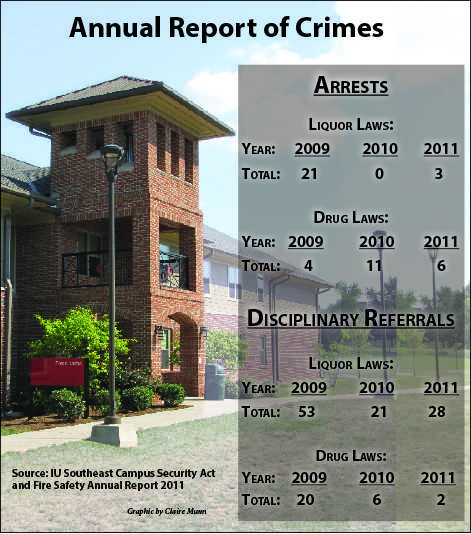 The Annual Campus Security Act and Fire Safety Report for 2011 was released on Oct. 1, showing a significant decrease in the number of crimes and arrests that took place on campus from 2009 and 2010.
This report showcases information regarding campus crime statistics and procedures for fire safety, as well as statistics showing drug and alcohol violations on campus for the last three years.
Charlie Edelen, IUS Police chief, said this report can be very useful for students who want to find out how safe the IUS campus is.
"This report gives students a quick look at the last three years of crime on campus," Edelen said. "If you're considering a school, I would think that safety would be one of the things you look at before you actually go to the school."
Edelen said compared to other university crime reports, IU Southeast's is very good.
He said he believes the small amount of crime has a lot to do with the university location because it is not in an urban environment.
Edelen said the most common incident reported on campus is theft, and most thefts reported are because of students making mistakes.
"Thefts usually occur because of someone leaving their car unlocked or leaving something out," Edelen said. "Last semester, we had two or three laptops stolen. People just leave them on a table and just walk off. I think people feel safe, and so they feel like if I leave here for five minutes, everything will still be here. A lot of times it may be, but it only takes once or twice."
Edelen said every parking lot is equipped with cameras, but not every inch of the parking lots are covered.
Edelen said the department had a recent upgrade of 135 cameras campus-wide.
"Even with the cameras we do have, often we see something that is happening, but it's not good enough to make a positive identification," Edelen said. "They do help, but they're not a solution."
For a crime to be included in this report, it has to be one of the seven major crimes: criminal homicide, sex offenses, robbery, aggravated assault, motor vehicle theft, arson or a hate crime. There are four different types of hate crimes within the report — vandalism, intimidation, larceny-theft and simple assault.
Edelen said a hate crime is based on what the offender's beliefs were, not on how the victim felt. Edelen said the IUS Police Department also counts how many arrests and how many disciplinary referrals are made and that information is included in the report under the three specific categories of liquor, drug and weapon laws.
Edelen said a disciplinary referral is when a student 21 years or older is caught on campus with alcohol.
"The [IUS] Police Department does a report, and the report gets referred to the vice chancellor of Student Affairs," Edelen said. "From there, it's handled administratively. It is not a criminal charge."
The report does show in 2009 — the first year for the lodges — more than 50 disciplinary referrals were written for alcohol violations, and 16 were written for drug violations.
Edelen said the high number of violations was contributed to outside students coming into the lodges and bringing drugs and alcohol with them.
In 2010, the number of alcohol violations decreased by more than half but rose slightly in 2011.
Drug violations decreased from 16 in 2009 to one in 2010 but rose to two in 2011.
Peter Felice, music composition senior and community adviser for Meadow Lodge, has been a community adviser for nearly three years.
He said he has noticed the decrease in alcohol related issues.
"If the number of incidents is larger, it is simply because more people are being caught in the act due to changing factors that enhance the safety of our residents," Felice said. "Since I have been a CA, the size of the University Police staff has doubled. The CA staff, unlike last year, is very experienced and has been more visible around the lodges."
Felice said most alcohol-related incidents occur when students are being too loud, and they get caught as a result.
"When students drink and do foolish things, that's usually when the CAs find out that the students have been drinking," Felice said. "CAs don't do random room checks for alcohol or drugs because that's against our policy, but if students give us a reason to enter the room, that's usually when we go in and find something."
IU Southeast has a zero policy for drugs on campus. If a resident in the lodges is found in possession of drugs, they are immediately kicked out of the lodges.
Edelen said he agrees with the zero policy and believes it has helped lower drug violations.
"It seems to be that the first year [of the lodges], students were testing to see how the university would react, and I think once they say how the university did react the number of incidents decreased," Edelen said. "The zero policy is not a continual thing. We aren't giving people two or three chances on drugs. Once there's a problem, they are escorted off campus, and that takes care of it."
To help make their presence known on campus, the IUS Police Department maintains a 24-hour shift, and officers routinely walk through all five lodges at least once a shift.
Edelen said once the lodges were built, the 24-hour shift became important.
"Before the lodges, nobody was here at night," Edelen said, "so if [an officer] caught someone on campus at night, either they were studying all night long or they were up to something. Now, there are people coming and going all the time, so having that shift makes a big difference."
Felice said so far this year, he has not seen any major problems with alcohol or drugs in the lodges.
"When you consider that there are nearly 400 residents on campus, and we might have an alcohol or drug incident once every couple weeks on average, it's not a big problem," Felice said. "Most residents will take their celebrating off of campus, and — as CAs — we encourage people to be responsible, even if they are drinking off of campus."
By KIM KERBY
Staff
kdkerby@ius.edu