Students expose alter egos
IUS Horizon
November 5, 2012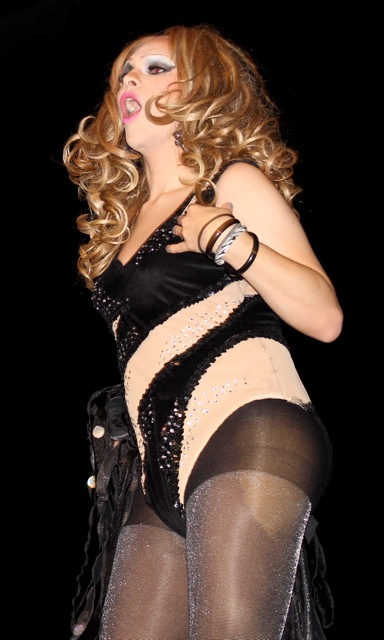 Glitter, wigs, costumes, fake beards and more could be found in the Ogle Center Oct. 27 for the Gay Straight Alliance's Drag Show.
This was the first drag show of the school year, with the second to follow in March 2013. Dylan Kidwell, secondary education sophomore and GSA president, said he thought the show went well.
"We didn't have as big of a crowd as I would have liked, but the turnout was great," Kidwell said. "It gives us something to push harder for in the spring."
Attendees got in free and were also able to enter to win a free raffle prize of a poster from the show that all the contestants signed.
"The GSA did not make any money from this show," Kidwell said. "All of our shows are funded by [Registered Student Organization] grants, which doesn't allow us to charge for tickets or make money during."
Students and community members attending the show were also handed a program listing the performers by their stage names and what song they would be performing.
"I performed 'Turn Me On' by David Guetta and Nicki Minaj for my competition piece," Kidwell said, "and for my performance piece I performed 'Call Me Maybe' by Carly Rae Jepsen."
Kidwell performed under the stage name "Emma Winters" and said the show took several months to plan.
"I had to come up with the concept of the show and how I wanted it to work," Kidwell said. "I thought of the runway idea via 'RuPaul's Drag Race' where you meet the performers and learn more about them."
Kidwell also had to decide on rules and how the contestants would be judged.
"We chose to judge them on four levels," Kidwell said. "Makeup, costuming, lip sync — were they keeping with the song and not just peanut-butter-watermelon-ing it the entire time — and audience reaction."
Nicholas Moore, marketing and accounting junior, said this was this was the first time he had been the master of ceremonies for the Drag Show.
"Coincidentally, this is my first year being involved with GSA, as well," Moore said.
Moore said he hopes to get to know more people in the GSA. He told Kidwell if they still needed someone to host the show he would do it.
"I worked in radio for three years and have done quite a bit of theatrical work on stage," Moore said. "A few weeks later, we were talking about the show and he said, 'Oh and by the way you're hosting' and smiled. It worked out great."
The judges for the show consisted of staff, faculty and community members who support the GSA — William Sweigart, associate professor of English, Marie Hunt, Greg Roberts, academic adviser for the School of Arts and Letters and a fourth last minute replacement.
"I forgot his name as the replacement was done while I was getting ready," Kidwell said.
Moore said the judges were fantastic.
"They gave feedback to performers, which the audience heard, that was just technical enough and just humorous enough at the same time," Moore said.
The contestants consisted of mostly GSA members, with two contestants from IU Bloomington and one performer from Connection Night Club in Louisville.
"I met Payne Banister and Devin Roberts on a visit to Bloomington," Kidwell said. "Jeremy Perkins is a part-time performer at Connections."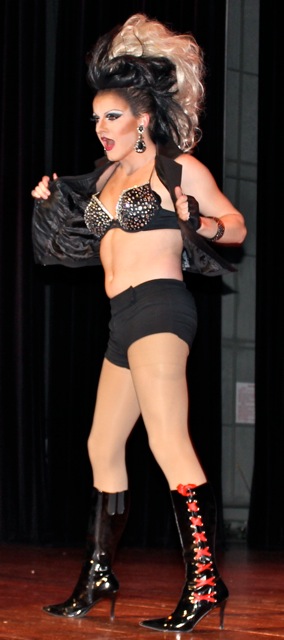 Payne Banister performed Katy Perry's "Teenage Dream" under the stage name "Matilda Rose" with a fake pregnant belly and a pack of cigarettes. Toward the end of his performance, he revealed a fake baby from under his shirt.
Jeremy Perkins,  reigning champion, performed as "Giselle Summers" and took home the title of Miss IU Southeast for the second time in a row.
"He is the one who helps me with my makeup," Kidwell said.
Joshua Cleveland, graphic design junior, was one of the contestants of the night. Cleveland performed "Longevity" by Yeasayer under the stage name "Cool Bro."
"There's a character in 'Homestuck,' a popular web comic, who is known only as bro," Cleveland said. "I saw a video of someone dressed as him dancing to a comical song and decided to do that for last year's drag show."
Cleveland said this was his sixth drag show.
"I performed in three drag shows in Evansville and then three more here at IUS," Cleveland said. "This is, however, the first time I've seriously done drag as a male king."
Jade Veirs, biology freshman, performed as "Will Charmer" and won Mr. IU Southeast.
Veirs performed the song "Cupid" by Sam Cooke.
"This was my first official drag show that I have actually participated in," Veirs said, "yet, my friends and I used to get in drag just for laughs."
Veirs said when it comes to drag it is important to be a dynamic person, so she thought Will would be a larger-than-life character.
"He's a lady's man," Veirs said, "but always fun-loving and classy."
Kidwell said the purpose of these shows is to show a diverse and honored piece of the Lesbian, Gay, Bisexual, Transgender community with the community of IU Southeast.
Moore said he thought the show promoted the GSA well.
"It was quality entertainment," Moore said. "It promoted great form of art and performance and was educational as such and was just plain fun and entertaining."
Veirs said she thought the show went great.
"We had some really talented and diverse performers," Veirs said. "We made a complete show with glam, humor and good old fashioned fun."
By TAYLOR FERGUSON
Staff
tayfergu@ius.edu
[photospace]