Chamber players enchant audience
IUS Horizon
February 3, 2012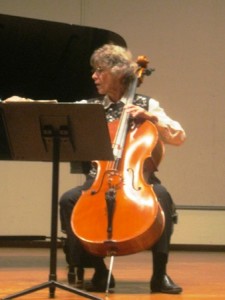 Ceruti Chamber Players cracked jokes and played both new and old classical music Jan. 29 at the Stem Concert Hall in the Ogle Center.
Admission for the event was free, and the chamber players performed four pieces during the one-hour concert.
"Our first piece 'Canzonne Vecchione' sounds like an Italian folk song, so if you feel like going to get a pizza you will know why," Robert Docs, double bass player, said during the performance. "I'm the clown of the group."
"Canzonne Vecchione" was written by Adrian Mann, philharmonic composer from Fort Wayne, Ind.
The chamber players are currently on their 26th season, and they have performed in a wide variety of venues, including the Master Musicians Festival in Somerset, Ky, and Musikfest Bethlehem, Pa.
The Ceruti Chamber Players' performances have also been played on TV and radio.  They have been shown on Kentucky Educational Television, and their performances were also broadcast on WFPK-FM during the Louisville in Concert series.
"[La Bergere des Brisas de Vallee's] English title is 'Shepherdess of the Valley Breezes." Grace Baugh-Bennett, adjunct professor of music and pianist, said. "I will not attempt to say the French title of this next piece. My French accent is terrible, and I'm sure you don't want to hear it."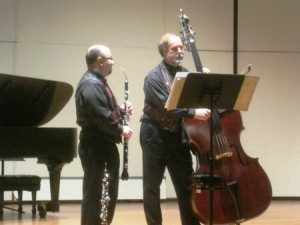 Bough-Bennett said he described the piece "La Bergere des Brisas de Vallee" as a breeze moving through the wind.
"The breeze starts out as playful but gradually becomes more sinister," Bennett said.
Donald Gottlieb, flute and piccolo player, and Trevor Johnson, oboe and English horn player, regularly switched between their two instruments while playing "La Bergere des Brisas de Vallee." This created the illusion of a constant changing breeze as Gottlieb and Johnson switched between the two.
"[Gottlieb] has played music since he was in grade school." Paige Gottlieb, Donald Gottlieb's wife, said. "He has also been in the Louisville Orchestra since 1978."
Paige Gottlieb also regularly plays the church organ.
"For me, [playing the church organ] a part time job," Paige Gottlieb said. "It's very hard to make a living playing music."
Docs said his advice for aspiring musicians was to get in another line of work.
"The Louisville Orchestra hasn't got their act together," Docs said. "[Ceruti Chamber Players] is basically all I do."
All of the Chamber Players have performed in the past for the Louisville Orchestra. Docs has been a member of the Louisville Orchestra since 1980.
The third piece that was performed was "Suite," written in 2011 by Timothy Goplerud, composer.
The first movement had a relatively slow tempo, while the second movement had a very fast tempo and was fashioned as a waltz. The final movement sounded like a southern Gospel song.
"I really enjoyed playing all of the songs," Bough-Bennett said.
Bough-Bennett earned her Master of Arts in piano performance in 1979 and has been playing piano since she was 3 years old.
"My parents still own the piano I play on," Bough-Bennett said. "You can see the scratch marks on the bench from my shoes when I crawled up onto the bench. I cannot imagine not playing piano. It has always been a part of my life."
Docs and Bennett are the organizers for all of the Chamber Players events.
"It's always a jigsaw puzzle putting the performance together," Bennett said.
The Chamber Player's last piece was "Sonata de Camera, Op. 48," which was written in 1927 by Gabriel Pierne, conductor and composure. This was the only piece performed by the Chamber Players that was not written in the 21st century.
Docs said he did not have a favorite piece among the four played during the performance.
"All of them were challenging," Docs said. "I always tell my students that everything has its easy parts, and its challenging parts. Everything is easy, and everything is challenging."
The Ceruti Chamber Players said they are planning to continue playing at IU Southeast.
By BRADLEY COOPER
Staff
bradcoop@ius.edu