Hispanic culture enthralls lecturer
IUS Horizon
November 13, 2011
Kendra Neafus, visiting lecturer in Spanish, is passionate about all aspects of the Spanish language and Hispanic culture.
"I first took Spanish in high school and fell in love with the sense of decoding a secret message," Neafus said.
Neafus said her first Spanish teacher at New Albany High School inspired her with stories of traveling to Spanish-speaking countries, like Chile, and would speak Spanish to them almost exclusively, creating a challenge Neafus enjoyed.
"I got hooked immediately and knew I wanted to learn Spanish well enough to travel to other countries and understand the locals," Neafus said.
Neafus found translating large bodies of text to be fun and challenging and even helped her classmates.
Neafus said she enjoyed helping her classmates so much that teaching seemed to be a natural choice.
She pursued an education that could give her the opportunity to teach Spanish.
She received her bachelor's degree in secondary education with a major in Spanish and a minor in English as a second language.
Neafus spent some time in the border town of McAllen, Texas, teaching English to migrant workers and Spanish to those who worked with the migrants and their children.
"Even though we were in Texas, it was hard to tell," Neafus said. "The social language of the town was Spanish, and it was spoken everywhere."
Amy Zink, senior lecturer of Spanish, has worked with Neafus since she arrived at IU Southeast and said she values her skills as an instructor.
"We are really lucky to have someone with her knowledge, experience and eye for detail," Zink said. "Not only that, she makes great tamales."
Rachel Mulvey, fine arts senior, is a student of Neafus and said she enjoys the Spanish 200 class.
"[Neafus] is a really good teacher, and she talks to us in Spanish a lot," Mulvey said.
After teaching Spanish at the East Literature Magnet in Nashville, Tenn., for a little less than a year, she began teaching Spanish at Floyd Central High School in Floyds Knobs, Ind., for almost four years. Neafus went on to receive her master's degree in Spanish at the University of Louisville.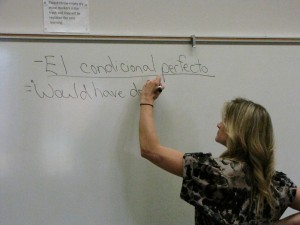 Neafus said she loves teaching, especially at the college level because it is  so much more about the subject of Spanish in a broad sense rather than just the mechanics of the language.
"Having a minor in a foreign language — in today's job market — is essential for standing out from the crowd," Neafus said. "Spanish is a good one to have in your repertoire."
Neafus said, by the third or fourth year of studying a language, a student will be able to understand and use the language, and that skill can open a lot of doors.
She said she encourages students to soak up Hispanic history and culture and sample the cuisine.
"I love Spanish food, which is a lot different than what most people think of as Mexican food around here," Neafus said. "Mexico is so big, the cuisine varies dramatically from region to region and Spanish food has more of a Mediterranean flavor."
Neafus had the opportunity to travel abroad while pursuing her studies and lived for a while in Mexico City, where she studied at the Universidad Iberoamericana.
She also spent time in Madrid, where she studied at Universidad Complutense de Madrid.
While studying in Mexico City, Neafus stayed with a local family and became immersed in day-to-day life.
Recently, Neafus traveled to Mexico on contract work and visited the town of Tequila, near Guadalajara, and had the opportunity to tour the business she was working for.
"The tour really opened my eyes to how important tequila is to the Mexican economy and culture," Neafus said. "It's not just another kind of liquor to them."
Neafus said she hopes to travel more in the future but will have to wait for her children to get a little older.
"I really want to get involved in study abroad opportunities for students in the future," Neafus said. "Who knows, maybe even putting together a small program of my own or being part of another."
Neafus said she loves IU Southeast and wants to continue to teach and hopefully get started on her doctorate in Spanish in the next five years.
By SONDRA MORRIS
Staff
sobmorri@ius.edu