Local café provides more than coffee
IUS Horizon
August 28, 2011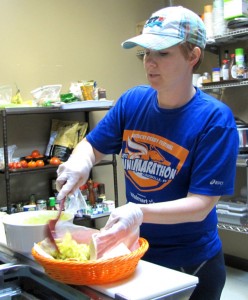 A new local coffee shop has made a home and a statement on Grant Line Road in New Albany.
With a focus on local, organic, anti-animal cruelty and fair trade, Stacie Bale, owner of Earth Friends Café, is providing more than a receipt to customers.
"I have high standards, not high profit and greediness," Bale said. "We're not trying to be the next McDonalds."
Bale said she originally inquired about a small space in the Summit Square along Grant Line Road to start a publication concentrating on animals.
When the owner offered her additional space, Bale accepted the offer and found a way to bridge animal cruelty awareness and a cup of coffee.
In April, she opened Earth Friends Café.
"I have a soft way of informing the public on being socially responsible," Bale said. "From a business angle, my heart is in it more than intelligence."
In the café, Bale has signs and posters on the walls promoting the messages, "happy animals equal happy people," "save the planet," and "buy local."
Bale said she researches her foods and products before purchasing, confirming they're local, organic, safe and not tested on animals.
She said most of the fruits and vegetables purchased are from the Farmers' Market and the meats are from Marksbury Farms in Kentucky.
"There's more harmony in the community when we're working together," Bale said. "We're pumping money into the community, not into one big corporation."
Bale said she also stresses the importance of healthy eating.
"The time it takes you to go through a drive-thru line, you could sit down and have a meal," she said. "It's all about moving, you got to get up and move."
Michelle Pruitt, server and menu coordinator, said she enjoys working for a café that cares.
"A lot of the planet's issues revolve around food," Pruitt said.
Pruitt said she helped to extend the menu to offer items that not only focus on healthy foods, but also foods that taste good and are filling.
In addition to a selection of coffees, teas, lattes and espressos, the menu offers a medley of organic foods for breakfast, lunch and dinner.
Menu items include vegan or meat options for deli sandwiches, melts, wraps and salads. The menu also offers combos of soups, salads and sandwiches, and a kid's sandwic
h menu offering baninis, which are composed of banana, local honey and organic chocolate on Great Harvest Whole Wheat.
Sweet treats include Kizito muffins and desserts from Desserts by Helen, a bakery in Louisville.
The café also has a selection of Ecuadorian purses, bags and bracelets all made fair trade — no slave labor, minimal fees and workers paid equally.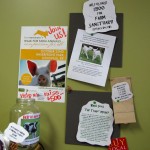 Bale said she hopes to host education classes in her café.
"I'd like to provide health-eating and organic nutritional education classes in the future," Bale said.     "The hope is to get more people involved as community effort."
Jean Maxwell, a frequent visitor at Earth Friends Café and member of the Floyd County Animal Rescue League, said she is happy with the new café.
"I support what they're doing and I love the message they're promoting," Maxwell said.
The café provides tip jars collecting for animal charities on the counter tops, and they will be participating in Walk for Farm Animals in Louisville on Oct. 22.
By LEAH TATE
Sports Editor
lmtate@umail.iu.edu