Forum connects various religions with science
Hang on for a minute...we're trying to find some more stories you might like.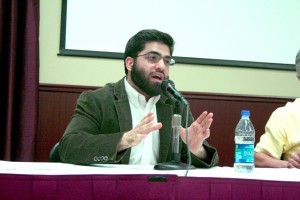 Religion as it relates to science was the topic of a discussion forum hosted in the Hoosier Room on April 14.
The discussion featured four panelists from different religions representing Buddhism, atheism, Christianity and Islam.
"No one here was not stimulated," Scott Brewer, English junior, said.
The panelists were Polly Webb, a member of Soka Gakkai International — a Buddhist association for peace  — and Buddhist representative, Ross Nunes, local physician and co-pastor of a Christian church, Sam Sloss, professor of sociology and atheist representative, and Kiarash Jahed, physician at the University of Louisville Hospital and Muslim representative.
Topics such as global warming, free will, immortality, evolution and the origins of the universe and human life were discussed by the panelists.
When discussing global warming, Webb said, through Buddhism, she believes a person cannot be separated from the environment, and humans do not understand the environment.
Nunes said his belief is humans are responsible for taking care of the Earth.
Sloss said the scientific community mostly believes in global warming, and humans have played a major role in it.
Sloss also said he is not representing the atheist community but, rather, the scientific community because he is not aware of what all atheists believe.
Jahed said he feels there is a potential for interfaith projects to help stop global warming.
The event was moderated by Marty Rosen, director of the IUS Library.
"I love this event," Rosen said.
Rosen said he wanted to make it clear what was said by each panelist was an opinion from that one panelist, not of their entire faith.
Some students said they expected the debate between different religions to cause conflicts, but many topics were embraced by each religion.
"I was expecting a lot more contradictions," Josh Fetz, resident of Palmyra, Ind., said.
As the topic of evolution was discussed, Nunes pointed out some Christians recognize evolution as an act of God.
Sloss said evolution explains a lot of phenomena. He said people eat evolved foods, all medicines are based on evolution and even court cases are based on evolution.
Jahed spoke in Arabic to get his argument across, citing specific examples from the Quran.
He said one verse can be translated to say "God created every living thing from water" or "God created every living thing in water."
He also said the Quran says to travel through Earth and look to see how creation started, but he said he has doubts that apes evolved into humans.
More than 70 people turned out for the event, which was sponsored and created by the IUS Honors Program. "I was pleased with the turnout," Andrew Stillman, chemistry senior and chairman of the Honors Program Student Advisory Board, said.
Stillman said, every year, he expects the different viewpoints to be insightful and meaningful. He also said he hopes students learned something from other religions.
"We picked religion and science because they're two sides to an idea," Stillman said.
By JOSHUA WILSON
Staff
wilsjosh@imail.iu.edu