Grenadiers lose match, snap win streak
IUS Horizon
October 4, 2010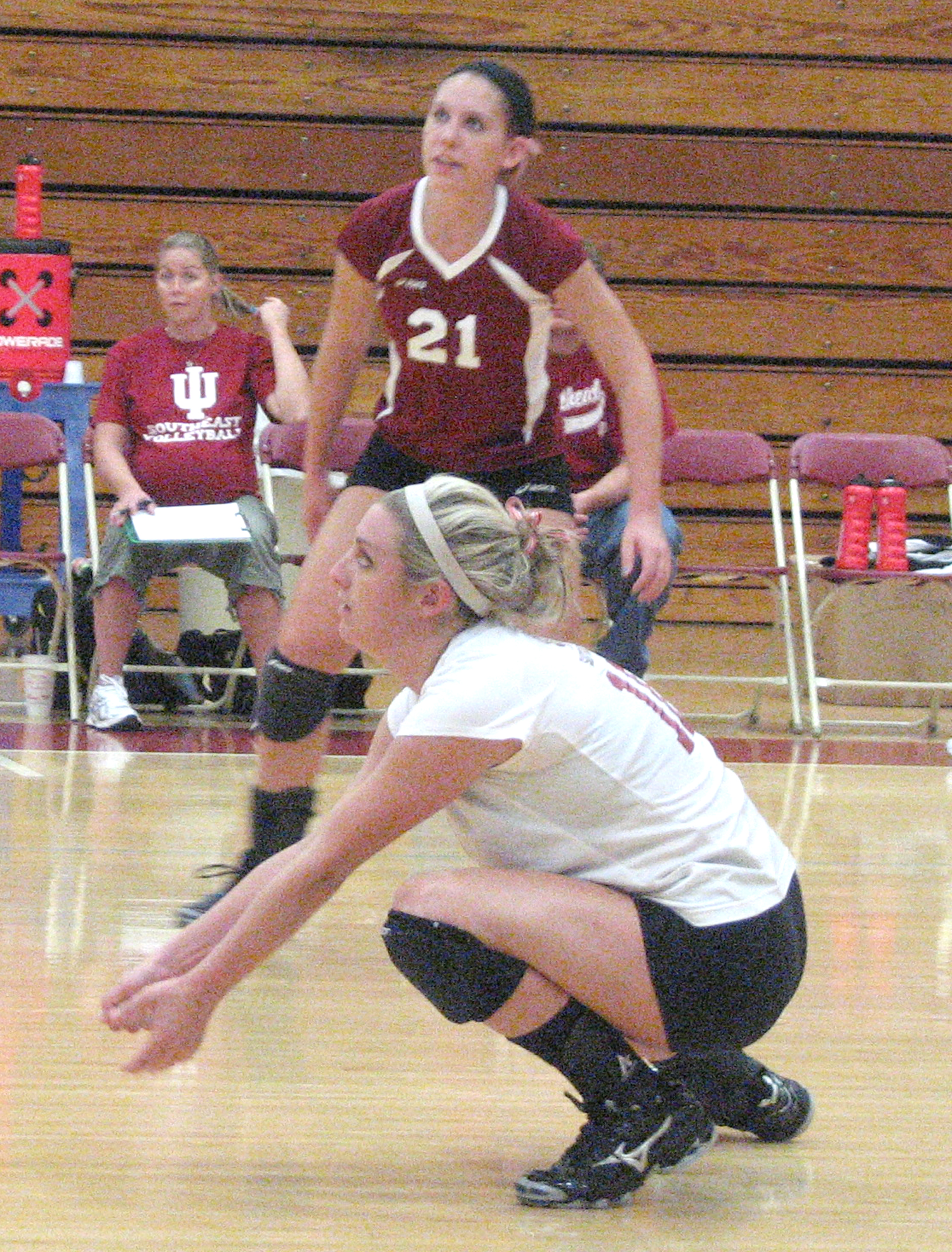 IUS Volleyball's nine-game win streak came to end on Tuesday, Sept. 28, after being defeated by Campbellsville University.
The Grenadiers lost to the Tigers in three straight sets, 25-9, 25-23 and 25-17. The loss drops IU Southeast to 10-8 for the season.
"I am not really sure what our reason is for this game," Lesley Drury-Prather, IUS Volleyball head coach, said. "I don't know if they got comfortable with winning. I have no idea."
The Grenadiers had won their last nine games after starting the season off 1-7.
"We started out the season kind of rocky but then went on our winning streak and did so good," Lindsey Maymon, sophomore outside hitter, said.
Bad passing by the Grenadiers and aggressive attacking by the Tigers were key reasons IU Southeast struggled.
"Our passing was just terrible," Drury-Prather said. "That is what lost the game for us. We passed the worst tonight that we've done all season."
The Tigers came out strong in the first set, only allowing the Grenadiers to score nine points. IU Southeast began to rally in the second set but couldn't come back and lost the third set, as well.
"I was really happy with them coming back and fighting the second game after such a bad loss in the first game," Drury-Prather said, "but we made critical errors at critical times, and, in a game like that, there is no room for missed serves and lack of communication."
The Tigers had 43 kills in the match compared to the Grenadiers' 23 kills. Monica Chernichan, sophomore outside hitter for the Tigers, had a match high of 12 kills.
"I think we might have gotten a little intimidated coming out, but that's no excuse," Katie Johnson, freshman setter, said.
IU Southeast's opponent came into the match with experienced players and a 12-3 record.
"Our aggressive serves and aggressive attacks broke them down," Amy Eckenfels, Campbellsville head coach, said, "but I think IUS is very scrappy and has a lot of heart."
Julie Roeder, freshman outside hitter, led the Grenadiers with seven kills, and Lauren McCartin, junior libero and defensive specialist, led the team with 16 defensive digs for the match.
Maymon said the loss can be credited to a lack of communication.
"We just were quiet out there tonight," Maymon said. "We just weren't clicking like we normally do."
The Grenadiers' lack of communication led to eight errors for the match.
"We made all kinds of mistakes," Johnson said. "We didn't talk and communicate, and we just weren't the same team out there that we are."
Drury-Prather said her team has a lot of soul-searching to do.
By NIKOLETTE
LANGDON
Staff
nlangdon@umail.iu.edu
"I think they know they are a better team than what they showed tonight," Drury-Prather said. "I expect them to be the team that played against Rose-Hulman."
The Grenadiers beat Rose-Hulman Institute of Technology on Sept. 24 in comeback fashion after falling 2-1 early and rallying back in the fifth set.
"That was the team that I see in practice every day, and that is the team I want to see from them," Drury-Prather said.
Johnson said she thinks the team will bounce back.
"I think we are just going to fire back even harder from this loss," Johnson said. "I think it will just push us to get back on that winning streak."