Grenadiers looking to start new decade right
IU Southeast baseball team seeks to continue RSC dominance in 2020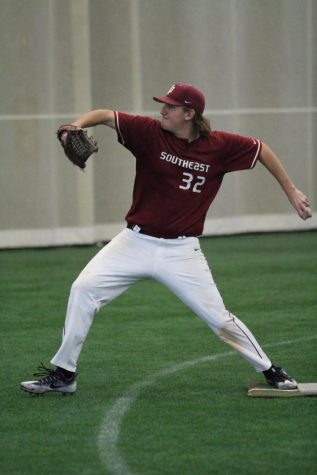 The IUS baseball team had another excellent season in 2019, finishing with their seventh River States Conference regular season title in 11 seasons, their fourth consecutive NAIA National Tournament appearance, a 37-20 record (21-6 RSC), and finished the year ranked #24 in the NAIA Top 25.
The expectations for the Grenadiers will be high once again in 2020, as not only were they picked to win the conference in the RSC Preseason Coaches Poll, but will also start the season ranked #22 in the NAIA. The Grenadiers will try to meet those expectations without the nine seniors who helped fuel their 2019 run.
"In most instances, it could be very detrimental," Head Coach Ben Reel said. "They left a very fertile bed for our young guys to blossom and grow this year."
Returning Position Players
The Grenadiers have several young players who look to contribute once again this season, including sophomore slugger Derrick Wagner, who had an excellent freshman campaign in 2019, batting .280/.380/.491 with nine home runs and 43 RBI.
Joining Wagner in the lineup are the middle infield duo of sophomore Daunte Dechello and junior Clay Woeste. Woeste had a fine season as well, batting .360/.456/.478 with two home runs and 34 stolen bases from the leadoff spot.
The Grenadiers will also return last year's catching platoon of junior Brody Tanksley and sophomore Ben Berenda, the former Reel believes will be a crucial bat this season. Tanksley hit .337/.401/.440 with 27 RBI and threw out 15 would-be base stealers.
"[Tanksley] was kind of the unsung hero last year," Reel said. "He had to hit either ahead of or behind Cody Maloon all year long, and when teams pitched around Cody to get to Brody, he did a lot of damage."
Rounding out the returning position players are utilityman Tyler Mills and outfielders Santrel Farmer and John Ullom.
Returning Pitchers
On the mound, the Grenadiers return the lefty duo of junior Trevor Reynolds and sophomore Chas Adams. Adams went 8-3 with a 2.66 ERA, third best in the RSC, in 74.1 innings. He also held opposing batters to a .169 average, second best in the conference. Reynolds meanwhile was 3-2 with a 6.57 ERA, but expects a much better junior campaign.
A third southpaw joins them in the rotation, junior Hunter Kloke. Kloke sat out last season as a redshirt after transferring from Brescia, but has already signed up to participate in the prestigious Cape Cod League after the season is over.
The remaining pitchers to return for 2020 include Brendan Bube, Cameron Harvey, Jacob Frankel, Jacob Morley, Payton Bledsoe, and Eli Helton.
New Faces
Reel's scouting department has helped to fill out the roster by bringing in a myriad students from other programs, including this year's trio of seniors. Trevor MacDonald (Indiana Tech), Jake Scott (Houston Baptist), and Brandon Hubbard (Campbellsville) will be expected to provide leadership for the still fairly young Grenadier squad, while juniors Marco Romero (Oakton) and Ray Aponte (C.C. of Rhode Island) bring much needed left-handed bats to a normally righty-heavy lineup.
Also transferring to play for the Grenadiers in 2020 include Alec Saulman and Trevor Zink (Olney State), Austin Wise (Columbia State), Zach Mann (Chattanooga State), Connor Burnett (State Fair), Brandon Boxer (Charleston), and Ethan Shafer (Indiana Wesleyan).
Finally, the Grenadiers welcome six true freshmen that are taking the first steps in their collegiate careers, led by a trio of right-handed pitchers in Nick Rose (North Oldham), Lane Oesterling (Batesville), and Connor Fries (Louisville Southern).
Maintaining Dominance
It's no secret to anyone following Grenadier baseball that the program has been a perennial contender in their conferences for the past decade, whether it be the former Kentucky Intercollegiate Athletic Conference (KIAC) or the RSC. For the decade, the Grenadiers went 192-50 in KIAC/RSC play, finishing first in the standings six times and playing in nine conference tournament championship games.
But this year, several teams will look to dethrone the Grenadiers, including IU Kokomo, who finished second in the conference standings last year and are picked to finish there this year. In their third year of existence, the Cougars are looking for their third straight 30+ win season.
Other teams looking to contend for a conference championship include Rio Grande, who defeated the Grenadiers in last years RSC Tournament semifinals, Point Park (Pa.), and Midway.
"Our conference has come a long way in the last decade and it will be one of the toughest in the region," Reel said, "I think our non-conference schedule really sets us up to be prepared for the weekends."
The Grenadiers begin the season by traveling to Athens, Tennessee, where they will play three games against the defending national champions, top-ranked Tennessee Wesleyan. The first game is on Friday, Feb. 7, at 2 p.m. (Eastern).