Citizens' Climate Lobby guides the New Albany chapter with a workshop
The CCL New Albany chapter hosted one of the largest turnouts for a Climate Advocate Workshop in Indiana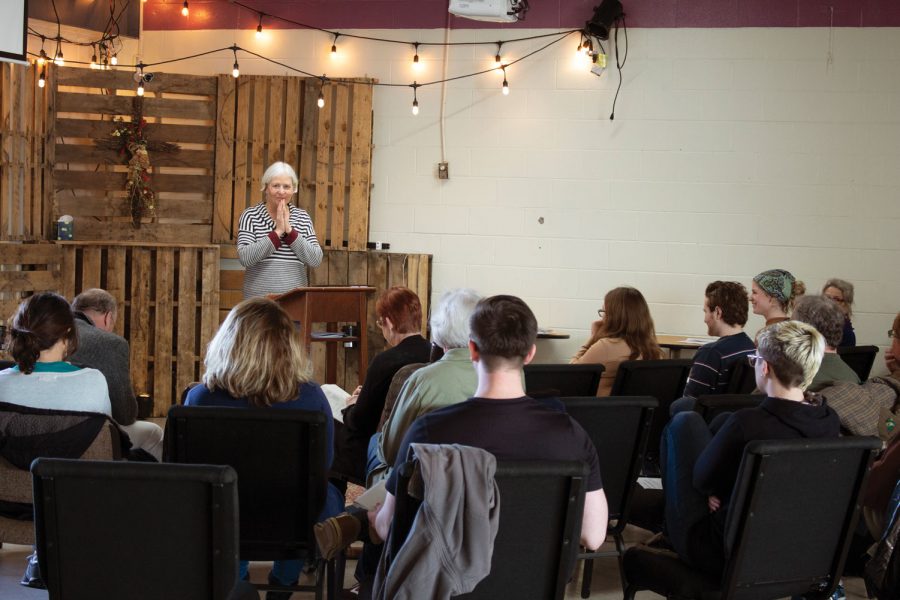 A group of over 30 people joined together at 8th Street Pizza in New Albany on Jan. 24 to put three hours of their Sunday toward learning about solutions to climate change. The Climate Advocate Workshop was hosted by volunteers of the Citizens' Climate Lobby (CCL).
CCL is a non-profit, nonpartisan, grassroots advocacy organization focused on national policies to address climate change. Marcia Veldman, CCL South Central Indiana chapter leader and co-coordinator for the state of Indiana, led the workshop highlighting the history, mission, and methodology of CCL as well as the Energy Innovation and Carbon Dividend Act.
The Six Options
According to Veldman, there are six options for dealing with climate change before Congress.
"One is the status quo, which I think everyone here can agree is not going to end well and is by far the most expensive option," Veldman said. "Regulation is another option and that has been somewhat utilized on climate change."
However, Veldman says that regulation can be tricky because small sectors such as car efficiency standards and power plant standards only affect small portions of the greenhouse gas emissions.
"It also requires a lot of people paying attention," Veldman said.
The third option, according to Veldman, is "cap and trade" which creates an artificial market where a price is put on emissions and businesses can trade them.
"This can work but it means that there are these other people who are making money off of this while prices go up for all of us. So, it's kind of a regressive way to deal with climate change," Veldman said.
Subsidies are a fourth option.
"We have seen some subsidies for renewable energy but we also know that subsidies, well, we don't know what the future looks like," Veldman said. "So, we have seen what subsidies for fossil fuels have done. They have not been a good strategy for the future"
The fifth option, according to Veldman, is a carbon tax. She said there are a lot of economists that support a carbon tax. "It's agreed upon that it is the most efficient way to drive down carbon emissions, but it also means prices go up," Veldman said.
The CCL has proposed a sixth option — a carbon fee and a dividend portion.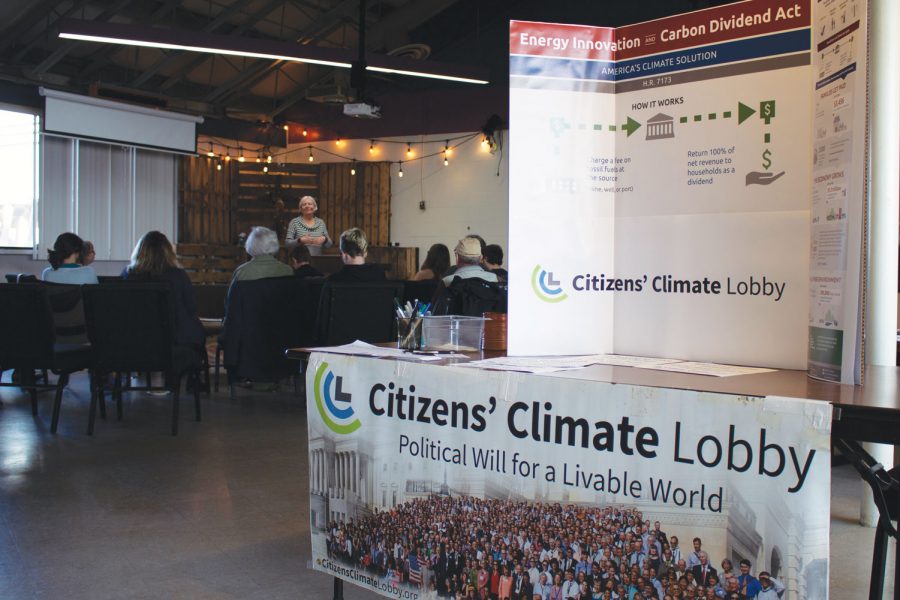 Energy Innovation and Carbon Dividend Act (H.R. 763)
Founded in 2007, the CCL has been working with Congress for over a decade on sustainable climate solutions. According to the organization, they focus on nonpartisanship because they feel climate change is urgent and affects everyone globally.
CCL has advocated for Carbon Fee and Dividend for nearly a decade. In 2018, members of the House introduced the bipartisan Energy Innovation and Carbon Dividend Act, which embodies the fee-and-dividend approach the CCL supports.
"It's called the Energy Innovation and Carbon Dividend Act," Veldman said. "Right now it's before Congress with a bipartisan group of people. There are 14 sponsors right now."
"The general idea with it is that you put a fee on potential carbon emissions as close to the source as possible. That's often called upstream," Veldman said. "If you're thinking about oil, that would be at the oil fields. If you're thinking about coal, it's at the mines. You want to go as far upstream so you can capture as much of the carbon emissions in that fee as possible."
According to Veldman, that money would be distributed to individuals. Individuals 19 years and younger would get what's called a half-share, and people who are 20 years and older would receive full-shares.
The money collected from the carbon fee would be allocated in equal shares every month to the American people to spend as they see fit. Program costs would be paid from the fees collected. You can describe your household funding and get an estimate of the impact of your budget with the carbon fee and dividend calculator.
CCL predicts this policy can reduce emissions in the United States by at least 40 percent in the first 12 years and help create over two million new jobs.
The Five Levers
"As far as our methodology, how are we going to go from this being a bill to this being a law? The way that we are doing that is that we're working to build political will," said Veldman.
The concept of building political will is divided into five levers, according to the CCL. The first being spreading the word to Congress.
"We meet with our members of Congress, our senators, our representatives. We write them letters. We call them," Veldman said. "We keep letting them know that people care about climate change."
The second lever is working with the local media. According to Veldman, members will get out into the media, write letters to the editor and meet with editorial boards to encourage them to endorse the CCL's action.
Grassroots outreach is the third lever in which members table at events and host presentations for different organizations from high schools all the way to senior centers, according the Veldman.
The fourth lever is grasstops outreach.
"We work with the city council on developing a resolution that they pass and support the Carbon Fee and Dividend. We've gone to our chamber of commerce, to their education committees and talked about our proposal," Veldman said. "So letting our leaders in the community know that there is a solution to climate change and getting their support through endorsements [is key]."
The last lever is groups.
"Working in groups and helping each other grow in their ability to communicate on climate change and to communicate on the Energy Innovation Act," Veldman said. "Growing roots around the state and around the country."
"Savor" stories
After Veldman's introductory presentation, she led the workshop in interactive exercises. The New Albany chapter talked about why sustainable climate change solutions matter, how to write letters to the editor of local newspapers, how to advocate for the bill and climate solutions and lobbying advice.
"In CCL we also say, 'If we forget to savor the world, then we are probably not going to be inspired to save it'," Veldman said. "Share a story about how you savor the world. Ask yourselves, what is it that brought you here? What do you care deeply about?"
Abigail Hunt, IUS student majoring in sustainability and regeneration, decided to go to the Climate Advocate Workshop because she wanted to get more involved.
"We're not using the world, we're borrowing from our future descendents," Hunt said. "Well, not necessarily borrowing, but we're here to fix it. I don't want to take it from them. That's my 'savor' story."
Kristina Lindborg, CCL South Central Indiana volunteer, said that CCL has given her confidence and knowledge to do more about climate change.
"I used to be a teacher," Lindborg said. "I was never involved with anything like this until I joined CCL. It's a really great organization, and the best part about it is that anyone can join."
According to Veldman, the CCL's main objective is to take the most generous approach to other people as possible while solving climate change — appreciation, gratitude, and respect.
If you're interested in learning more about CCL, the first New Albany chapter meeting will be at the New Albany Library on March 9 at 12:00 p.m.
For more information about the CCL, please visit the worldwide organization's website at https://citizensclimatelobby.org/For more information about joining the IU Southeast Sustainability Club, please visit their website at https://grenadiercentral.ius.edu/organization/SustainabilityClub