Working in Retail
A College Student's Experience
Hang on for a minute...we're trying to find some more stories you might like.
Picture a college student standing in a crowd full of shoppers, smiling and attempting to greet every single customer with a high and painful retail voice. And as he asks, "How can I help you today?" imagine them ignoring him, leaving him with a smile still on his face. Then he runs over to the register to help check out the people's items. And just when he thinks the day is over, he thinks he'll have time relax, but then remembers he has a 12-page paper due by midnight. And it's 10 p.m.; He's only done two pages.
The holiday season is around the corner. And along with customers hustling and bustling to get their holiday shopping done, comes the weight on the college student working in retail and attending school.
"I am nervous," said Kennady Kristiansen, an elementary education freshman at IU Southeast.
Kristiansen works at the Bath and Body Works in the Green Tree Mall. She currently works 30 hours a week as a sales associate and maintains 16 credit hours this semester. And this Christmas, she said this will be her first Christmas in retail as a third key (manager). As temporary key holder for the store, Kristiansen's been scheduled to work a lot more hours. She attends school Monday thru Thursday, works 5-10 p.m. Monday and Wednesday nights, 7 a.m.- 3:30 p.m. on Fridays, opens or closes on Saturdays, and usually works on Sundays. On Thanksgiving she had to work 6-10 p.m. and be at the store at 5 a.m. on Black Friday.
Alongside of being an employee of Bath and Body Works and being a student at IU Southeast, she is a member of Alpha Phi sorority.
"It's been kind of hard. I don't get a lot of sleep and I'm in a sorority so it's hard to balance working 30 hours a week and making time to study. I have sorority stuff like every weekend," Kristiansen said.
Alexis Fraley, a nursing junior and Kristiansen's sorority sister, currently works as an associate for the Victoria's Secret in Green Tree Mall. She has done so for two years now and has already conquered the holiday rush of a couple Christmases.
"It actually kind of works out perfectly because by the time it's the holiday season, it speeds up while the semester is winding down," Fraley said.  
She said the whole month of December being Christmas break allows her to put in more hours than she can during the semester. Fraley is currently working part-time because she is enrolled in the nursing program.
"My life is very busy, very chaotic," Fraley said. "I've been less here [in Victoria's Secret] and more in the library trying to finish out the semester strong, but as soon as I finish my finals I will be here pretty much all the time."
She worked Thanksgiving night and early Black Friday. Last year she only worked Black Friday so it will be a little different.
"It's really crazy, but I don't really mind the chaos because it will make time go by really fast so you're not bored," Fraley said. "I hate just standing here and being bored. I feel like I'm just standing here wasting my time, but with Christmas time, it's really fast-paced and there's always something to do. It's the same with nursing, very fast-paced and I really like that."
Fraley said she had to sacrifice a couple of things, so she could continue to manage her time with school and work.
"I take it day by day because if I look at the whole week, I freak out," Fraley said. "There's so much to do, so I say to myself, 'Ok, what do I need to get done today? What is the most important thing?' And work on that. If I can make it through today, we'll worry about tomorrow when it comes."
Although it has been hard for her, Fraley said she's still managed to get things done by color coding her planner and cutting back on friends and work time.
"I tell myself if I get all my assignments done within the next two days, I can go out with friends and have a fun relaxing night with my sorority sisters, and get back on it again the next day," Fraley said.
Bailey Hardin, a computer science freshman at Ivy Tech Community College, currently works at Journeys as a full-time sales leader. Hardin has worked at Journeys for three months but had previous retail experience from working two years at Gordmans.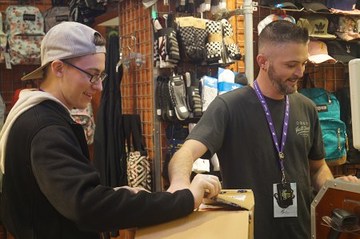 Hardin works 60 hours a week, is in the National Guard full-time, and takes 20 credit hour classes. At the beginning of the semester, he commuted to campus for classes, but with his schedule being so busy, he switched to all online classes.
"So balancing the two full-time positions as well as going to school on campus was impossible," Hardin said. "I needed a happy medium, so I could keep hours and still attend college."
Hardin gained some holiday rush experience working at Gordmans for the past two Thanksgivings and Christmases.
"My first year was chaos. I had no idea what I was doing and pretty much ran around clueless," Hardin said. "But my second year was a lot better. I knew what I had to do and had a whole team of people under me to help, so it was definitely better."
Hardin skate boards, walks around to different places and takes pictures of the scenery to help relieve stress. Even though he has the ability to juggle everything, he is not getting enough sleep. He said he has a mild case of insomnia and is always up late. Despite having high stress and an insufficient amount of sleep, he said he tries to think positively.
"I'm always smiling and having a good time with everything I do," Hardin said. "I've been trying really hard this past year to see the positives in everything I do. So, that way I'm enjoying what I'm doing and that just makes it all go by so much smoother."
But even with his positive attitude he said he still struggles a little,
"When I'm stressed, my whole personality changes. I take things a lot more seriously and seem to worry quite a bit. So my anxiety is always really high. But normally I'm pretty good at keeping everything under control so I don't have many moments where I'm stressed out."
Danielle Hempel, a criminal justice senior, works as a style advisor at both the Justice in Green Tree Mall and the Paddock location in Louisville. Hempel is currently taking 12 credit hours, working 10-15 hours a week at Justice and is an RA for IUS Residence Life and Housing. She worked on Thanksgiving and is working on Christmas, and is hoping to just process the online orders for both stores.
"It's something I can do without interruption," Hempel said. "I enjoy helping customers, but I can also process orders pretty quickly. So, I feel I use my time more efficiently by doing that."
Last year during Christmas, Hempel said she was stressed trying to complete her internship and work at Justice. She said some days she would go straight from her internship to Justice, working 11-12 hours a day. To juggle it all, Hempel said she wrote in her planner daily. She said she tries to start with big assignments as soon as possible to avoid falling behind in the semester.
Hempel said she makes it a priority to get plenty of sleep.
"No matter how busy I am I try to stop working on things by 11 p.m. so I can get to sleep at a decent time," she said. "I'd rather start something early or finish a task the next day than lose sleep."
To decompress, Hempel said she likes to listen to music, watch Netflix, spend time with her boyfriend, or go to some of her professors' offices and talk to them. Or she'll go home for an evening after spending her time on campus.
Nathan Martin, a pre-pharmacy sophomore, works as a bookseller at Books-A-Million in Green Tree Mall. He has worked there for four months but previously worked in retail pharmacy at Kroger. He is currently taking 15 credit hours and working two shifts a week.
Martin said he is fairly confident he has the holidays covered.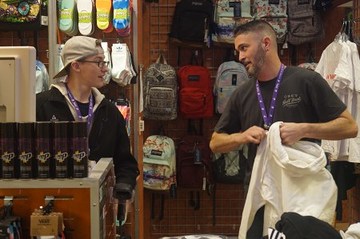 "Right now, it's still pretty slow, but I assume it's going to get a lot
busier when Christmas does roll around," Martin said. "But hopefully by that time finals will be over, so it shouldn't affect [school] too much."
Even though Martin's schedule is a little more flexible than others, he said he still struggles with it. He said he only works Mondays and Wednesdays and has longer classes those days. He said he gets out of class and has to be at work at 4 p.m. Martin said he does a bit of juggling to make sure he gets fresh clothes and cleans up before getting to work, but it is not too bad.
To make sure Martin is completing his schoolwork, he said he makes sure everything is done the night before, so he doesn't have to run home after work and finish it before midnight.
So, this holiday season, keep that working college student in mind. And keep in mind the stresses they face as they prepare to open in the morning or close late at night. They may have had only three hours of sleep and a test to do right after work, but they're customers won't know that.