IU Southeast Men's Tennis Preview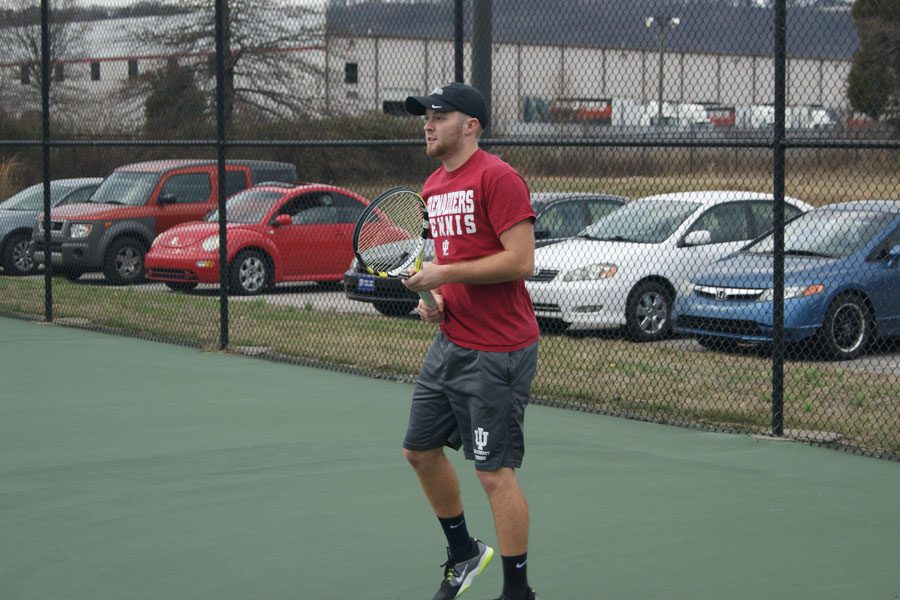 Tyler Clerkin, Staff Reporter
March 10, 2017
The IU Southeast men's tennis team is coming off a 4-0 record in the fall season of 2016. One of the wins being against Bellarmine University who IU Southeast has not ever beaten in the school's history. Now it is time for the 2017 spring season.
The Grenadiers have played six games so far this season. They are currently 4-2 with their only losses being against Ball State University and the University of Southern Indiana. The Grenadiers are undefeated at home, sitting at 3-0.
Senior Bryson Mills is not letting those two losses get to his head."The two losses we have this season were chances for us to kind of gauge where our team is at." Mills said. "We will use that experience to our benefit moving forward."
Head coach Joseph Epkey is looking forward to this season and has his  expectations set high.
"Our main goal for this season on the court is to win the conference regular season and tournament," Epkey said. "In order to make it to the NAIA National Tournament, we need those wins, as well as continue to help our young guys grow on and off the court."
The three seniors are Bryson Mills, Jonathan James and Chris Braun. With the other four members of the team being freshmen, this is a young squad.
"It is sort of a different dynamic than we are used to with the age gap," Mills said. "Us seniors are trying to be good examples so that when we graduate, the younger guys can build upon the winning traditions and foundations we have set."
With the team being so young, Epkey has noticed that they are starting to become used to the  college life in general.
"Since the young guys have become more comfortable, this allows them to settle into a routine," Epkey said. "This helps them get the most out of practices as well as competition."
After an undefeated season in the fall, the team held practices throughout the winter to make sure everyone stayed in the swing of things.
"Practice through the winter time can be difficult since we have to take what the indoor courts give us," Epkey said. "All of our players have access to play indoors whenever they can so it just requires a bit more discipline from our players to commit to being on court even when it isn't mandatory. Once March hits, and we get back outside on a daily basis, we should see a nice bit of improvement from a practice standpoint just based on ability to all be on court together routinely."
Although the team practiced throughout the winter, there are still things that Epkey said he  believes the team needs to work on to be as successful as possible. The main focus for the team right now is their doubles play.
"We need to work on how we position ourselves on the court during our doubles matches," Epkey said. "Moving even when the ball isn't being hit at them in order to set each other up to be as successful is very important as well as working on finishing points off when given the opportunity."
Mills is ready to lead this team to a successful season. He has set the bar high and is confident that his team has what it takes to succeed. He is currently playing four singles and three doubles and often sees himself in the middle of the lineup.
"This is my senior season and we have been fortunate enough to win two conferences in the past three years," Mills said. "My goals for the team this year are to win the regular season conference championship and repeat in the conference tournament."
Although Mills has high expectations for the team, he has also has set the bar high for himself since this is his last year playing for IU Southeast.
"My personal goals are to compete every day at practice and in our matches," Mills said. "I just want to be able to put our team in the best position to win every match."
The Grenadiers played their first match on February 3, 2017 and will finish the regular season on April 28.
For any information about the upcoming tennis schedule or stats, go to iusathletics.com to stay up to date on all things Grenadiers.