The World of Esports
Tyler Clerkin, Staff Writer
February 15, 2017
With the evolution of technology over the years, video games have evolved more than ever. When video games were first created back in 1958, there were never any major competitions going on for large sums of money. Fast forward to 59 years later and now there are major gaming tournaments going on for millions of dollars.
In 2002, Sundance DiGiovanni and Mike Sepso created a company called  Major League Gaming. When first starting out, there were never major tournaments that were held all over the country, there were only holding local tournaments for fun.
With the small success that they were seeing with the creation of this new company, more and more opportunities were appearing. The first game that the company saw with the most success was a game called "Halo".
Halo is a game that is played with four people on each team and the teams would play a variety of game modes in a best of five series. The winner moves  on in the in the bracket while the other team would be sent home.
Back in 2002, prize money was not a lot since the thought of Esports was so young. In 2016,  multiple games had tournaments that were played for millions of dollars.
The most successful year in the history of Esports came in 2016. There are  now have multiple titles competing in different tournaments across world. They were able to sell out a "League of Legends" tournament at the Staples Center in Los Angeles.
Some of the games that are being played professionally right now are "Call of Duty"", "Counter Strike: Global Offensive", "Halo", "DOTA I"I, and "League of Legends".
Seth Abner, who is a professional Call of Duty player, is the captain of the team known as OpTic Gaming. Abner said that becoming a professional requires a lot of training and can end up becoming the majority of your life.
In an interview he did with CBS, Abner, who goes by the name Scumpii online, went on to tell his story about how he became one of the best players in the world.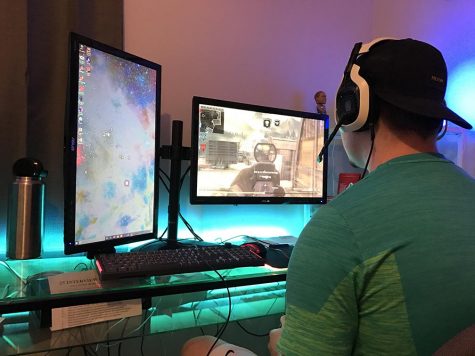 "We are not the stereotypical nerds like everyone thinks," Abner said. "We are just normal people who found our passion."
Growing up, Abner played sports for the majority of his life, but when he started to play "Call of Duty", he realized that his passion lied elsewhere.
Abner began his pro career in 2011, playing his first tournament on the game "Call of Duty: Black Ops".
In 2016, Scumpii would go on to win seven tournaments with OpTic Gaming and would bring home roughly $70,00 in prizes as a team.
With Esports becoming more and more relevant, major organizations are starting to buy into teams. OpTic Gaming was able to land a sponsorship from Brisk, a branch of Pepsi, in 2016.
Not only are major organizations like Pepsi looking to get into the world of Esports, major sports organizations are starting to hop on board. The European football club known as Paris Saint-Germain bought a "League of Legends" team in 2016.
The game "Counter Strike: Global Offensive" found it's way to national television in 2016, landing a deal with TBS to show matches every Friday Night.
They refer to the league that is played as the E-League and last year, OpTic Gaming was able to win the final tournament to take home a $400,000 prize to split between five players.
With the rise of YouTube over the last couple years, some "Call of Duty" pros took this opportunity to upload their own gameplays to their personal channels. One former pro in particular was Matt Haag.
Haag, also known as NaDeShoT, began uploading YouTube videos back in 2013 with the release of "Call of Duty: Black Ops 2". Haag began seeing an increase in subscribers and views and went on to reach 1,000,000 subscribers in 2013.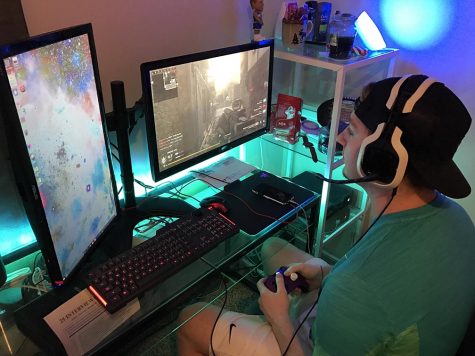 With the sudden outburst of viewership on Haag's YouTube channel, viewership would also start to rise on the tournaments being played live.
Nick Nixon, junior, secondary education major , was exposed to the world of Esports from his friends watching videos of competitive gaming. He is a fan of playing "Call of Duty" more than any other game.
"After being introduced to it from them, I began watching it on my own," Nixon said. "I really like playing "COD", and playing it in a competitive fashion really drew me in."
Nixon plays "Call of Duty" almost every day. He plays with his friends for hours on end, playing all different types of game modes.
When MLG was founded, they created a site online known as GameBattles. This site is still being used to this day and is a way for anyone to get into the competitive scene.
Players can go on this site and schedule competitive matches against other teams to help gain points for the ladder. The teams with the most points after the current season is over will be invited to a tournament to go against the best teams from that season.
This site is used for anyone to get them started in creating a possible professional career in gaming. They offer different ladders for all sorts of games and playing well enough in these matches could get a player noticed by professional players to possibly join their team.
Nixon and his friends take this opportunity to play GameBattles matches to raise their skill level by playing against other teams with the same goal in mind. When asked about going pro in this game, he thinks he could have made it.
"I have always been very competitive but my parents would not let me play videogames until about 5th grade," Nixon said. "If I would have started playing younger, I feel like I would have tried to go pro at some point."
This has been a way for young kids to find a way to have an annual income doing what they love, playing video games.
Esports is on track to keep rising and become bigger and bigger as each year passes. More and more players are trying to become pro and help create a bigger and bigger scene.