Women's volleyball team beats Hanover in early season scrimmage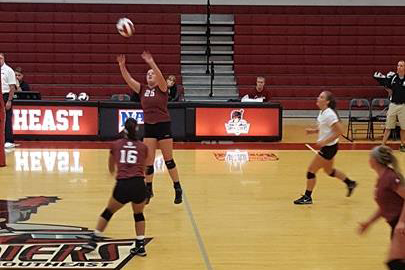 Tyler Clerkin, Staff Reporter
August 27, 2016
The IUS women's volleyball team hosted the Hanover Panthers in a home scrimmage on Friday, August 26. The women played a five-set series and ended up taking the match 3-2.
However, being only a scrimmage, the outcome did not have an overall effect on IUS' 2-2 season record. Even though the season has already started, the scrimmage served as an opportunity to play against a competitive team who went 23-9 last season.
During the match, the Grenadiers tried new strategies and lineups to see how they would work against their opponents.
"We played OK, senior and team captain Katie Fischer said. "I think we tried different line-ups so it was hard for us to adjust, but since it was just a scrimmage we did good."
Even with the new lineups being placed, the team showed how talented they are with huge wins in these sets.
"We have really high expectations, probably more than I've had in my previous three years," said Head Coach Eric Brian. "The girls are really competing hard in practice, we have more depth and talent than we've had in the previous years and the girls know they have to compete for their position, so it is really driving the competition in practice which is going to make us play at a higher level."
Senior Mary Dye said a major difference between last year's team and this year's team is the roster size.
"We definitely have more options this year since last years team was so small," she said.
Last season, the Grenadiers had 11 players on the roster as opposed to 14 this season. In a sport where there are six players on the court at the same time, having three extra players can be a bonus.
As for goals for the upcoming season, the Grenadiers have their eyes set on the conference championship. Several players said they feel that this could be the best chance they have had in a while to capture this elusive title.
"For my past four years being here, I would say this is going to be our best year," senior Katie Fischer said. "I just think we have a lot of great girls on the team, and we can do really good things with them."
The team is set to have their home opener at 7 p.m. on Tuesday, Aug. 30, against Campbellsville University.