For the love of the game
Goodbye to the Grenadiers, but not to the memories.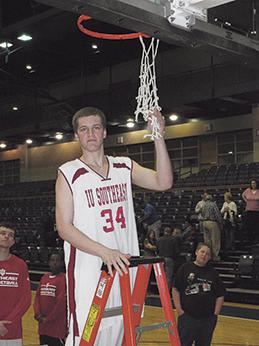 For most senior student-athletes, the end of the season is the final time they will put on a jersey for an organized sport.
It's been a year since my time in an IUS jersey came to end, and it has been one of the hardest things to get used to. I went from playing basketball every single day, whether it was during practice or games, to only playing once or twice a week.
I lost my mind in those first couple of months. I even came to conditioning once, thinking that I was still on the team.
It always feels like I haven't played basketball in over a month every time I step onto the court for the first time in a week.
Gyms are either closed when I am free, or I have to force myself to miss something important just so I can play the game I love.
The only year I played high school ball was my senior year. Lasting only that year, my high school career started late and that single season was over far too early.
Not expecting to play in college, I thought I would never play organized ball again, and at the time, I was OK with that.
Somehow I got the head coach of the IU Southeast basketball team, Wiley Brown, to take a chance on me. As cliché as this sounds, the rest was history.
My four years as a Grenadier were definitely interesting. My happiest memory came from the year we went to the NAIA Division II Final Four where, in the hallway of our Branson, Missouri hotel, my teammates and I performed an impromptu Usher concert for an elderly audience.
That experience and all of the triumph, joy, sweat and tears I left on the IU Southeast court all came from a coach taking a chance on me.
The moments I shared with Brown and my teammates make up for every stressful test, every horrid group assignment, every pointless presentation and every whiny professor I ever had to deal with over my college career.
The biggest advantage collegiate sports provides is the fact that you make so many friendships with people from all sorts of different backgrounds.
You are with these guys for months on end. You sit next to them on every road trip. You eat Cracker Barrel for every road game meal. You share the win, you share the loss, and, whatever the outcome, you share it together.
These moments and emotions are what makes us deeper than just friends. We are brothers. A type of brother that never goes away.
I am so thankful to have my former teammates because I know if I ever needed them, those guys – my brothers – would be there.
Everyone I have come into contact with in the athletic program has been fantastic.
I cannot say enough about Brown and the coaching staff I have had here at IU Southeast. Having Brown yelling from the sidelines because we didn't get a rebound made me push that much harder because I knew he wanted the best for the team. He wanted the best for me.
I am excited to see how all these connections – all these friendships – I have made throughout my collegiate career grow.
My senior year came up on me as quick as a Ray Allen jump shot. Before I knew it, I was the old man surrounded by a new year's freshmen recruits.
Just like in high school, I thought my days in a basketball uniform were over.
But I stayed active. Stayed at it. Stayed in love with the game.
There are jobs to be had overseas for seniors that want to continue their athletic career. They're there for those who stick with it, who don't give up, who can't give up because they love the game too much.
In my five years at IU Southeast, I have seen many student athletes move on and play their sport professionally, and they weren't all from basketball.
Before I put on my number 34 jersey, three seniors on the basketball team, one of them being the leading scorer Jazzmar Ferguson, all had an opportunity to play professionally. On that team alone, they had three starters that now play basketball in different countries.
Recently, I went to a few overseas development camps to test my ability to play at that level.
It turned out great, and the scouts loved me, but I did not have the capital to move on this opportunity.
Things don't always turn out as you expect them to, but I am not going to stop just yet.
In every game I've ever played, the one voice I hear over the rest is that of my father. It doesn't matter the venue. If he is in the stands, he will be yelling. It gets so bad that my mom sits on the other side of the stands just because he is embarrassing the crap out of her.
I hear him cheering when I'm playing like Shaq, and I hear him pushing me on when I'm playing like Kwame Brown. And I definitely heard every one of those things he said to the referees over the years.
I hear him now in the back of my head. Him and all my brothers. All the coaches I've had over these five years.
They're urging me to go for that last rebound. To not let this career I began so late end so early.
So I won't.
This summer I'm planning a trip out to Dallas for the College to Pros Basketball Combine. I'll let fate toss the ball up into the air, and I'll jump up to tip off the start of my professional career.
I'm not sure which way that ball will go, but either way, I'll always love this game and every memory it's given me.