Softball Season Wrap Up
In the shape of a diamond, pitching to a hitter, running hard, turning left to make it to home plate for a win, is something the IU Southeast women's softball team is best at.
The team is wrapping up its season with an overall record of 28-5 and 20-3 in conference play. They are currently preparing to play Rio Grande in the semi-finals of the KIAC tournament.
Head coach Joe Witten is in his third season with the team, and in just his first two seasons with the Grenadiers, he has won back-to-back KIAC regular season and tournament championships.
Coach Witten went over the 2015 seasons losses and said they could have won four or maybe all five of them if they had everyone there and everyone healthy.
"There was just something that had come up each time and we didn't come through down the stretch," he said.
Witten said that if you win two out of every three games, you're doing really well,
"And for them to win 85 percent of their games, has been a testament to their mental toughness," he said.
He then went over the 2015 season with his team, and said that the team has come to play with total intensity daily, and have been willing to adapt to injuries and change the normal position they're used to playing.
"We had to move four to five girls to different spots that isn't as familiar to them, and they have adapted really well and take those challenges," Witten said. "I am just really proud of them."
This year's team is extremely young. The Grenadiers started the season with just one senior and one junior. That became no senior on April 6., when senior third baseman Summer Sanders suffered a season ending knee injury in a collision with a teammate.
"They have adapted very well which is a sign of a good and mature team. We are very young, but they are mature for their age," Witten said.
Sanders said that her injury has been one of the hardest things she has had to deal with.
"I have never been injured before, so this is a completely new world for me, It has flipped my world upside down but I have tried my best to keep everything together," she said.
Witten said that being injured and not able to play can take a toll on a person mentally and emotionally.
"Summer is so strong with those two aspects of her life and the team has actually gotten better by her leadership off the field," he said.
Sanders said that as her season has come to an end she is helping the team to prepare by embracing her leadership role.
"Since I cannot physically participate, I try to do everything possible to help them perform to the best of their abilities. I try to help at practice by acting more as a coach," She said.
"We will miss Summer in the tournament and we know we would be stronger as a whole with her out there," Witten said.
As a coach, Witten said you mostly think about the negatives, and besides losing Sanders for the season they don't have very many.
"We just look forward to the next game and giving it our best, most importantly to make Indiana University Southeast very proud with how we play the game," he said.
Witten said the team will prepare and get ready for Friday's game, by staying healthy and reviewing and going over simple things.
"We don't want to try to do risky things at practice because we are one injury away from a disaster. We just have to play the way we know," Witten said.
Witten said his favorite memory of the season has been the journey to get them to where they are today.
He said that the team only has 11 players right now that are physically able to perform.
Witten added that with nine out on the field and a designated pitcher also, they really only have one sub.
"It's really just been a process of surviving for this season," he said.
One player Coach Witten said to watch out for in the tournament is sophomore pitcher Jessica Leanhart, who according to iusathletics.com has been named pitcher of the week three times in a row.
"I've worked hard throughout the years, and put in a lot of time, but I would'nt be able to do it without my teammates," Leanhart said. They are the ones that make the plays and get the hits that we need to win."
Witten elaborated and said Leanhart knows how to get people out.
"She's a winner and she can throw the ball 40 feet away through a drinking straw. That is how accurate she is," Witten said. "This is my 14th season coaching softball and this young lady is the best pitcher I have coached," Witten said.
Witten added each day they play he never knows who will be the player to stand out.
"That's what makes us such a good team because you can't prepare for one person
I move the lineup around and I keep everyone on their toes and am proud of every single one of them," he said.
Leanhart talked about the bond she has with her teammates.,
"I have some of the best teammates out there. We just have such strong friendships and I know whatever the future holds for us, that we have each other," she said.
Witten went on to say how this has been one of the most special teams he has ever coached not just in college but high school.
"The short numbers that we have this season and how we as a team overcame it," Witten said.
Overall Witten said the team always wants to win it for the seniors and they just have one, Summer Sanders.
"I have seen her grow as a person into an adult, she has gone from a quite individual, to a very outspoken, strong and confident individual. I have been so lucky to see her grow," Witten said.
Sanders returned the compliment.
"Coach Witten has taught me so much more than the game of softball, he often relates things we do in practice to real life situations," Sanders said. "Networking through Coach Witten has opened a lot of doors for me."
As for the next season, Witten said the team as of now is only going to lose Sanders. Witten did add that there are always a few surprises every year when one or two leave for academic purposes.
"We have some really good players coming in next year," Witten said.
But for now, the Grenadiers focus is on Rio Grande.
Leanhart had this to say about her hopes for the tournament,
"I think our team will come out on top. We have the skill, and when your team is as close as ours, you tend to work together better," she said.
You can follow iusathletics.com for live updates during Friday's game.
About the Contributor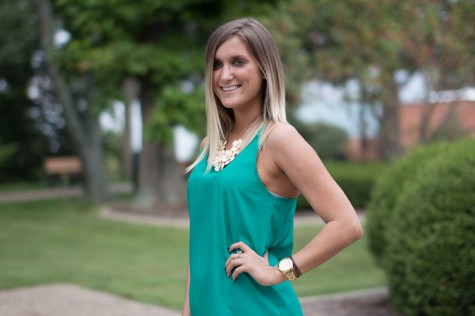 Mary Kate Hailer, Staff Reporter (Spring 2015, 2016; Fall 2014)
My name is Mary Kate, and no I don't have a twin sister named Ashley. Here is me in 30 seconds, I am a writer for The Horizon and graduate next may at...