Entrepreneur shares his path to success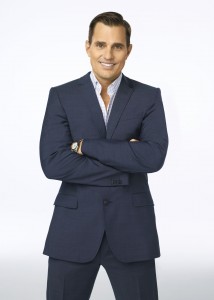 Latach' Payne, Staff
March 5, 2015
Hang on for a minute...we're trying to find some more stories you might like.
Tuesday night NBC "The Apprentice" winner and entrepreneur Bill Rancic told students to create value and develop an entrepreneur mindset- never satisfied but always striving to offer ideas to make life experiences bigger and better for people.
Rancic spoke as part of the 2015 Sanders Speaker Series, hosted by Indiana University Southeast's School of Business.
During the presentation, Rancic shared how he first got started as an entrepreneur recalling how his grandmother fostered the notion when she taught him how to cook pancakes. That led to his inviting ladies in the neighborhood to come over for a pancake breakfast, after which they each left five dollars under their plates.
He then excitedly went over to his grandmother's the next five weekends, which was curious to his mother until she discovered the stack of five dollar bills in his drawer. She promptly ended what she called his "fleecing ladies out of their social security check." But at that point, nothing could douse the fire of entrepreneurship that had been lit.
Rancic continued pursuing entrepreneurship from the time he opened the boat and wax business in New Buffalo, Michigan, to the time he owned a small bondage bar on the west side of Chicago. He then came up with the idea of creating a cigar of the month club. He said the previous owners of the club laughed at him, and said that they would keep his office open, rehire him in six weeks, and would give him a 20 percent pay cut. But he loved proving people wrong.
Rancic went to radio and television with the idea of doing the Cigar of the month club and business boomed. He then left business to compete on NBC's "The Apprentice." When he won the first season of "The Apprentice," he said that moment changed his life. After winning he said he asked himself, "Why did I win 'The Apprentice?' ?"
"I embraced practical execution, I understood the point of agility, and I understood, respected, and converted risk into success," he said.
Rancic shared steps students can take to be successful entrepreneurs. He said that three traits a business person needs are to be a good decision maker, to be creative and to never quit.
Two traits he said to avoid were being reactive and being around negative people. He said to be proactive, anticipate problems, and tap into your potential.
"That is a God giving gift that is underutilized," he said. "God gives us a certain amount of currency in potential, and we don't use it."
The Sanders Speaker Series was started by alumnae Judge Carlton and Sue Sanders to bring well-known individuals to IUS for expert perspectives on issues important to the community.
Junior Mackenzie Burns said he was surprised how informative and motivating Rancic's message was.
"I thought it was going to be boring, but it has motivated me to change things in my life," he said. "I need to do more networking, meet more people so if I need anything, I know who to call."
Vice Chancellor for Administration and Finance Dana Wavle said Rancic did a great job.
"He spoke words of wisdom based upon proven success, hard work and experience," Wavle said. "Bill gave our students a great framework."
Junior Lauren Conklin said that Rancic was an amazing speaker.
"He is a very inspirational person and gave me some great advice," she said.
Conklin said that she really liked how Rancic told students not to give up and keep pushing ourselves.
"You will achieve great things if you step out of your comfort zone and do things that you normally don't do. One of my favorite quotes I took away for him was, 'Always do what you are afraid to do and success will find you,'" Conklin said.
Rancic is a restauranteur and co-executive producer for "Giuliana and Bill." He hosts NBC's "Ready for Love." He is now the host for nationally syndicated television show "America Now."