MINOR SETBACK FOR A MAJOR COMEBACK
IU Southeast freshman Dee Stanton, works to rehab his torn ACL after injuring it in just his seventh career game.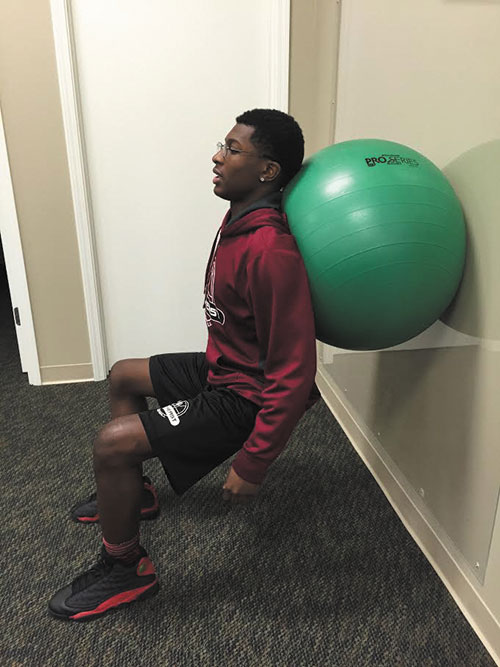 An athlete's nightmare: the sound of popping and breaking, falling to the ground and not being able to get up. Most importantly, being taken away from the sport that you love to play.
Injuries are part of an athlete's life and many of them face this experience from time to time. The road to recovery can be a long and difficult process. This process is exactly what freshman point guard, Dee Stanton is going through.
In just his seventh game of the year against Georgetown College, Stanton's season came to an abrupt end.
"I was just doing a move I do all the time," Stanton said. "I was at the top left side of the three-point line and pumped faked, then drove right around a player, planted my left leg hard around him, and it was just a blur."
Stanton said it is a night he will never forget.
"My leg, it just locked on me. I felt a pop in the back of my knee and I just hopped straight to the bench," Stanton said.
The Trainer took longer than expected to come look at Stanton's leg because he was attending to a player from Georgetown.
"My knee wasn't hurting though and that was the crazy thing," Stanton said.
ACL stands for anterior cruciate ligament, and a tear can occur in the knee from quickly changing direction or even landing from a jump. This is a common injury among athletes in many sports.
Stanton has never had any serious injuries before and didn't know what it felt like.
"I was actually trying to go back in the game. I have never had the ACL thing happen before. I thought maybe I just popped something," Stanton said.
Stanton said he attempted to run back and forth down the baseline still waiting for the trainer, confused if he was hurt or not.
"It really only hurt when I bent my knee. I just didn't know what it was." Stanton said.
Stanton said he ended up sitting out the rest of the game with ice taped on his knee to stop his knee from swelling.
The men's basketball team hasn't won a game since Stanton's injury on November 19 against Kentucky State University, which leaves The Grenadiers holding a 3-13 record.
Stanton said the pain really started to hit him on the bus ride home from Frankfort.
"When it got sore that's when it started to hurt. I was walking to my dorm and it was getting really sore," Stanton said. "I knew something wasn't right."
Stanton went to the training room the next day just to be sure everything was ok.
"They told me it may just be the hamstring, and that made me feel better," he said.
Stanton said that head coach, Wiley Brown, requested that he go see a doctor in Louisville to get it looked at.
The doctor put a needle in Stanton's knee to suck fluid out, he said.
"All I saw was blood in the needle. I knew that wasn't good," he said.
The doctor told Brown it was the ACL and he would need an MRI, Stanton said.
Stanton was recommended by his doctor to get surgery on it as soon as possible for a faster recovery.
"Since I wasn't going to be in class over Christmas break I felt like that was the best time to get it done," Stanton said.
Stanton underwent surgery on December 19 and has been to about seven rehab sessions with his physical therapist, Chad Flickinger of Kort Physical Therapy located in Louisville, Ky.
Flickinger said that this is the most common injury that requires surgery, especially for basketball players.
And getting back to 100 percent requires a lot of rehab. Flickinger went on to say that rehab and recovery from this type of injury is a year long process and some athletes never fully recover.
Stanton talked about the recovery process and some of the challenges that lay ahead.
"Bending my knees is the hardest. So far I'm at 125 degrees, which is real good for the first month," Stanton said.
He's trying not to do too much within the first month in order to heal in the proper way.
"It's really a three month process just to get the knee strong enough to be able to run in a straight line," Flickinger said.
Stanton is hoping to start playing again with his team during the summer.
"
Now my goal is to bring (IU Southeast) a championship. They haven't won one yet and I want us to win it all."
— Dee Stanton, freshman point guard for IU Southeast
Stanton said not being able to contribute to the team during their losing streak is very difficult.
"It's depressing that I can't do anything to help them," he said.
And as for his team, he said it's been different.
"I can't be around like I used to, so I miss being around my teammates and everybody," Stanton said.
According to the NAIA handbook, as a freshmen, if you become injured you may medical redshirt for one year. So for the next basketball season, Stanton will be considered a freshman standing still as an athlete.
Stanton, who is majoring in secondary education, said he will use the extra year to begin work on a master's degree.
Stanton scored a career high 20 points against Kentucky State University in the game before he was injured.
"I was only improving every game, then I just got hurt," he said. "Now my goal is to bring (IU Southeast) a championship. They haven't won one yet and I want us to win it all."
Stanton said he hopes to keep improving once he returns, and eventually get back to the player he was, but even better.
About the Writer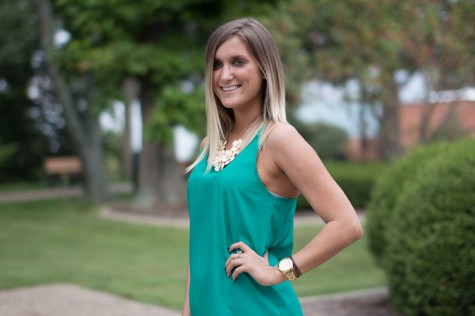 Mary Kate Hailer, Staff Reporter (Spring 2015, 2016; Fall 2014)
My name is Mary Kate, and no I don't have a twin sister named Ashley. Here is me in 30 seconds, I am a writer for The Horizon and graduate next may at...