Former IUS professor takes path to female priesthood
Inclusive Ministry: Rosemarie Smead and the Association of Roman Catholic Women Priests
January 13, 2015
Professor. Counselor. Psychologist. Activist. Feminist. Wife. Writer. Schoolmaster. Theologian.
Rosemarie Smead has led a long life—71 years—engaged in the service of others, the fight for equality and a calling to higher spirituality.
And then she became a priest.
Smead was ordained as a Catholic priest April 27, 2013, at St. Andrew's United Church of Christ, making history as the first woman to be ordained as a priest in Louisville.
She is part of the Association of Roman Catholic Women Priests, a movement which strives to upend the patriarchal systems in place within the Catholic Church that maintain that women are unfit to lead as priests, deacons and bishops—roles which have been long reserved for baptized males.
"A baptized male alone receives sacred ordination validly," according to Canon Law 1024.
Smead's ordination, and those of the other nearly 200 female Catholic priests, deacons and bishops over the world, are yet unrecognized by the Vatican as legitimate, although since they are ordained by bishops with a lineage to Rome, they are valid ordinations. Many have received or been threatened with excommunication from the church.
"What makes us different is that the Church really doesn't accept us as being acceptable," Dorothy Shugrue, circle leader for the Association of Roman Catholic Women Priests, said. "We're illicit. We're valid, but we're illicit."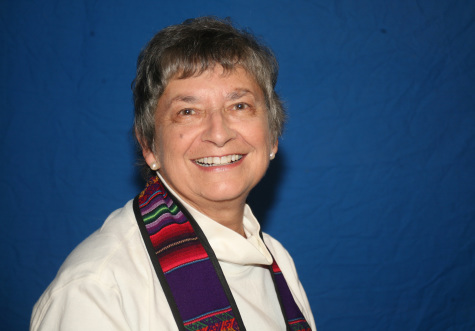 "We've been excommunicated. Our hope would be that the Pope would stop excommunicating us because there's no point in it. We're serving a different populous of people that were not being served by the traditional church. And it makes it very difficult for people who were born Catholic, they have to deal with the word 'excommunication.' It's a heavy word. I was a nun for 28 years and, frankly, it doesn't bother me at all because I've had enough theological study to know what really matters. And what really matters is my faith and the depth of my spirituality and how I envision God and me in the world and what my responsibilities are to care for the people of God. That's what it's really all about."
Path to the priesthood
Smead was born in 1943 and grew up in Akron, Ohio in what she said was a very warm, yet strict, Catholic home. She said she knew from a very early age that she felt a calling to the church, but the options for females were limited.
"At that time, in the 50's when I was brought up in the Catholic schools, there was no option for women in the Catholic Church other than being a Catholic sister or a nun.
When she was small enough to fit in a lap, Smead would visit her aunt, who was mother superior in a community of nursing and teaching sisters out of Cleveland, on weekends.
"I saw her being very well respected," Smead said. "So I decided very early on that I was going to be not only a sister, but I was going to be a nun. The best that you could be in a monastery."
Smead said she was certain she was going to go to a monastery when she graduated high school, and planned her life accordingly.
"I felt that Jesus was calling me to do that," she said.
In 1961, a week after she graduated from high school, Smead left for Wheeling, W. Va. to join a Carmelite monastery. She was there for three years.
"I loved it. I felt like I was home," Smead said. "It's what I had been dreaming about since I was a very young child."
Smead said, however, that the austere nature of this life eventually began to take a toll on her health.
"We went to bed at 11:00 at night got up at 4:30 in the morning," she said. "After a few years, my body could not deal with the sleep deprivation that was part of that life."
After leaving the monastery, which was at first devastating to Smead, she briefly studied theology at Fordham College in New York, before transferring to Marquette University in Milwaukee, a liberal Catholic school for lay people to study theology. It was here that she also began to study psychology.
At this school, Smead got involved with activism and the raised consciousness of the 1960's. She and her friends followed Father James Groppi, a civil rights activist from Milwaukee. She marched across the Edmund-Pettus Bridge with Dr. Martin Luther King, Jr. in Selma, Ala. She laid down in the snow in front of busses in Milwaukee to take a stand against segregation. She got married.
"Here I was coming from the most conservative part of the Catholic Church to the most liberal part of the Catholic Church," she said. "It was just mind blowing."
Changes on the horizon
At this time, from 1963-1965, Pope John XXIII called an Ecumenical Council, which surprised the world.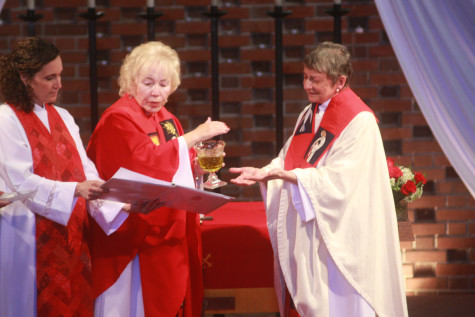 The council, also known as Vatican II, called for a loosening of many of the strict traditions which had been associated with Catholicism, including entertaining the idea that women could lead in the Church.
The next two Popes rejected some of these ideas, however, and a 1994 letter by Pope John Paul II declared that women were not fit to serve in these roles. Nevertheless a fire had been lit in the hearts of many women across the world that now they may have a chance to follow the calling the Church had long denied them.
"It's kind of like lighting a fire under your chair—and it's still there," Smead said.
The next phase
For the next several decades, Smead put much of her energy into pursuits outside of the church.
After her father passed away, she used her inheritance to start the Perry Hill Child and Family Development Center, for children with severe learning and behavioral problems. During this time, she said, she finished her doctoral work in Counseling Psychology at Auburn University. Then in 1975, Public Law 94-142, Education for all Handicapped Children, was passed. This cut off funding to the school, she said, because it required that public schools provide special classes for students with these needs.
After this, she took a position at Central Alabama Treatment Services. Here she was Director of Treatment Services, overseeing a 10-county wide juvenile delinquent treatment program. Three years later, funding was cut off for this program, and she made the move to IU Southeast, where she developed a master's program in counseling and taught for the next 26 years.
She wrote books. She taught in Edinburgh, Scotland. She was president of the state Counseling Association, and of the National Association for Specialists in Group Work. She received the George W. Pinnell system-wide Distinguished Service Award and the President's Award—the IU system-wide Distinguished Teaching Award.
The movement
In 2002, on a boat in the Danube River between Austria and Germany, the first seven women, for the first time in centuries, were ordained as priests by two Bishops who were consecrated in apostolic succession within the Roman Catholic Church, according to arcwp.org. A year later, three of them were ordained as Bishops so that they may ordain other priests, and the movement is gaining momentum.
Today, there are nearly 200 women who serve as Catholic priests, deacons and bishops across the world, even without the blessing of the Vatican. Smead said it has increased 30 percent a year since 2002.
"God is genderless and genderful," Smead said. "If the God who created the Heavens created both genders, why can't both genders image God?"
Smead said when she first learned several years ago that women were becoming Catholic priests, she was shocked.
"
What makes us different is that the Church really doesn't accept us as being acceptable. We're illicit. We're valid, but we're illicit.""
— Dorothy Shugrue, circle leader for the Association of Roman Catholic Women Priests
"Women priests? I'd never heard of that," she said. "I thought of myself as a pretty forward thinking liberal catholic woman."
She said learning of this overtook her.
"I got in my van I started crying," she said. "I was shaking all over. It was one of those times in your life when your soul knows something before your body and your mind do."
She said she went home and looked up women priests and "The Danube Seven," awake for hours realizing what she would have to do.
"I went to bed and I felt like it was Jesus knocking on my door again from way back," she said. "I spent all my life writing and working and trying to help people."
"My whole life has been about totally believing in equality of everyone. This is my grounding. Noticing from way, way back then that women were not treated equally. I've been an activist feminist worker since I figured that out," Smead said. From the 1960's on I realized that things are not right and if I don't stick my neck out, who's going to?"
While Smead was preparing to enter the priesthood, she presided over "house churches" in the area. After her ordination, her church, Christ Sophia, became a public church which was housed at St. Andrew's United Church of Christ.
Shugrue said that "Sophia" is the feminine side of God, according to scripture.
"Christ Sophia is really an expression of the concept that Jesus was Jesus the human man and that Christ Sophia, Jesus the Christ, has always been part of life in the universe, which is expanding," Shugrue said.
She said members of the Catholic community can benefit from the different perspectives men and women bring to their leadership, and this is why the inclusion of women is so important.
"You ask a man and a woman to look at something, a reading, and interpret it, they're going to interpret it differently," Shugrue said. "We interpret it differently because we have different gifts. That different perspective is a very important perspective and just as women learn much from men, men really learn to get in touch with their gentler, sensitive side from women. Jesus was a gentle and sensitive man as well as a strong and powerful man."
Smead has since moved to Bedford, Ky. Where she continues to minister in house churches and in a mental health facility, and Christ Sophia is now at First Unitarian Church on 4th St. in Louisville.
Mary Sue Barnett, who was ordained in Dec. 2013, just seven months after Smead, now presides over this intimate congregation of around 20. They meet the last Sunday of every month.
She said she worked alongside Smead as Christ Sophia was first becoming a public church.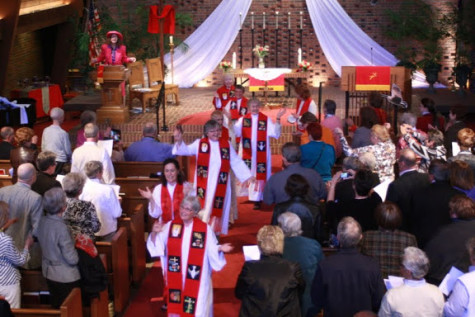 "She's a very dynamic person," Barnett said. "It feels like I've known her forever. In a very small amount of time you become sort of quickly forged in friendship with these women, and so many at once too. It's a really unique experience."
Barnett said she was immediately struck by Smead's high level of energy and her joy at finding her place in the priesthood.
"It's like it's something she never ever expected and the fact that her life evolved into that was like such a feeling of fulfillment that brought her so much joy," Barnett said. "It was just wonderful to watch." She said a lot of the life experience Smead has had contributes greatly to her role as a spiritual leader.
"Being able to understand what it's like to live through the intimate struggles within marriages and within households and families and all kinds of interpersonal relationships—she has lived it, she has studied it, she has counseled people and that is a huge gift to bring to one's priesthood," Barnett said.
"In the all-male celibate priesthood there is such a chasm between a lot of these life experiences."
Like Smead, Barnett had long felt the pull to higher spirituality before becoming a priest.
She said that nearly 20 years ago, while she was involved in a parish she loved, she realized that it had its limits to her as a woman and she decided she had to leave.
"In terms of sort of standing in my own authentic self, I had to pull away," Barnett said. "That was very wrenching. My awareness of having to do that came very suddenly and it felt like a sudden fracture of a bone. Almost as it would feel if you fell physically and you heard your bone crack."
Barnett said many years later, when she found the Women's Priest Movement and was doing prep work for her ordination, the pieces of her life that had felt up in the air since leaving the church fell into place.
"Almost as suddenly as that fracture was many years ago, I suddenly felt that I was on the inside again," she said. "I was not, sort of, in exile anymore."
"That's why I'm here because I feel like I am in the center of something that I have waited a long time for and that I actually never thought would come while I was still alive," she said. "So it is happening. It's very powerful, it's very authentic—the women truly are moved by a prophetic spirit."
Mari Hammer, a former colleague of Barnett's, has been attending services at Christ Sophia since Barnett was ordained.
She said one of the main reason's she keeps attending is that she doesn't leave angry—something that made her stop attending more traditional services years ago.
"I taught at one of the academies here in Louisville and one of the things I taught was church history," she said. "And the more I read and the more I thought about things, I just got so angry—not with spirituality and not with the fact that there's a God or any of that—but the church hierarchical structure. The really kind of insidious of negative treatment of women that I found to be very much of an affront. I just got to a point where I could not deal with that anymore."
Hammer said that for years after she stopped attending regularly, she would still go occasionally, trying different places, but still found the negativity to be present.
Hammer said she used to joke to her friends that she would attend church again if Barnett was ever ordained as a priest—something that didn't cross her mind as a possibility. When she found out that Barnett had her own parish, she said she knew she had to stick to her word.
"That was the impetus to get me to come the first time," Hammer said.
She said she keeps coming back, however, because she enjoys it and feels a spirituality moving in those services. She said it feels very wholesome.
"I like the readings that they use," she said. "Often there is scripture from the inclusive language bible so there's not a male domination and 'women go sit in the back and behave yourselves' kind of attitude. And they also use some women theologians sometimes for some of the early readings. I appreciate what they have to say.
In other words, there is no put-down. And I found a lot of negativity in an organized church hierarchy and I just don't feel that here. That's the biggie."
Barnett said that she knows taking on the role as a priest, deacon or bishop is a very meaningful decision for Catholic women.
"Ordination for women in the Catholic Church comes from very deep place," Barnett said. "It's a sacred thing. It's not a PR sound bite, it's not superfluous—it is very deep."
The Roman Catholic Women's Priest Movement is an all-inclusive one, meaning that none are turned away or refused blessing, and the priest is not thought of as the sole pathway between the people and God.
We have no kings, we have no rulers," Smead said. "We don't use any of those patriarchal terms."
Smead said the group functions democratically.
"There is no hierarchy—one person, one vote," she said. "That is, the newest ordained deacon has one vote on issues the same as our bishop Bridget Mary Meehan. She is our spiritual, pastoral leader, and does not exercise authority over our choice of ministry. We function as a Circle, and democratically vote on any and all issues."
Since she is not called "Father," some wonder what Smead's title is title as a priest—Sister, Mother?
"I was Rosie yesterday, I'm Rosie today and I'm going to be Rosie tomorrow," she said.
Smead said she feels that she is in the right place.
"A priest, to us, means a woman or man whose life is dedicated to the service of our Loving God and all the People of God," Smead said. "We are sacramental and spiritual leaders to our community, who call us forth to serve in this way. We are a new priestly ministry in a community of equals. We are real folks who have had many life experiences, and connect with each other in ways the hierarchy can only dream of. We are immensely blessed and happy."