For junior forward, basketball is the smallest of challanges
Mary Dye, a junior forward on the IU Southeast women's basketball team, has had a tough college life. Not only is she dealing with school and basketball, but between the 2012-2013 school year, Mary and her family went through quite a bit.
"College is supposed to be a time for kids to go off and find themselves," Dye said "Little did I know, that finding myself was going to be a lot more difficult than what I was prepared for."
Dye is a starter for the Grenadiers this year but, the thing is, she hasn't always been a student athlete here at the university. She landed here only after some of the adversity that she faced.
Mary is from Pee Wee Valley, a small town just outside of Louisville. Her parents, Paul Dye and Patty Dye, still reside in the same house that she grew up in.
After graduating from South Oldham High School in Louisville, she signed to play basketball at Bellarmine University. That's when everything seemed to go wrong for Mary and her family.
If just being a freshman isn't hard enough, Dye would soon face some even bigger challenges. First, the coach that recruited her at Bellarmine left and was replaced by a new coach. That can be tough for a new player, because the coach that recruited you, for whatever reason, is now replaced by a coach that knows little or nothing about you.
"I know that coaches and other people older than you seem to always go after you or have it out for you," Dye said. "That's not true, but some of the stuff that I went through with the new coach, didn't really plead my case,"
She thought that it was a bad start to the year. Dye saw limited playing time all year. She took it pretty hard.
"It sucks going from being one of the stars in high school to not seeing the court at all," Dye said.
The last straw for Dye was when the team was scheduled to participate in a Christmas tournament in Puerto Rico. Every road trip before this tournament, the team took all 13 players. This would be the only trip where the team took just 12 players. Dye was the lone player left off of the tournament roster.
The day after the team left, she told her father that she was leaving Bellarmine after the school year.
"I supported her choice and I think that's how she ended up playing at Indiana University Southeast," her father said. "And after this last year, I haven't seen her this happy since her senior year of high school."
For Mary, this was just the first thing on her plate that she was forced to swallow. Less than a week after the team returned home from the Christmas tournament, on New Year's Day, she was rushed to the emergency room and had to spend the night. She went into surgery for an appendectomy the next day.
Her mother Patty said that Mary was having pain in the middle of the night. She had a shoot around at 9 a.m. She missed that, forcing down breakfast. She immediately threw up.
"My first thought was that she had food poisoning," Patty said. "An hour before the game, she went to the trainer. She was the first to introduce the possibility of her appendix bursting,"
The doctor told the Dye family that if they would have waited any longer it would have ruptured and she could have died. Dye was forced to miss much of the rest of the season.
For Mary and her family, these two first scenarios are nothing compared to the news that the family would get.
"I came back home one weekend because I had a flat tire. So my father came out to look at it. First thing I noticed was his eyes. They were yellow. The next day we found out that he had a tumor," Mary said.
Paul was recommended to a specialist after attending an immediate care center near their house. Paul had a full CT scan. Two days passed after the scan, and the results stated that he indeed had a tumor that was blocking his liver. Paul was in and out of the hospital for the next two months. After those two months were finished, he switched doctors.
"I did some research and found this doctor in Louisville that was said to be the best liver doctor in the nation," Paul said.
He and his doctor scheduled his surgery for mid-summer 2013.
"Forty-five minutes into the surgery, the doctor comes out and talks to me," Patty said. "He said that Paul's tumor was wrapped around one of the largest arteries in the body,"
The surgery didn't go as planned and the next step was starting chemotherapy. The chemotherapy lasted from just after the surgery to about early January of next year. Since the treatment lasted that long it seemed like the Dye family wasn't going to get themselves out of the hospital.
After the long and excruciating chemotherapy, next were the thirty days of radiation. The whole month of March was gone. He has been finished with all of his treatment now for almost a month.
I spoke with Mary's brother, Christopher Dye. He lives in Bowling Green, Kentucky.
"This was really hard on me. I can only imagine how the rest of my family felt during this mess. One thing that I felt was that I felt useless or helpless," Christopher said. "I live two hours away from everyone, so it is hard for me to be there for my family, especially at a time like this."
Dye's father has been cancer free now for one year. And Despite the adversity that Dye experienced in the past two years, she has gained some perspective. And she has learned that some things in life are much more important than basketball.
"This past year has definitely been one that cannot be forgotten. One thing that we benefited from this past year was to know that we are a family," Dye said. "Whatever happens with one of us, it affects everyone in the family. This made our family so much stronger. If I learned something from this experience is that family has to stick together. If we didn't stick together, I wouldn't be in the state that I am in."
About the Writer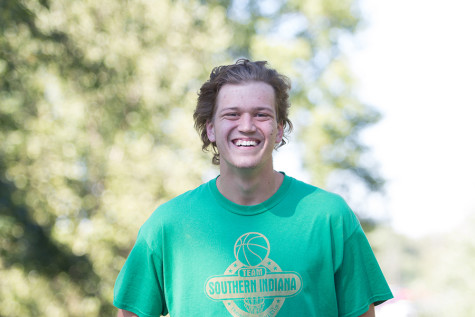 Parker Henes, Sports Editor (Spring 2016); Staff Reporter (Fall 2015; Fall 2014)
My parents called me Parker in the wonderful year of 1993. Fun fact, every five years my birthday is on a Friday the 13th. I am passionate about sports...