Dream Game: Fantasy football is everywhere, IU Southeast is no exception
Hang on for a minute...we're trying to find some more stories you might like.
A new league was created at the beginning of this football season. A fantasy football league that will either bring these students together, or tear their friendship apart.
Bryce Hickerson, general studies sophomore, Coby McKinley, English sophomore, and Bradley Jones, business sophomore, are battling it out during this year's NFL season for the top spot in The League of Extraordinary Ballers. They will be playing for bragging rights and $200.
Hickerson took the initiative in starting this league. He said he has been involved in fantasy sports for a very long time.
"I feel like the reason fantasy sports has caught on so well is because it gives sports fans a chance to be an actual owner," Hickerson said. "It also gives you that beautiful thing called competition, which sports fans love."
Hickerson said he will be entering his eleventh season as a fantasy football league commissioner. He created this league on the Yahoo Fantasy site, just as the last preseason game was finishing up. Jones and McKinley have never played fantasy sports, so this experience will be new to them.
"Sometimes you just need to try new things and maybe it will become a yearly occurrence," McKinley said.
"I remember my first team," Hickerson said. "It was with my dad. I wasn't allowed to have one by myself, so I co-owned a team with him."
What exactly is a fantasy sport? According to CBS Sports, it is any sports competition with imaginary teams which the users own, manage, and coach. The scoring is based on the statistics generated by the real individual players or teams of a professional sport.
According to Sports on Earth, the concept of fantasy sports and running a contest, based on their year-to-date stats, has been around since shortly after World War II. A man named Wilfred Winkenbach devised fantasy golf in the latter part of the 1950s.
The biggest development in fantasy sports came with the development of Rotisserie League Baseball, in 1980. This fantasy baseball league was said to be the first organized league.
It's estimated by the Fantasy Sports Trade Association that 42 million people age 12 and above in the U.S. and Canada played fantasy sports in 2014. Participation has grown over the years, though participation in the U.S., for 2014, is consistent with the past few years.
"Fantasy sports football, especially this time of year, brings groups of people together who like the same thing, sports," Jones said.
According to Hickerson, one problem that fantasy users have are rooting for players on their fantasy team that happen to be playing against their favorite actual NFL team.
"Sometimes it comes down to the choice of your fantasy team winning or your favorite NFL team winning," Hickerson said.
Hickerson is a diehard New Orleans Saints fan. This particular week, the quarterback for the Saints, Drew Brees, is playing against the defense of the Atlanta Falcons. Bryce knows that the Falcons defense is very good and has them on his fantasy team. Every time Drew Brees does anything productive on the field, it hurts Atlanta's defense, causing them to lose points on the fantasy scoreboard. Now what does he do? Who does he root for?
"I have been put in that situation a lot already in this season," Bryce said. "But when it comes to my Saints, my fantasy team becomes irrelevant."
About the Writer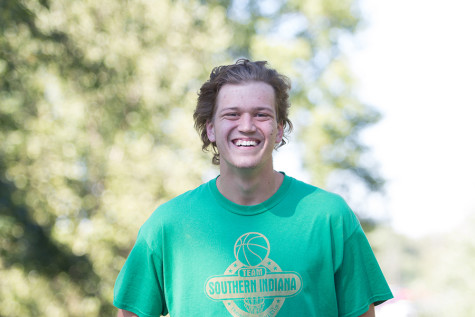 Parker Henes, Sports Editor (Spring 2016); Staff Reporter (Fall 2015; Fall 2014)
My parents called me Parker in the wonderful year of 1993. Fun fact, every five years my birthday is on a Friday the 13th. I am passionate about sports...