YIK YAK app lets students anonymously yap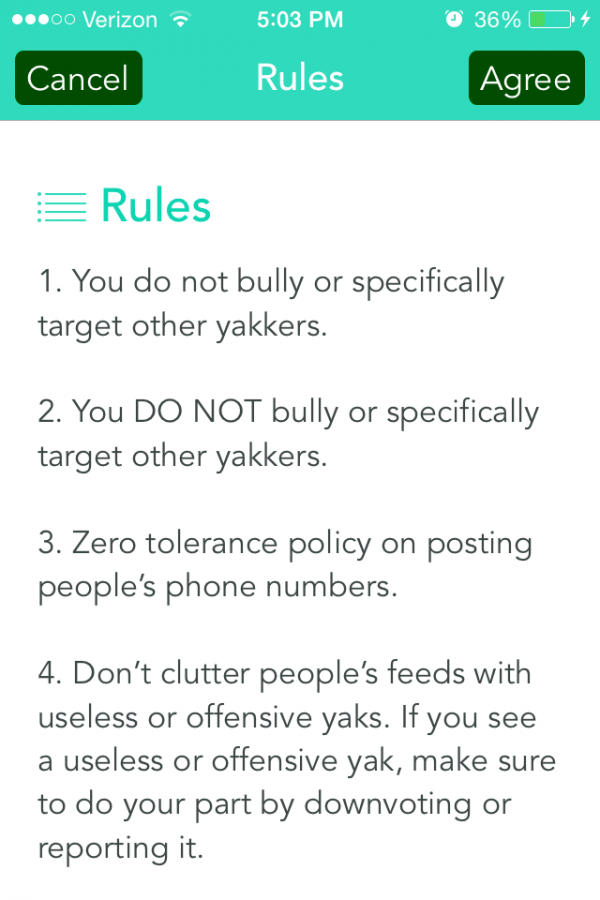 That thing you've always wanted to say but never had the guts to can now be shared with the world (totally anonymously) thanks to the latest social media trend– Yik Yak.
Yik Yak is the app that allows users over the age of 17 years to write posts (called yaks) on a feed consisting of other users in the area. This will most often link you to a college-based feed, but can sometimes revolve around a music festival or other big event.
Once your yak is posted, other users can "upvote" or "downvote" your yak. This is similar to "liking" a Facebook post, except your yak can receive negative "Yakarma" points.
Secondary education sophomore, Jessica Pilkerton, downloaded Yik Yak last weekend. Pilkerton said she doesn't often use the app, but will check out IU Southeast's feed when campus is especially crowded.
After just a week with the app, Pilkerton said she can already see that there is a good side and a bad side to Yik Yak.
"Say you're an organization on campus and you're trying to get the word out. It's another app where you could advertise. But, it's also pretty much an anonymous way to bully people," Pilkerton said.
Pilkerton said that she sees a lot of unnecessary drama, mainly among different fraternities. Other than that, she said, IU Southeast's feed can be pretty uneventful.
"Geese, food, and Greek life. That's about as much as you'll see pop up the news feed," Pilkerton said.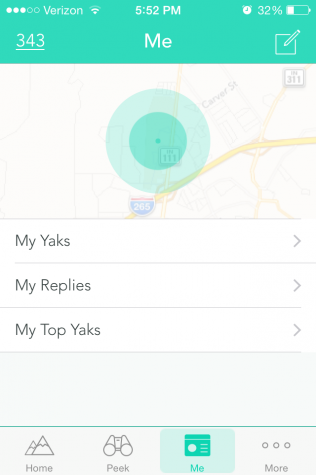 Aside from the frat drama, Yik Yak has caused more serious problems at other colleges. According to Huffington Post, the president at Norwich University in Vermont blocked the app from use on the campus, saying it was being used to cyber-bully students. And though the app is not intended for use by those below the age of 17 years, high schools around Alabama and Chicago have already faced bullying issues stemming from Yik Yak.
Even with all of its negative repercussions, there are still people who thoroughly enjoy using Yik Yak. Mechanical engineering junior, Wes Clark, said he checks Yik Yak between classes for some prime entertainment.
"I think it's cool. You really get to know what people are actually thinking around you," Clark said.
Eastern Asian international studies sophomore, Rebeccah Nesbitt, doesn't have Yik Yak but said she is considering downloading it.
"It might be worth it, for advice and questions, or even just for meeting people," Nesbitt said. "But when it turns to cyber-bullying, that's ridiculous."
Co-founders Tyler Droll and Brooks Buffington created Yik Yak with intent to, "create conversations and build communities without prerequisites such as prior relationships", said Yik Yak media relations representative, Zachary Nola.
But as with any social network, problems arise.
Yik Yak can feature what most would consider some pretty crude and unfiltered posts, said Clark. The app, however, does allow users to report inappropriate yaks.
Nola said the company continues to build its technology to limit negative interactions. But Pilkerton doesn't see censorship as the solution.
"I think the whole point of the app is to get your opinion across. As long as it isn't violent, it's fine," Pilkerton said.
But for the most part, said Nola, yakkers learn responsibility on their own.
"As more users sign up and start using the app, each community begins to self-regulate," Nola said.
The future of the Yak is apparently looking bright. Nola said that the company has plans to go on a tour that will stop at 32 college campuses along the West Coast, in hopes of establishing themselves at each.
"It'll be a lot of fun and include a huge tour bus, yak mascots, bicycle rickshaws, and a customized mechanical yak so that people can literally "Ride the Yak"," Nola said.
Whether the Yak will climb the ladder to social media success or crash and burn is something fellow yakkers are eager to see.
Nesbitt said she predicts success in the app's future, because regardless of positive or negative feedback, it's being talked about.
"I think it'll keep growing just by word out mouth. Already I'm interested in it. I'm actually probably gonna go download it after this," Nesbitt said.